Actress, singer, and Snapchat queen Keke Palmer doesn't need any excuse to be fiery. At 23, she's ethered more trolls and clapped back at more haters than the tabloids can keep track of. But after going wing for wing with Sean Evans—tackling extra-spicy hot sauces like Mad Dog 357 and Blair's Mega Death—Palmer reached a whole new level of heat.
One of the most meme-able faces on Planet Earth, Palmer dished on everything from her enduring love for Moesha, to her guest appearance with Drake on DeGrassi, to her forgotten collaboration with Limp Bizkit frontman Fred Durst.
Watch the video above for one of the most high octane Hot Ones episodes to date. Just remember Keke can come for you; don't make her.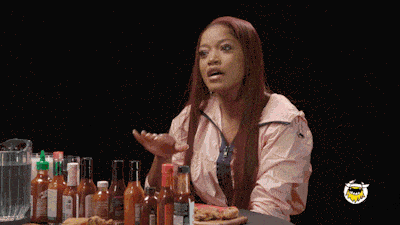 Subscribe to the First We Feast channel and never miss an episode of Hot Ones.