The way that Kevin Hart approaches comedy is less like an entertainer, and more like a professional athlete. He trains for it, he strategies for it, and on October 14, his new film, Kevin Hart: What Now?, will feature the comic performing his unique brand of introspective stand-up in front of 53,000 screaming fans at Philadelphia's Lincoln Financial Field.

Still, no amount of physical or mental fortitude can truly prepare one for the gauntlet that is mount Scoville. After hearing the cries of hundreds of fans over the last several months, Hart finally sat down for the Hot Ones challenge opposite host Sean Evans, donning a pair of dark shades, like a ballplayer entering the stadium before a big game.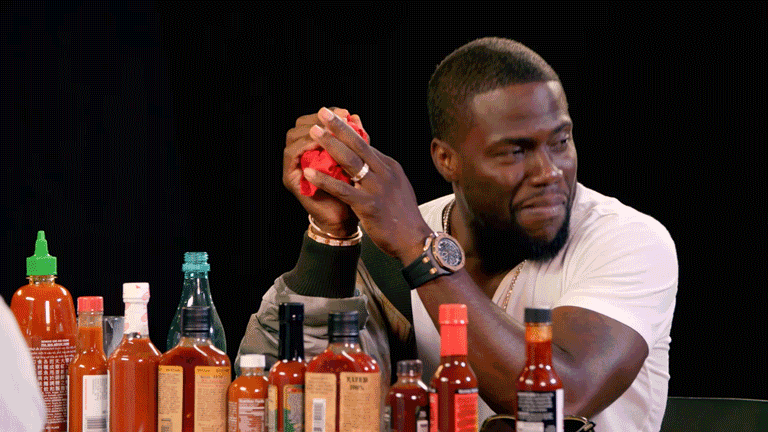 Well, after only a few wings, the capsaicin​-packed hot sauce knocked the glasses clean off Hart's face. Then, inching closer to the summit of the Scoville scale, the comedian could be seen slouched in his chair, his jacket clinging to his body by only one sleeve. It wasn't long before snot was pouring out of Hart's nose, tears were streaming from his eyes, and the comedian was begging for mercy.
While enduring the heat of sauces like Mad Dog 357 and Pain 100%, Hart dishes on performing stand-up at male strip clubs, hanging out with lions in Africa, and his battle-rapping alter-ego, Chocolate Droppa. The comedian also manages to get in a few jabs at DJ Khaled's expense. 

Watch the video above to find out how Hart fared during his highly-anticipated Scoville showdown. "We out here!" the comedian shouts numerous times during his battle. 
Yes, Kevin. We are.