There are three main reasons we knew that New England Patriots tight end Rob Gronkowski would be the ultimate Hot Ones guest.
He is from Buffalo, NY, and you can't be from Buffalo without loving wings.

He once turned into a snotty-nosed, teary-eyed mess trying to kill a dozen "Blazin" wings in six minutes at BW3s. 
He is the Gronk.
Within the universe of dull stars under the thumb of the NFL, Gronkowski is a force of his own. Not only is the four-time Pro Bowler dominant on the field, but he's also become one of the league's most colorful characters off the field. He says things like "yo soy fiesta" in locker-room interviews, and imitates teammate Tom Brady at press conferences. He poses half-nude with kittens. In February, he hosted a three-day party cruise featuring Waka Flaka, lemon-drop shots galore, and endless examples of his impassioned dance moves.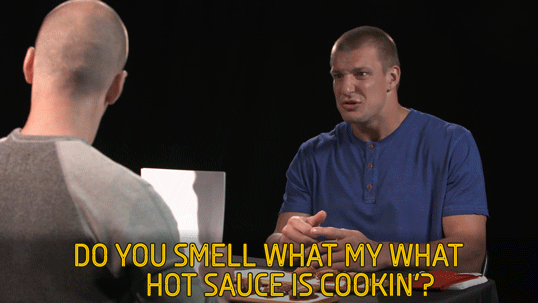 We're hoping that this special edition of Hot Ones—which, for the record, includes a "Gronk spike" of a wing slathered in Blair's Mega Death Sauce—will rank among Gronkowski's long list of great Internet moments. 
Watch the video above to see Gronk break down his last supper, explain the biggest misconception about his pain tolerance, and bust out some legendary pro-wrestler impersonations. 
Watch more episodes of Hot Ones.