Anyone who has seen his iconic MTV Cribs episode—in which he showcases his unkempt Staten Island home rather than the usual rented McMansion—knows that Redman always keeps it real. From his indelible debut Whut? Thee Album, to his hilarious turn as an Ivy League stoner in How High, the Jersey rap legend has kept us entertained with his impeccable flow and weed-fueled hijinks for more than two and half decades. So needless to say, we jumped at the opportunity to show our appreciation by bombarding him with some of the spiciest hot sauces in the world.
As he battles the forces of High River Rogue and Mad Dog 357, Redman shares some incredible anecdotes from his storied career: the behind-the-scenes of the Hard Knock Life tour with Jay Z and DMX, the joys of working with Shaq, and the time he was cattle-prodded by a fan while dropping acid at a concert.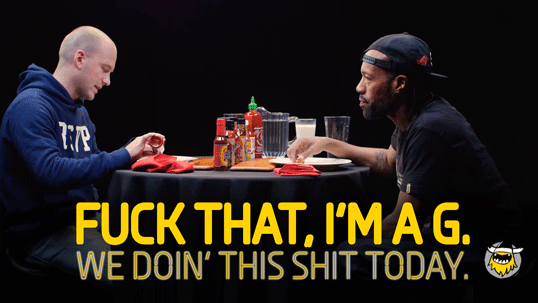 These days, when he's not making music, Redman spends his days as a consummate rap dad and budding entrepreneur. His latest venture is the Blaze Now app,  which he launched with Method Man to help discerning weed heads track down the best marijuana dispensaries in the country.
Watch the video above to see what happens when Redman melts his face off eating atomic-level wings.