For over two decades, Skittles has been using the slogan "taste the rainbow" to push its bite-sized confections. But for far longer than that, the rainbow has been used as symbol of LGBT pride and social movements. First designed by the civil rights activist Gilbert Baker in the 1970s, multi-colored pride flags have been flown at protests, demonstrations, and parades throughout the world.
These past few weeks, after President Barack Obama officially declared June LGBT Pride Month, the rainbow has perhaps been displayed more prominently than ever. And last Friday, as London readied itself for its own pride parade over the weekend, Skittles decided it was best to strips itself of its colors as a sign of respect and solidarity.
"So this is kind of awkward, but we're just gonna go ahead and address the rainbow-colored elephant in the room," a video for the campaign reads. "You have the rainbow, we have the rainbow, and usually that's just hunky-dory."
"But this Pride, only one rainbow deserves to be the centre of attention—yours," the video continues. "And we're not going to be the ones to steal your rainbow thunder, no siree."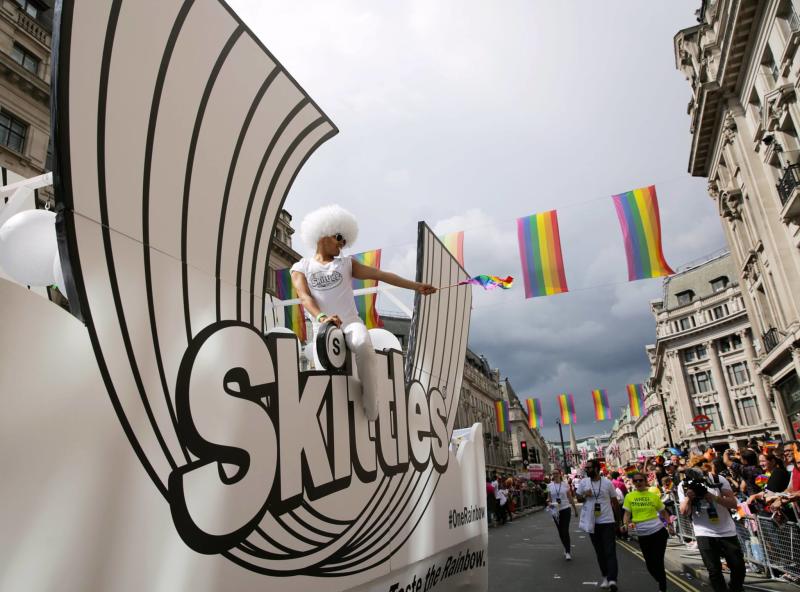 According to Adweek, Skittles was present at the London pride parade, handing out white candies in white packaging, and operating a white float.
And while Adweek questions the motives behind the campaign—"Contrary to its rhetoric, Skittles' precise goal here was to steal some of Pride's "rainbow thunder," the site writes—this year's festivities took on an especially somber and emotional tone worldwide.
Last month, a gunman opened fire in a popular gay nightclub in Orlando, Florida, killing 49 people.
"This parade is New York City saying defiantly, 'We will stand up to hatred,'" Mayor Bill de Blasio said at the historic Stonewall Inn following the city's pride parade. "We will stand up to those who would try to undermine our values."
[via Adweek]