Earlier this year, Riff Raff—the rapper, social media savant, and self-professed "burly boy"—told First We Feast that he initially started smoking weed in order to boost his appetite and get swole. While unorthodox, the rapper's diet has clearly worked, with Riff Raff weighing in at roughly 240 pounds of muscle. And though the Peach Panther's love of Taco Bell, Panda Express, and Funyuns is well documented by now, we were unaware of just how seriously the recent Hot Ones champ takes his snack game.
In 2014, Munchies documented the early stages of Riff Raff's transformation in its "Fuel" series. Now, in a second installment published last week, the site checks back in on the rapper to see the gains he's made, following Riff Raff as he eats snacks on his tour bus, works out in a parking lot, and smashes pieces of fruit with a baseball bat.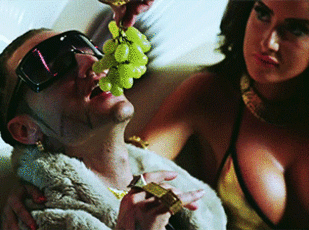 Giving the camera crew a look inside his bus, the rapper reveals cupboards, drawers, and secret compartments stacked to the brim with Pringles, bags of beef jerky, banana Twinkies, Gushers, and nearly every flavor of Oreos known to man.
"Look how big that potato is," he says, digging into a bag of chips. "I might out that under my pillow later. Save it for later for a midnight snack."
Later, at Phil's BBQ in San Diego, the rapper will order a staggering assortment of baked beans, potato salad, macaroni salad, corn on the cob, onion rings, coleslaw, and a half rack of ribs.
"Ask me how much I weigh," Riff Raff says while stuffing his face. "Burly."
[via Munchies]