If there are two aspects of life that Jim Gaffigan has become an expert on over the years, it's fatherhood and eating. Early on in his career, the comedian was perhaps best known for a five-minute stand-up bit on the enduring, masochistic allure of Hot Pockets. And his recent TV Land sitcom, The Jim Gaffigan Show, features the real life father of five navigating parenthood with a never-ending assortment of snacks in hand. Over the years, Gaffigan has further documented his two great passions in a series of aptly titled books: 2013's Dad Is Fat, and 2014's Food: A Love Story.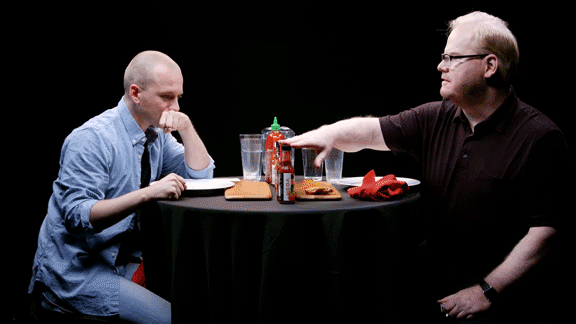 Still, an encyclopedic knowledge of Hot Pockets will do little to prepare a man for the Hot Ones challenge, and the Scoville gauntlet takes an entirely different kind of stamina than raising a family. While bonding over their shared Illinois upbringing, Gaffigan and host Sean Evans tackle the timeless Shake Shack v. In-N-Out Burger debate, delve into the comedian's former life as a high school football star, and remember First We Feast's exclusive, Pulitzer Prize-winning interview with the Vine star who boned a Hot Pocket.
Though Gaffigan can be seen chugging glasses of milk like he's fighting a calcium deficiency, the comedian does his best to maintain his composure while crawling up Mount Scoville. Will Gaffigan join the ranks of Hot Ones legends Coolio and Gunplay, or flame out like DJ Khaled, Tony Yayo, and Mike Epps? Watch the video above to find out.