Not since Prince Amukamara stopped by have the waterworks flowed so freely on the Hot Ones set.
Standup comic Carly Aquilino was quick to point out that she's "got other stuff going on" as she struggled to hold back the tears, but there's no doubt that she felt the pain of Da' Bomb Beyond Insanity and Blair's Mega Death Sauce. "This just gave me a urinary tract infection," she said of the sixth sauce on the Hot Ones gauntlet of fire.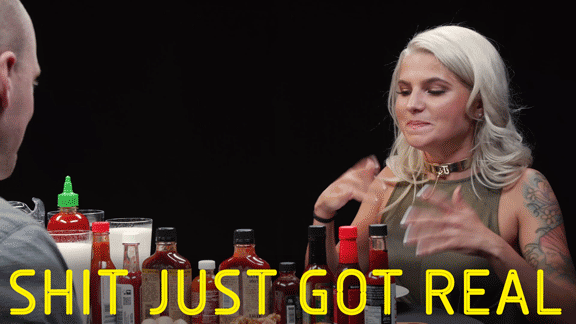 Fortunately, Aquilino is a pro when it comes to taking heat. She says that as a female comedian, she's used to beer-bellied knuckle-draggers yelling moronic things at her on stage, or filling her Instagram comments with worthless commentary on her love life. To help improve the plight of ladies in this cold world, she delivers crucial real talk about the joys (and pitfalls) of womanhood on MTV's Girl Code.
Still, Aquilino readily admitted that she had no idea what her spice tolerance was going into the challenge. Would she power through the Scoville onslaught like Tinashe, or flame out like Hot Ones Hall of Shamers DJ Khaled and Jim Gaffigan? Watch to find out.