With more than 2 million combined Twitter and Instagram followers, Riff Raff is one of rap's biggest social-media stars, but fans rarely get to see him sit down for an interview. But, as a self-proclaimed "Burly Boy" who recently bulked up to 240 pounds, he jumped at the opportunity to sit down with Hot Ones host Sean Evans and take on a plate full of wings.
Donning a striking Marc Jacobs suit in honor of his forthcoming Peach Panther LP, the man of many nicknames—Jody Highroller, Neon Icon, Versace Python, Lamborghini, et al—talks about his collabo with Justin Bieber, his mall-food top five, and why he needs to be cast in a follow-up to Spring Breakers.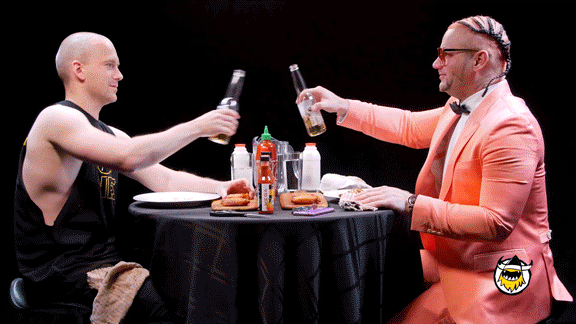 Things get increasingly zany as Riff Raff experiences the euphoria of the Scoville onslaught—not to mention the buzz of the multiple Coronas he deploys to tame the heat. In a Hot Ones moment for the ages, he customizes a t-shirt for host Sean Evans, cutting off the sleeves so that he can complete the challenge in true "Burly Boy" fashion.
Watch the video above to see if Riff Raff can withstand the wrath of the spice gods.
And don't forget to pick up your official Hot Ones Fiery Chipotle hot sauce, Hot Ones t-shirt, and Hot Ones x Pintrill pins!
[via YouTube]