Over the course of the last year, as civil war continues to rage on in Syria, the refugee crisis has become one of the most hotly contested issues in Germany. Having accepted roughly 1 million displaced Syrians in 2015, tensions are running high in the country, and last week the situation escalated to the point of food throwing. 
Sahra Wagenknecht, the parliamentary leader of the far-left Die Linke party, was attending a meeting on Saturday in Magdeburg city when a man approached her a smashed a chocolate cake in her face. A group called the Anti-Fascist Initiative later claimed responsibility for the incident, stating that it was part of a protest campaign called "Cake for Misanthropists," and caused by Wagenknecht's stance on the refugee crisis.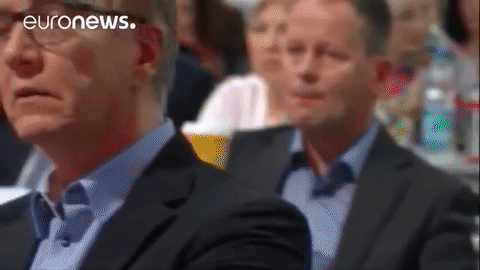 In recent months, Wagenknecht has argued that there should be a limit on the number of refugees allowed in Germany. Her position on the crisis has created strife within her own party—currently the lead oppositional force against German Chancellor Angela Merkel​ in parliament—and caused some to call her ideologies right-wing. 
"He who abuses his right to hospitality, has forfeited this right to hospitality," she told Politico. "This is the clear position of the Left."
Still, Wagenknecht isn't the first German politician to be hit in the face with a cake this year. In February, Beatrix von Storch, who belongs to Alternative for Germany, an anti-immigration political party, was hit in the face with a cake by two clowns singing "Happy Birthday."
[via BBC]