Eddie Huang is not one to half-step. From his rabble-rousing in the food world, to his outspoken criticism of ABC's Fresh Off the Boat (a popular sitcom based on his life), the triple-threat entertainer—restaurateur, TV host, author—rarely holds his tongue. But it turns out that, unlike food-TV foes like Marcus Samuelsson and Anne Burrell, there is one thing that can shut him up: Blair's Mega Death with Liquid Rage.
Not since Coolio's final-wing heroics has a Hot Ones guest shown such bravado in facing down host Sean Evans and his lineup of scorching sauces. And while he may serve as a cautionary tale for future contestants on the show, his tactics are indicative of a man who's not afraid to take jump into the flames and see what happens.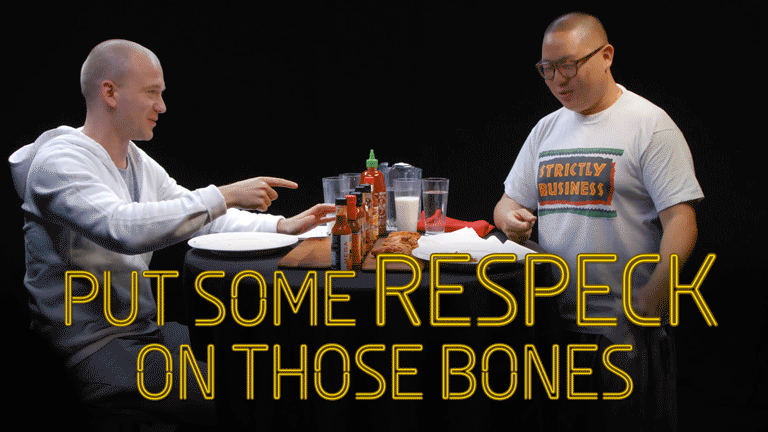 In his latest book, Double Cup Love (out today from Spiegel & Grau), Huang demonstrates his spirit for adventure by traveling to Chengdu to explore his Chinese identity and examine his romantic relationships. And on his globe-trotting TV show, Huang's World (Thursdays at 10pm EST on Viceland), he travels to places like Jamaica and the Mexican border to show people that "there's a narrative to food beyond what's on the plate."
Through his ascent as an Asian-American icon and his multi-pronged attack on the entertainment business, Eddie remains a wise-cracking, Dipset-loving New Yorker at heart. On this extra-dramatic episode of Hot Ones, he covers the gamut of topics—from his relationship with Anthony Bourdain, to his top-five MCs, to the shamelessness of Orlando, FL—while learning the hard way that Mad Dog 357 and IBS don't mix too well.