Blake Shelton—the country music singer and star of NBC's The Voice—was born and raised in Ada, Oklahoma in the 1970s. Growing up in the Midwest, it seems the artist missed out on much of the country's sushi craze, having never tasted "the raw stuff" before. Luckily, Shelton's friend Jimmy Fallon recently took the singer to Nobu, the upscale Japanese restaurant owned by celebrity chef Nobuyuki Matsuhisa, and forced him to try some sushi, sashimi, and a big shot of uni (sea urchin) for the finale.
Shelton was less than pleased with most of the selections, claiming the restaurant's fresh ginger tasted like "pre-chewed gum," and that the sushi had the texture of "Play-doh." But once he got over the initial shock of the sake, which Fallon gently explained was Japanese rice wine, Shelton seemed to like the drink, shouting at the servers to bring more.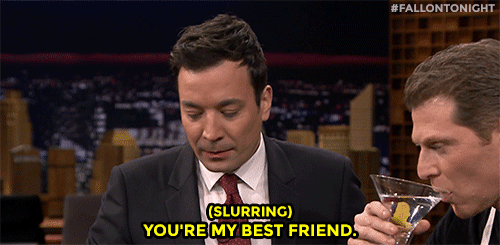 With half-finished beers and empty glasses of sake littering the table, both Shelton and Fallon looked pretty sloppy by the end of the night. Fallon gave himself a mustache with some of his food and joked that Shelton's next album was going to be titled "Free Popcorn Shrimp."
Still, Fallon rewarded his friend for being a good sport by surprising him with two Big Macs on silver trays at the end of the meal.
"You earned it, buddy," Fallon said. "I love you, man. Two more rice wines."
[via BroBible]