When you observe Lou Di Palo work the fior di latte at his family-run store on Mott Street in New York's Little Italy, stretching the taffy-like curd with the finesse of a sculptor, you realize why Mario Batali told NY Magazine back in 2010 that, "in his dreams," Eataly's cheese would "be as good." And when he regales you with stories as you sample cheese from 20 different regions in Italy, you can understand why Ruth Reichl called it her "favorite store in the world."
Operated by the same family since 1925, Di Palo's has remained a portal into Old World Italian craftsmanship, preserved by generations of Di Palos who pass down knowledge of curds and whey like family heirlooms. "This is something we've been doing here for over one hundred years, going back to my great-grandfather Savino Di Palo, who emigrated from Basilicata," says Lou, whose store produces up to 500 lbs of cheese daily.
Three years ago, when Di Palo's: An Guide to the Essential Foods of Italy was published, filmmaker Martin Scorsese penned a foreword that described the latteria as "not just selling food; they're sharing knowledge of where it came from, how it was grown and cultivated over the centuries...where different climates and landscapes yield variations in the taste."
That expertise overflowed during our Food Skills session with Lou, who gave us a master class in the art of making mozzarella, demonstrating the skills of knotting and braiding strands of milky cheese. Here, Di Palo drops some knowledge darts about seasonal cheeses (yes, they exist), and why cow's-milk reigns supreme on pizza.   
On the fundamentals of making cow's-milk mozzarella.
"Curd, or cagliata, is nothing but milk, separated. Milk is comprised of four parts: fat, protein, carbohydrates, and water. So, we want to get rid of the water. The water, in this case, we call whey, or siero. The fat, protein, and carbs, we call curd. The cheese called fior di latte is nothing but cow's-milk mozzarella. So, we have to take the curd, which we had already formed by separating the milk, and now we're going to cut it using a chitarra [a tool that's named for its resemblance to guitar string]. So, we take the chitarra and we re-cut the curd. This family of cheese we call pasta filata. Pasta, because it's unfinished paste; filata, because that means to spun or to stretch."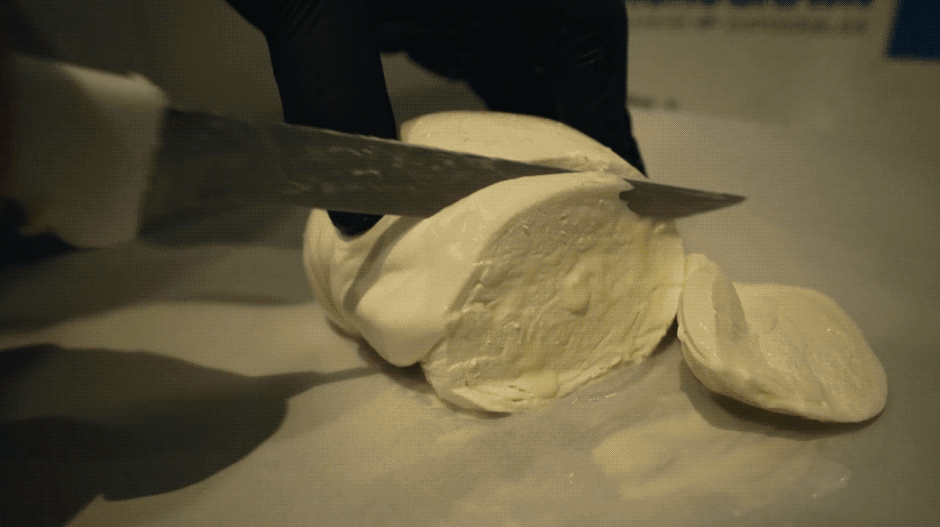 On cheese being seasonal.
"As we go into different seasons, the curd will react differently. A lot of people don't realize that cheese has seasons. For instance, take cheese made out of sheep's milk. It's not going to be made in the summer, because the sheep don't produce milk then. So you're going to have sheep's-milk cheese only made in the fall through the spring. Cows produce milk all year long. But depending on the cycle of the cow, it's going to be different. For instance, in the springtime, cows are feeding on young grass after the dead of winter. Emerald grass, sometimes mixed with flowers. And you're going to get a different character in the flavor of the mozzarella. In the summer, it's rich. And in the fall, the fourth growth of grass will give a certain unique character. But as we get into the winter, cows are now going into the barn, and they're feeding on dry feed. The curd is going to react a little bit different. It's going to be a little more dense, more dry—it requires a little bit more patience, and a little bit more work. And a little bit more hot water, too."
On mozzarella varieties. 
[The braided variety is] what we call 

treccia—

a twisted mozzarella that's very traditional in 

Puglia

.

Years ago, we used to save all the butterfat and place it into the center of the cheese, and we'd call that cheese manteca.
Nodini means knot. It's very good for salad, because it maintains more of a texture when you mix it with oil and vinegar.

​​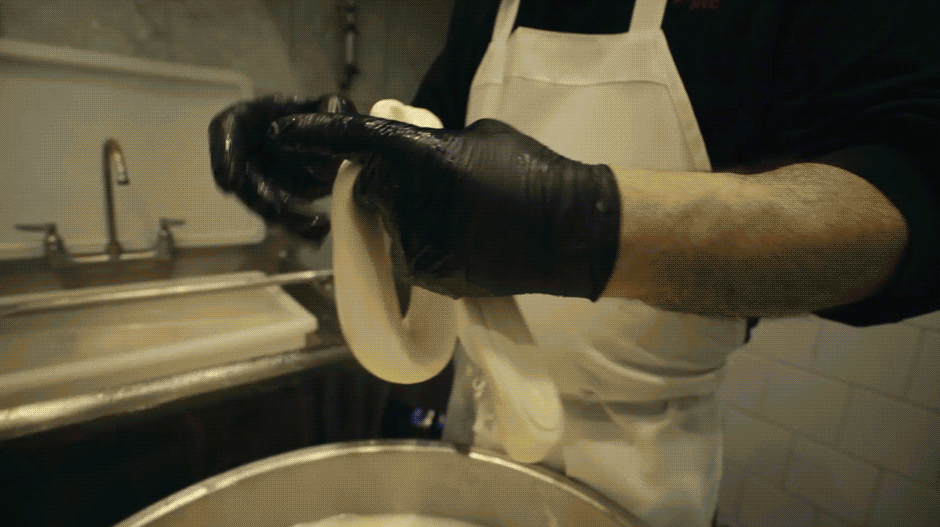 On why cow's-milk mozzarella is better for pizza than buffalo. 
"Buffalo is gamier, the cow's milk is sweeter. Buffalo will ripen, and get softer as it gets older; cow's milk will age and get drier as it gets older. Cow is better to make pizza and lasagna. Buffalo will make your pizza dough soggy because it's always much more wet."
On the importance of his father's legacy. 
"I got him here every day. He's not with us, physically, but he's with us spiritually. And I make him oversee us making mozzarella. We put his caricature up on the wall. Right up there. That's him. He's making the mozzarella with us."