Last week, 2 Chainz celebrated the release of his latest mixtape, Hibachi for Lunch, the best way he could: at Benihana. The Atlanta rapper, whose love of the theatrical slice-and-diceria runs deep, took 20 fans to a Buckhead location on Tuesday, Nov. 1, and followed it up with an elaborate treasure hunt as he traveled the country, planting Benihana gift cards like a chain-restaurant Johnny Appleseed.
He may be the restaurant's most outspoken hip-hop fan, but he's hardly the first. For nearly two decades, rappers from the Beastie Boys to 50 Cent have name-dropped Beni's, making it one of the most well-cited brands in hip-hop. Its use as an illustrative metaphor for cooking drugs makes it an easy drop (as in Jeezy's 2013 song "Benihana"), but for many, Benihana represents the ultimate aspirational dining experience, the culinary parallel to driving Benzes and wearing Vuitton. Former child star Drake may hold out for Nobu, but for your average rapper coming up off the street, Benihana is where the money's at.
Accessible luxury is exactly what the chain's founder was aiming for when he opened the first Benihana in 1964, and for a few decades, at least, he was successful. Rocky Aoki's parents owned a successful restaurant in Tokyo, and when he moved to New York in 1960, it was with the goal of using what he'd learned at their feet to start his own business. After earning a degree in restaurant management from CUNY's City Tech, Aoki settled on a textbook-simple formula—steak, chicken, shrimp—dressed up in the trappings of his home country.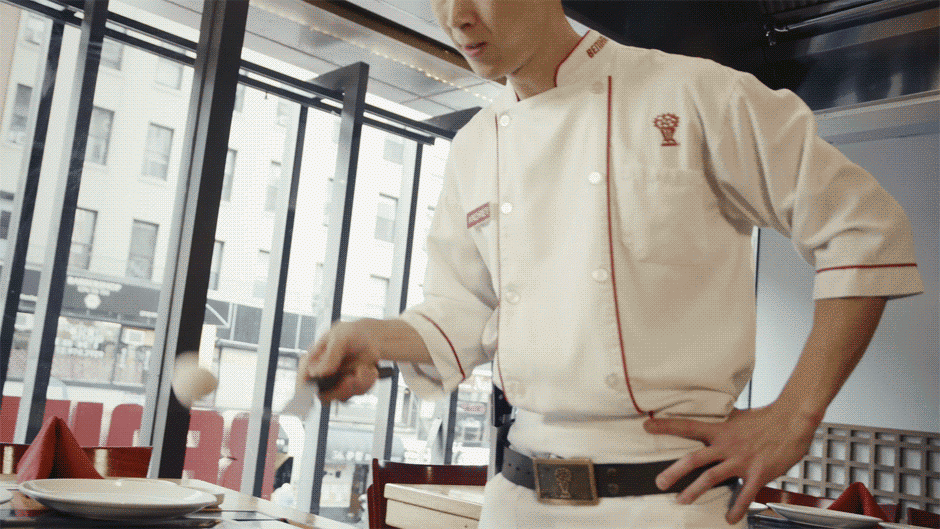 It's physically impossible to write about Benihana without devoting some words to its founder. Rocky Aoki lived his life as a prolonged attempt at being written into history—founding an international chain restaurant was just a sliver of the pie. Among the others, he was: the descendant of a samurai warrior and son of a vaudeville actor; an Olympic wrestler; champion power boat racer, backgammon player, and hot air balloonist; a nightclub and porn magazine owner; convicted of insider trading; involved in an ugly lawsuit against four of his own children. Aoki was a strong-willed publicity machine—"Peter Pan as a workaholic immigrant capitalist," as a New York Times profile described him in 2000—and for a long time, his hand was what carved out his restaurant's success. 
The brand-new Benihana was Japanese, but not too Japanese. Its signature teppanyaki style, steak cooked on a flattop grill in front of diners, was a relatively new innovation in Japan, one that had originated with the Tokyo restaurant Misono in 1945, where writers noted it was more popular with foreign visitors than locals. Beef consumption itself was a Western import, boosted by the Japanese government in the late 19th century to feed increasing numbers of soldiers. In the trifecta of Japanese cuisine, teppanyaki is known as yoshoku, Western-style cooking, because of its reliance on beef.
As Aoki said, his restaurant didn't challenge diners with any "slippery or slimy stuff…The minute I forgot I was Japanese, success began." When, after a few fumbling first months, he instructed his chefs to bump up the stage-show elements of their live cooking, honing the onion volcano and shrimp train antics that are now set in stone, Aoki turned what was left of his Japanese heritage into an American phenomenon: the theme restaurant.
At the time, Japanese food in the U.S. was largely unknown, plagued by rumors of dishes like raw fish and mysterious sea creatures. In the early 1960s, New York and Los Angeles had a set of established Japanese restaurants, but they were frequented almost exclusively by Japanese transplants and visiting businessmen. Sophisticated white diners might know tempura or sukiyaki (the beef hot pot had an unlikely boost from a 1963 Billboard hit by Kyu Sakamoto, whose Japanese title was translated to "Sukiyaki" for U.S. audiences), but for the most part, the Japan they knew was limited to shouting samurai and blushing geisha.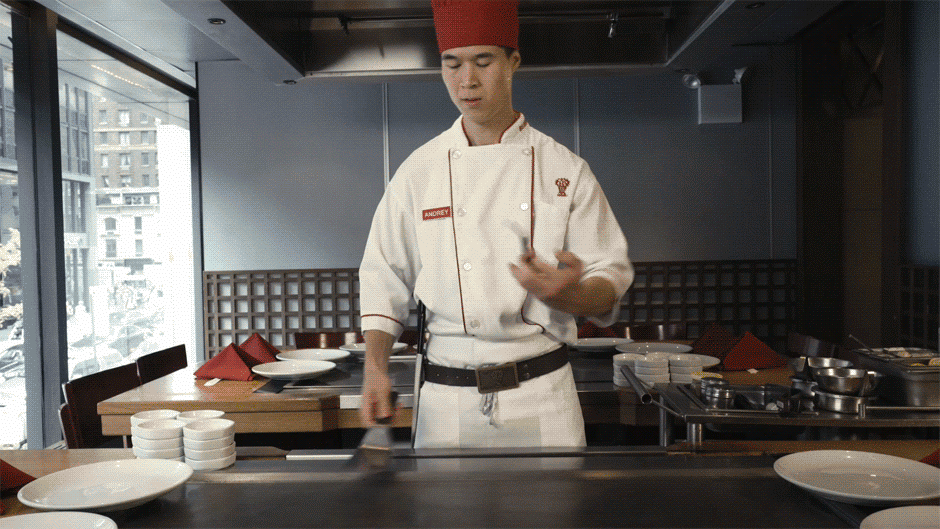 Benihana played into those ideas by exclusively hiring recent Japanese immigrants to work the grills and wait tables. He decorated the restaurant with tatami mats and roof beams imported from Japanese country houses. The extravagant theme was a perfect fit for the American market at the time; the same mid-'60s period saw the opening of TGI Friday's and Steak and Ale, the American Revolution-themed steakhouse that folded in 2008. Benihana received a rave review from the New York Herald Tribune's critic Clementine Paddleford, and for a while, it was the peak of adventurous luxury in culinary circles.
But as American horizons widened, Benihana struggled to keep up. By 1979, its version of an "authentic" Japanese experience was falling short—Texas Monthly's restaurant critic W.L. Taittle described it as a "'Look at me, I'm Oriental!' act—the Japanese equivalent of a minstrel show." In an effort to keep up, and contrary to its 1970 promise of no raw fish—or "gooky things," as their advertising charmingly claimed—they added sushi to the menu in the mid-1980s.  
At the same time, an aggressive marketing and expansion strategy turned Benihana's focus from winning back the dining elite to winning over the average American family. The restaurant's communal table setup and on-call chef-clown meant it was tailor-made for large groups and birthday parties, and the built-in noise level made it safe for parents to take a passel of unruly kids without the fear of getting shushed. That's what's kept it in the black for the past 25 years, through sagging profitability, ownership struggles, and Empire-level family drama.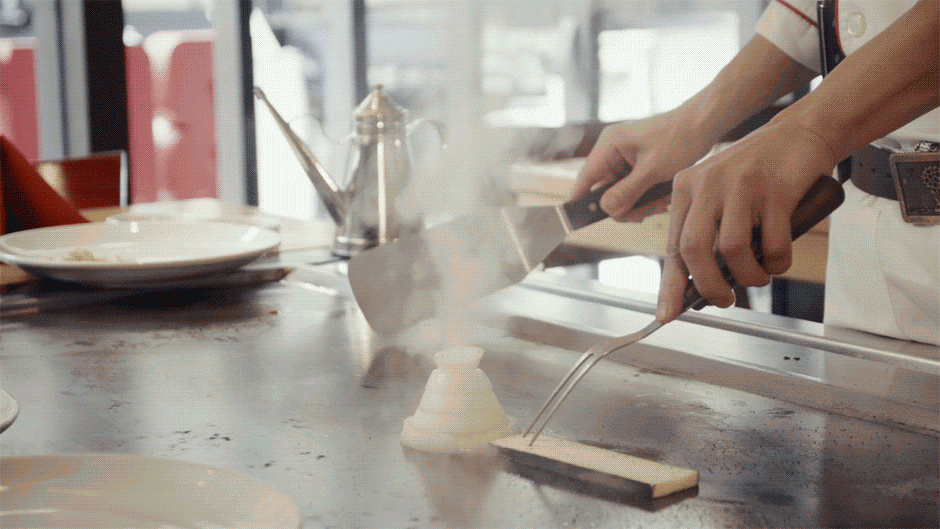 The real draw today, then, is nostalgia—either for what you had as a kid or, if your family didn't have the cash for restaurant celebrations, for what you looked at longingly from outside the gates. Especially now, in our meme-obsessed nostalgia-sucking culture, the power of an onion volcano is enough to make grown men giddy with delight. It's what has kept Benihana special for a generation of chain-restaurant-reared '90s kids, from SNL writers to street rappers. It's the reason Tyrese Gibson built his own private Benihana in his backyard, and why noted gastronome Aziz Ansari, whose show Master of None was a Zagat guide to the coolest places to eat and drink in NYC, lost his f*cking mind when he scored an invitation.
Writing on Genius under the name Bauce Sauce, Justin Roberson called the Benihana name-check "The training wheels on a rapper's boastful bars bicycle." In casual dining, the chain-restaurant category that includes sit-down restaurants like P.F. Chang's and Cheesecake Factory, Asian flavors and ingredients continue to trend, from wasabi mashed potatoes to Sriracha mayonnaise. For many Americans, foreign still equals luxury, even if there's nothing more foreign about a Benihana than a few sesame seeds and some soy sauce. Those training wheels aren't coming off any time soon.