You haven't lived until you've seen Martha Stewart eat a Funyun. It's like watching Daniel Day-Lewis act out scenes from Paul Blart: Mall Cop 2, or that Seinfeld episode where Mr. Pitt eats a Snickers bar with a fork. She tears each fake onion ring into tiny morsels and takes bird-like bites, chewing slowly, wrinkling her nose, and valiantly attempting to understand their culinary endurance.
In the first 15 minutes of this press junket at the Four Seasons in Beverly Hills, the maharajah of modern lifestyle refinery had previously gushed about her undying love of black truffles and caviar.
"I could eat them all day and be very happy," she says, dressed elegantly in a white blouse and cream-colored jacket. She's flashing an affable and triumphant smile—the sophisticated grin acquired when you're a lifestyle magnate worth an estimated $638 million (or 300 million bags of Funyuns if you're doing the division).
Blame this experimentation on Snoop Dogg, her partner on Martha & Snoop's Potluck Dinner Party, a weekly cooking show with celebrity guests that premieres Monday, Nov. 7th at 10/9c on VH1.
You see, Snoop had just been asked the most Snoop Dogg question imaginable: "What are your favorite snacks to eat when high?" Like anyone who has ever been 16 and stoned at a 7-11, Snoop immediately replied, "Funyuns." This left Martha a little perplexed.
"What are Funyuns?'" she asked, with the aristocratic tone of Lucille Bluth guesstimating that a banana costs $10
"They're a yellow and green potato chip like onion rings," Snoop explains, dapperly clad in a blue polo vest and pink bow tie. "Them muthafuckas is bomb.
"Well, let's get a bag of those so I can taste them."
Stewart presumably didn't expect a publicist to procure Snoop's favorite baked good, but here we are. The New Jersey-raised impresario behind Martha Stewart Living is gamely attempting to embody her life credo: "You have to learn something every day because when you're through changing, you're through."
This seems to be the underlying impetus behind her desire to work with Snoop Dogg. Both parties acknowledge this is as odd couple as a pairing can get. The Eastside Long Beach gangsta rap icon succinctly captured that notion in one of the advertising trailers looping in the next room.
"I'm not high right now," Snoop says, somehow winking at the camera through a pair of mirrored sunglasses. "But whoever gave us this show must've been."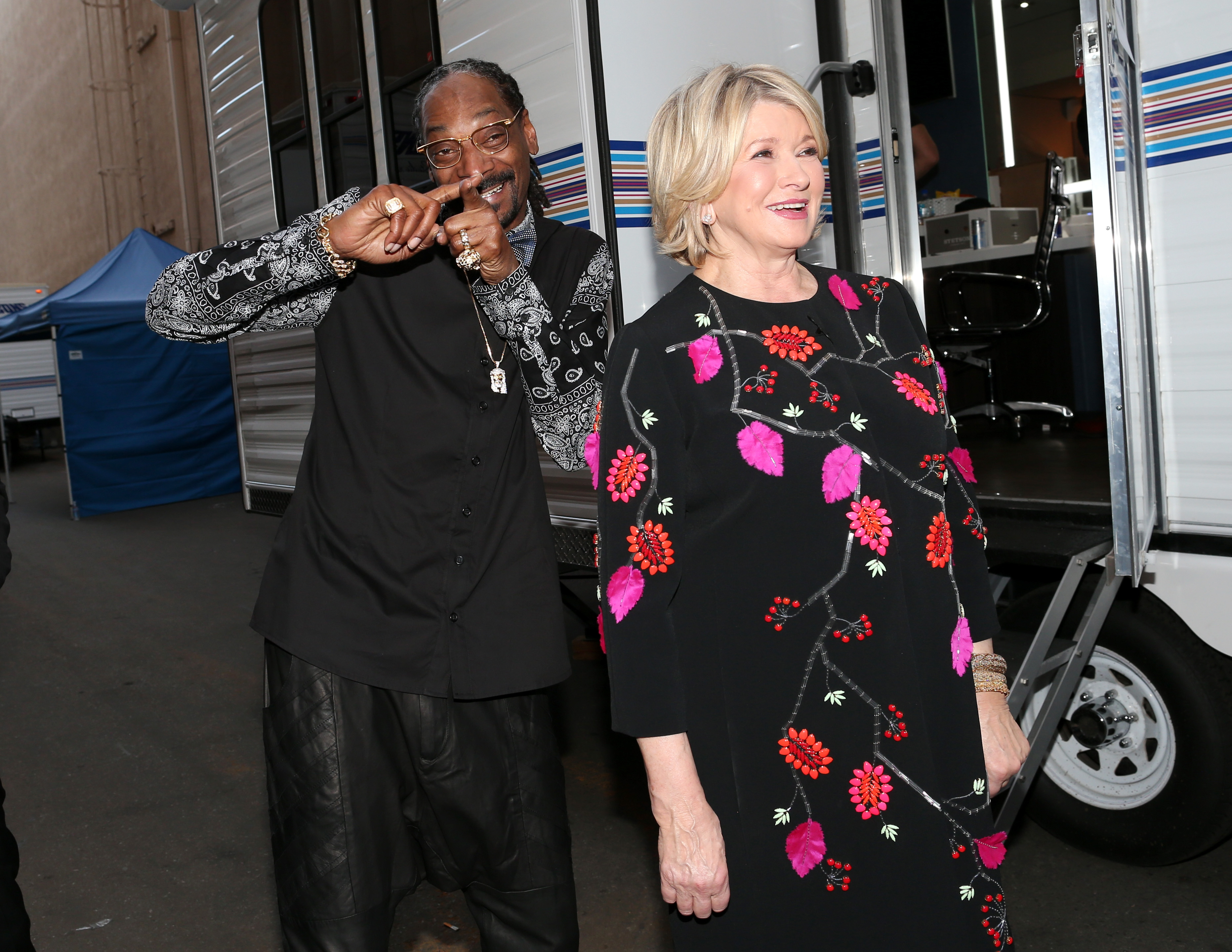 To accentuate the strange bedfellows joke, Snoop delivers the gag while under the covers with Martha. [Insert "Deep Cover" joke here]. But for all the obvious riffs, you can't help but notice a genuine chemistry between the woman who People Magazine called the "goddess of domestic perfection" and the man who once taunted the entire Source Awards and East Coast for not having enough love for Death Row and Dr. Dre.
But these are very different times. Stewart has successfully remodeled her image, poking fun at herself by guzzling malt liquor with Conan O' Brien and boasting about her joint rolling ability on Bravo. Kevin Hart famously quipped, "she's the only white woman with more street cred than Snoop and Luda" combined.
"I like to surprise people with the people I know and the kinds of people I bring together," Stewart says.
As for Snoop, he's transformed himself from Public Enemy #1 into the platonic ideal of a cool uncle: preternaturally funky, hilarious, and always equipped with the most potent smoke. Martha speaks to him adoringly, as though he's the "Gin and Juice" loving son she never had. He speaks about her as though she was the third member of Tha Dogg Pound.
"Martha was one of the top three that killed it [at the Justin Bieber roast]," Snoop says proudly. "She ain't saying that part. Everybody was shocked how good she was." Later, he tells Martha that "she needs to pull her cape out" on anyone that dares disrespect her, including Ellen Degeneres.
Martha and Snoop's Potluck Dinner Party seeks to leverage the mutual admiration and goodwill that's grown since they first met in 2008, when Snoop baked brownies on Martha. She says that that episode elicited more e-mails than any other during the series' run.
Each week, their new show features a different themed meal and cocktail, where the hosts and their guests work the kitchen and serve the finished product to each other and a studio audience. The RSVP list includes Seth Rogen, Wiz Khalifa, Rick Ross, 2 Chainz, 50 Cent, DJ Khaled, and more.
"Nah, you gotta hit some of that good shit first...get your mind right…then you'll love it."
If you're ever in a room with Snoop Dogg, it only takes about 15 seconds to understand why he's still relevant in pop culture after a quarter century of making music, film, and TV. Every other sentence seems to effortlessly rhyme. His natural charisma and charm is incalculable.
"I like to whip 'em and dip 'em," he describes his favorite way to make eggs, then sings "Flicka da wrist," while making a whipping motion. When asked his favorite holiday, he says, "Easter…because all I have to do is boil eggs and hide them."
The erstwhile Doggfather and Martha playfully bicker about who makes the best fried chicken. Her method involves two days soaking the chicken in brine and a lot of buttermilk. He only needs 20 minutes and his special ingredient: potato chips. When I ask about Snoop's favorite regional cooking, he expresses his love of Brazilian food.
"I make a really good Feijoada," Stewart interjects, invoking the country's national dish—a bean, beef, and pork stew.
'You gotta turn me on," Snoop says.
"You like oxtail?"
'Of course. I'm from the hood! That's soul food."
"Well, I make the best ox tails. Brazilian style…with orange slices and water cress."
There you have it. When I ask what similarities they share, despite the obvious divergences, Snoop stresses a sense of love: for each other, other people, food, music, and living.
'This is a great expression of love. People can see that we have a great chemistry together, on-screen and off-screen," Snoop says. "When you do a show like this it becomes personal and more than just business. You're going to see Martha and I doing a whole lot of things…bringing both of our worlds together. She loves people and I love people—regardless of what color they are or where they come from."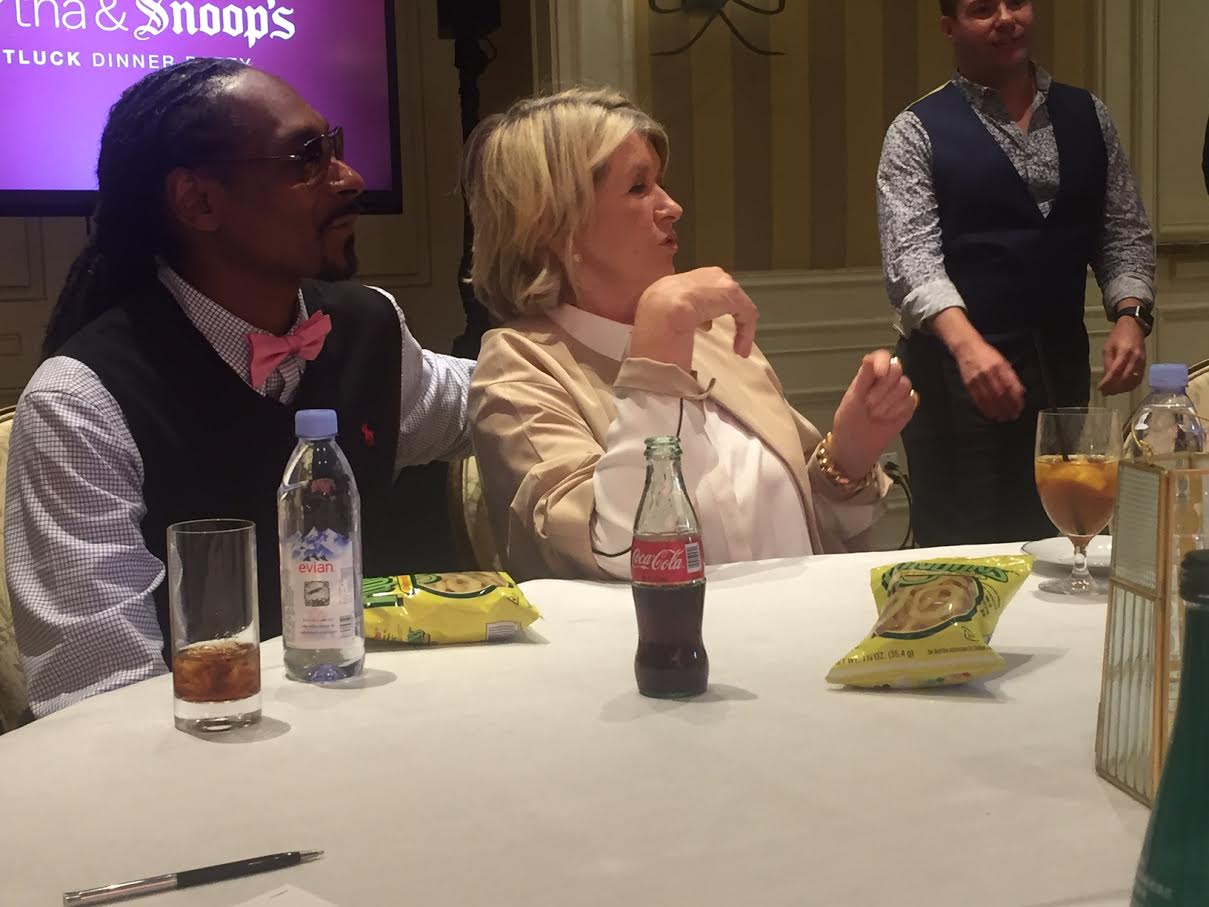 "I look at it as a real merging of culture," Martha adds. "There's a music culture and the Martha culture, the serious homemaker and living culture. For me, it was an opportunity to merge them and it works…it's very pleasant. Every show is good humored. The results are teachable and you walk away with good recipes."
The publicists make that universal "okay, we're done" motion and Snoop and Martha thank everyone and everyone thanks them back. The tape recorders are turned off, but before everyone leaves the room, Martha takes one last glance at the Funyuns and turns to Snoop.
"Those are terrible, by the way," she says, incredulous that he actually can eat this crap. "They are really horrible."
Snoop gives an avuncular, goofy, warm stoner laugh and turns to Martha and says, "nah, you gotta hit some of that good shit first...get your mind right…then you'll love it."
Make sure to check out the premiere of 'Martha & Snoop's Potluck Dinner Party,' on Monday, Nov. 7 at 10/9c on VH1.