It's early in the morning, but Mario Batali is already thinking about lunch. Over the course of his 20-year career as a chef and TV personality, Batali has built his persona around being a modern day gourmand and bon vivant, constantly urging his friends, family, and fans to share a meal or glass of wine. More recently—in the years following his now-defunct Food Network show, Molto Mario—the chef has widened his circle to include rappers and culinary school dropouts. In a few hours Batali will be dining at Otto, his upscale pizzeria and wine bar on 5th Avenue, with Queens MC and Fuck That's Delicious host Action Bronson. "Pizza and vegetables," he explains. "Light, simple, easy."
Though the pair have been friends for nearly two years—Bronson playing the Snoop Dogg to Batali's Martha Stewart—today's lunch will now be a meeting between colleagues. Last week, Batali's new series, Moltissimo, premiered on Vice's food channel, Munchies, where Bronson can also be seen traveling the world with his cohorts Meyhem Lauren and Big Body Bes.
In the first episode of Moltissimo, the 56-year-old chef cooked for Rosie Perez in Vice's Brooklyn test-kitchen, and picked fresh vegetables from the company's rooftop garden. Donning his signature uniform of orange Crocs, a fleece vest, and a strawberry blonde ponytail, Batali looks both at home in hipster-dominated Williamsburg, and sticks out on the waterfront like a sore thumb.
"When you walk into the Vice building, it looks like a bunch of kids sitting around on beanbags drinking espresso, so I'm not really sure what's going on over there," says Batali. In the first episode of Moltissimo, Batali looks on in astonishment as employees type away on their laptops by the garden. "But I want to work there. It makes you want to be there." 
For Batali, the decision to join figures like Bronson and Eddie Huang at Vice is a way of placing himself back at the cutting edge of food media, a different look than his day job co-hosting ABC's The Chew. In the 1990s, Batali was part of the first wave of celebrity chefs to take over television, and in 2016 his gregarious, flamboyant personality has allowed him to appeal to a new generation of viewers.
Following the premiere of Moltissimo, First We Feast caught up with Batali to discuss his relationship with Anthony Bourdain, his cameo on Bronson's upcoming record, and the new, hip-hop-fueled vanguard of celebrity chefs.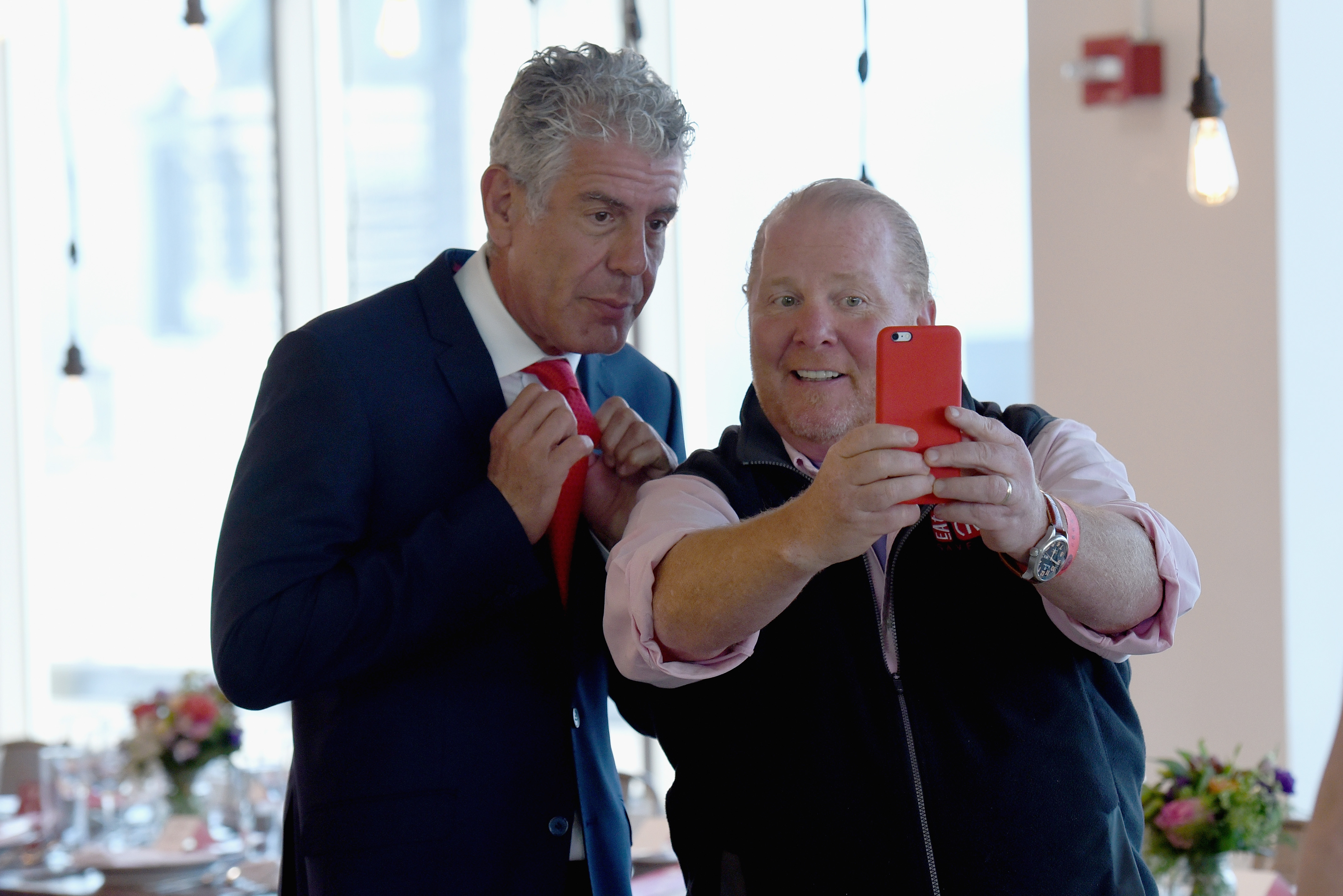 How do you feel about joining the ranks of guys like Action Bronson and Eddie Huang? Do you see those two chefs—and their shows,
"
Fuck That's Delicious" and
"
Huang's World"—inheriting your throne?
Batali says: You know, I think that over the years a lot of people have kind of tried to find their voice. These guys already had voices. These guys are interesting, literate, and pop-culture savvy. Maybe not as talented cooks, but certainly savvy social critics with really smart palate​s, and a really groovy way to look at things. So they're interesting; they're fascinating; their perspectives are very, very cool. And it's interesting to watch them. I find it even more interesting than watching someone who maybe knows a lot more about cooking, but doesn't necessarily think outside the box socially. So I think it's a great place, and it's a great rank for me to join. I'm very proud to be any part of their team. I love those two guys.
Do you think celebrity chefs like yourself and Anthony Bourdain helped blaze the trail for this new generation of cooks on TV?
Batali says: Well, I think Bourdain and I share a common hunger, or thirst, for authenticity. And I think the way that we kind of went out and looked for it—whether I was at the studio kitchen, or Anthony was in East Bumfuck Africa eating mongoose sphincter brought to him by the chief of the tribe—we were both unafraid to go places where other people either weren't looking, or hadn't even heard about. And these guys are definitely living that same kind of [existence.]
I think both Eddie and Bronson would have done it had we not been there in the first place, so I would never say that we could take any credit for it. But it certainly gave the viewing public an appetite for something that was a little less commercial, or a little less easy to swallow, as we say. That certainly put them in a good position. It's easy to watch their programing, and people don't think, "Oh God, another show about [food and culture]." It's a fascinating world to watch, and those guys have definitely taken the ball and run with it in a very good way.
You've become particularly close with Bronson over the years. How has your relationship with him evolved?
Batali says: I'm having lunch with him today! Over the years, I found him; he found me. We've kind of become like old friends in a matter of a year-and-a-half. I'm always watching and seeing what he's doing. I ask him what he's finding interesting. He talks to me about kind of the tradition and the culture of the chef world. He was a cook as a child and [later] went into hip-hop.
Has Bronson been able to turn you on to some more hip-hop?
Batali says: He listens to as much Turkish classical music as he does hip-hop. So I'm always surprised and amazed and satisfied when he turns me onto tunes. But it's not so much just inner-city hip-hop or rap music that he plays. He has a vast dictionary of music that he listens to. I listen to whatever he puts on when he's over at my house, and it's almost always not just modern hip-hop. It's always something with a crazy international influence that's influencing him at that time.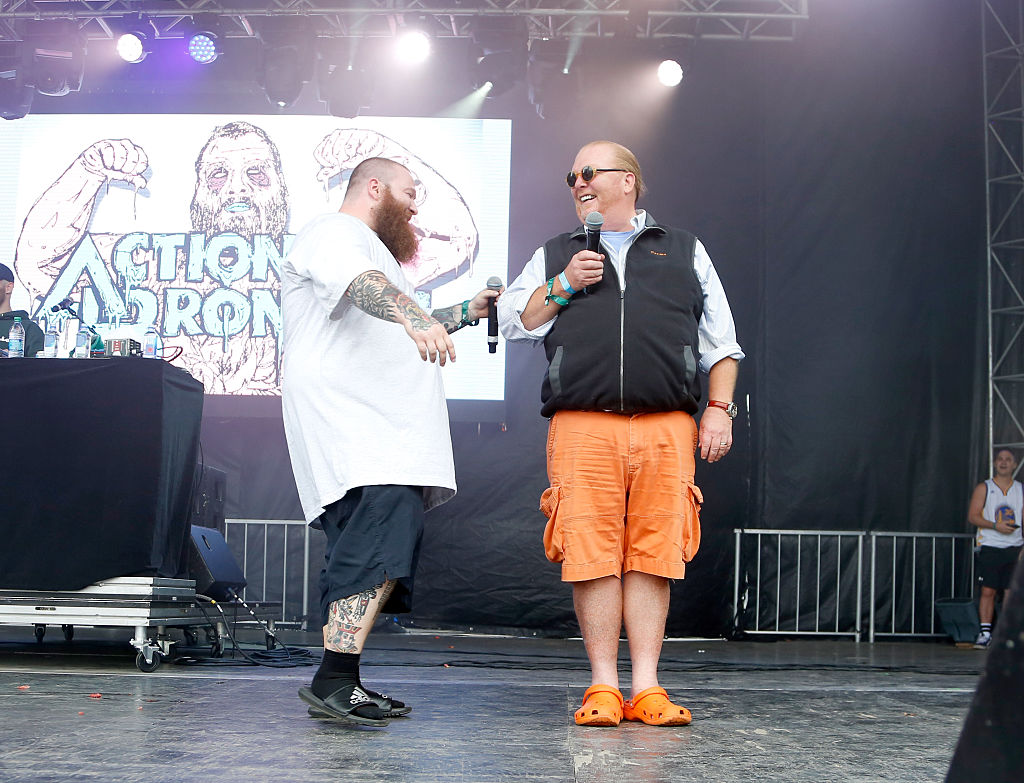 Do you have a favorite song of his at the moment?
Batali says: I love the one that has the crazy guitar solo. At this point, I must say, because I don't get to hold onto the album [I don't know the names. Like, I used to know who produced each song, and all the lyrics to everything. Now, because you just download it and listen to it on a streaming service, I never get to memorize the lyrics or even the titles of the songs. But I believe it's the last song on the first side—that's what I would say. But I like everything. I think Mr. Wonderful is great. I'm actually going to do a little cameo on his next record, reading a piece of poetry by Dante leading into one of his songs. It's from Inferno.  
The first episode of ​
"
Moltissimo" featured Rosie Perez and Vice's Ben Anderson. Who else can we expect to see this season?
Batali says: Nick Morgenstern and Wes Avila I believe are the next show. Beck [Bennett] and [Kyle] Mooney from Saturday Night Live. I think the one that's going to surprise people a lot is Rohan Marley and Ray Lewis—Ray Lewis from the Ravens, the football player. It turns out they were college roommates at the University of Miami and they played on the football team, but they're like these two Zen-y, crazy, funny guys. They were very impressed with the food, and it was just a very interesting conversation. It came out really, really great. And Bronson and a chef named Missy Robbins who has a restaurant called Lilia in Brooklyn.  
You're one of the more savage people on Twitter. If someone starts messing with you in the mentions, you won't hesitate to go off on them. Is that cathartic for you? Do you have a system for ethering trolls?
Batali says: Well, I can guarantee you I have no system. But what I don't tolerate are fools on Twitter just trying to bust my balls about something stupid. I'll respond to someone if I think they're being a douchebag. But we have no system, and it's all me. If they catch my eye in a flash of passion, or anger, I respond to them. It depends. Sometimes I'm very mild toward them, and it's just like, "Yeah, Good luck with your bad ass." And sometimes they anger me incredibly and I go back at them. But, you know, 140 characters is a very interesting size for a response, and you have to be an editor, you have to be thoughtful about what you say and not to rant too long. I enjoy it, I do enjoy the Twitter experience. But I generally prefer it to be positive. It feels good sometimes.
Lastly, can you name one other chef who parties as hard as you?
Batali says: Oh, there's hundreds of them, but I would say Daniel Boulud could party as hard as me. Recently, we were just together. We did a fundraiser for the Italian earthquake victims in Amatrice, and then we went and hung out with a guy named Guenter Seeger, who has a restaurant in the West Village, and we did a pretty, pretty, pretty solid performance, I'd say. It's his persona, and his insatiable thirst.