Timothy Charles Davis (@timothycdavis) is a Nashville-based journalist and the author of The Hot Chicken Cookbook: The Fiery History and Red Hot Recipes of Nashville's Beloved Bird.     
Back in January, KFC pivoted from its traditional fried-chicken formula by releasing a new item indebted to a regional specialty: Nashville-style Hot Chicken. Test-marketing the dish in Pittsburgh, PA, KFC's take on it—which was advertised as both "smoky" and "sweet," two things Hot Chicken most decidedly isn't—was roundly mocked in Nashville.
That's because in "Music City," people recognize eating hot chicken as a type of birthright—no matter what creed or color, everyone understands its scorching power. Watching KFC swagger-jack a regional foodstuff's DNA might signal Hot Chicken's impending doom for many who grew up eating it. But for its spiritual godmother, André Prince Jeffries of Prince's Hot Chicken Shack, she merely laughed at the franchise's marketing ploy. "I'm surprised it's taken them this long."
What, then, really is Hot Chicken—the real stuff that turns customers into life-long fanatics? To paraphrase former Nashville mayor Bill Purcell, there's a reason why they don't call the stuff "warm chicken." At its core, it's simply southern fried chicken lacquered with a spice paste (cayenne, garlic powder, and paprika being constants). Traditionally, it's served atop a couple slices of generic white bread—the better to sop up the inevitable grease/juices that accumulate—and garnished with a brace of pickle slices. To speak of Hot Chicken to someone who's never tasted it is akin to attempting to sketch out the vagaries and varieties of romantic love to a 12-year-old; you must have felt it, really felt it, to understand.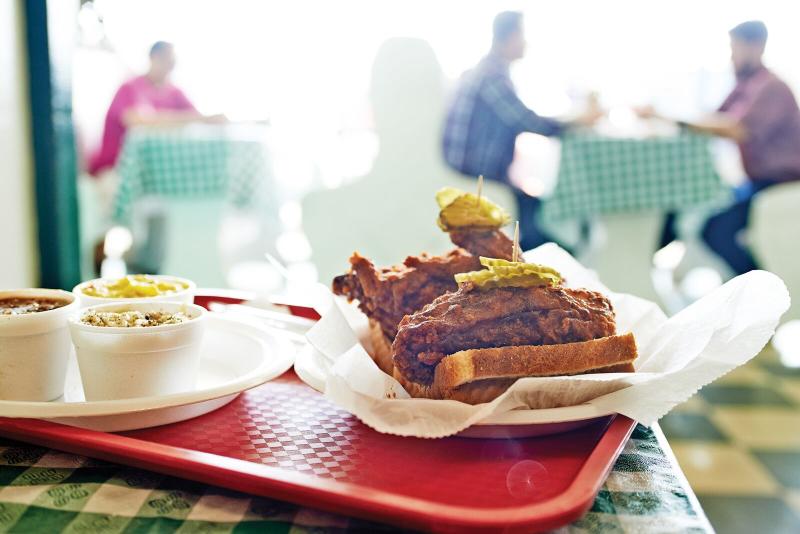 Those who have felt it, remember.
"I first had it at Prince's," says Andrew Zimmern. "I think whoever calls it a stunt food is ignorant of the point. This is not gimmick fare. This is not a scorpion you get inside a lollipop at the museum gift shop. This is a way of eating."
Despite its recent surge of popularity, Hot Chicken is by no means a new dish, having been "invented" some 75-80 years ago by the Prince family, who still run the legendary Prince's Hot Chicken Shack to this day. As the story goes, Thornton Prince III came home late one evening, after a night of carousing, or, perhaps better put, canoodling. Exhausted by his excuses, Prince's live-in lady friend decided she would have her revenge. Sometime the next morning, she made him his favorite—a fried chicken breakfast—but with the goal of teaching him a lesson. Dousing his breakfast with cupfuls of cayenne, she colored the bird as red as her then-boiling blood. Apparently, the plan backfired: he couldn't get enough of the stuff. In fact, he loved it so much that he set about replicating it. Once he zeroed in on a preparation he liked, and flush with laudatory nods from friends and family, he decided to bring Hot Chicken into the world via a tiny little eatery called, at that time, BBQ Chicken Shack.
If the story is to be believed, Prince's ladyfriend deserves the lion's share of credit for Hot Chicken's creation. What Thornton Prince almost assuredly did do was refine Hot Chicken's preparation, popularize it, and make a bit of peppery payback into something bigger: bigger than himself, of course, and ultimately bigger than his beloved Nashville.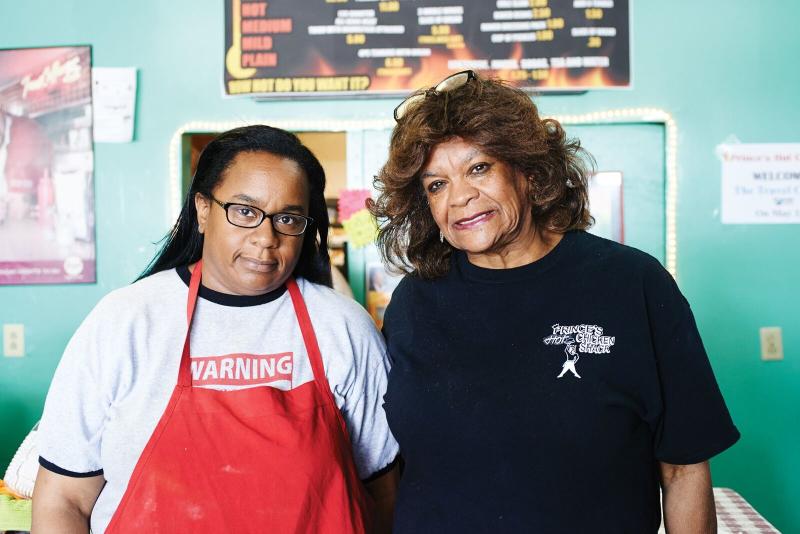 "Going to Prince's in Nashville is not about going to eat fried chicken, it's about making a fucking pilgrimage, a rite of passage, a badge of honor," says chef Edward Lee, James Beard Award nominee and TV personality. "I was so anxious and giddy my first time, I ignored the advice of the seasoned regulars in line around me and ordered the extra hot. I had to sit there and take down the whole meal while the staff laughed at me. I've been back countless times since then, and each time, I gain a new appreciation."
Lee is part of a growing circle of chefs and cultural influencers—including Zimmern, Sean Brock, Thomas Keller, and Anthony Bourdain—whose paeans towards the scarlet bird have prepared it for its new evolutionary cycle: what was heretofore thought of as a workingman's cuisine has now become a staple on several white-table cloth restaurant menus. As early as 2013, second-wave Hot Chicken joints have opened in places as disparate as Columbus (Hot Chicken Takeover), New York City (Peaches' HotHouse, Carla Hall's Southern Kitchen), Los Angeles (Howlin' Rays), Philadelphia (The Fat Ham), and even Australia (Belle's Hot Chicken). When my Hot Chicken cookbook was first released in October of last year, the number of restaurants prominently featuring Hot Chicken came in at about 20; that number has likely tripled since then, many of them being standalone Hot Chicken "shacks."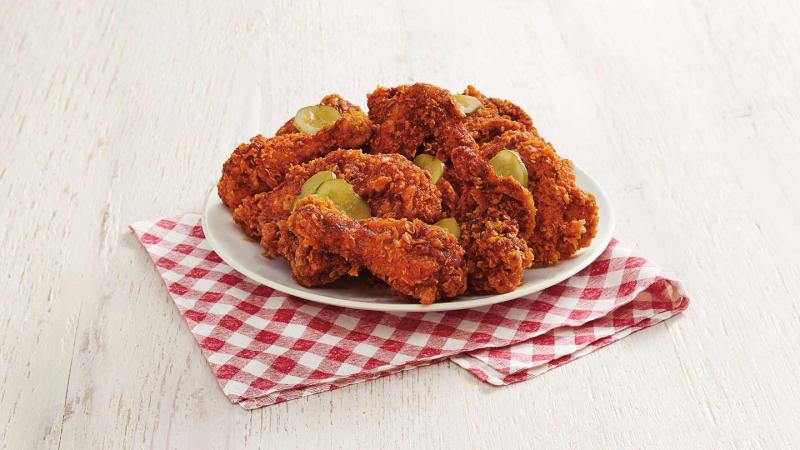 To get at why it's popular, we must consider the food's home: Nashville, Tennessee. Most of the really great stuff Nashville has given the food world—the "meat and three," Hot Chicken, whiskey—is "food for folks": simple-enough seeming, but, like a great song, containing a lot of nuance that you don't miss until suddenly they're not there. That sort of homespun authenticity is an easy sell on a national market, as KFC proved.
But why has Hot Chicken taken off and not, say, the Nashville Spice Round (a cooked round steak cured and spiced with salt, red pepper, brown sugar, allspice, and cloves)? Part of the draw is, of course, the heat. Eating Hot Chicken is more of a capital-letter Event than going to get a burger or tearing into a plate of nachos. As national palates are being conditioned to handle spicier foods thanks to a growing market of hot-sauce, chile-laced snacks, flamin' hot chicken is a natural progression for thrill-seekers. There's of course the origin story, which helps shroud it in myth, and the secretive nature of the recipe. But on a broader level, regional specialties breed a certain type of fanaticism that plays into the food media hype circle.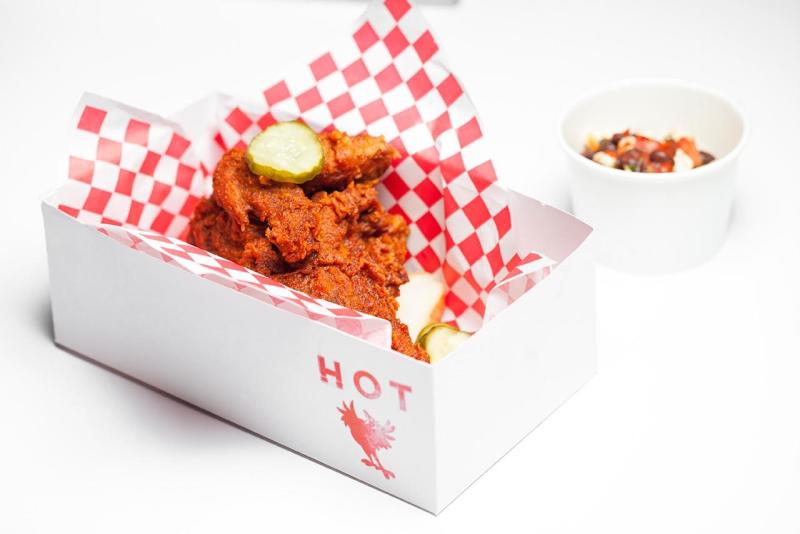 "You have a rapacious, underfed food media out there, throwing up stories at a pace at which that is unprecedented in any other time," says Zimmern. "Nashville has a very deep and widening culture, there's the intersection of music and food there, it's a famous Southern town with a great history, and it has a booming tourism capacity. The minute that the food freaks started to get a little traction down there; it was just a matter of time before this was the next big thing."
Despite the many challengers to Prince's crown, it's not yet a competition—at least here on the ground in Nashville. Some folks make a hotter bird (400 Degrees, which opened in 2007); and others are better suited for the lunchtime rush (Hattie B's, 2012). Most will tell you to try the other folks' offerings, too, as what lights up one person may leave another cold. Isaac Beard, proprietor of Nashville's popular Pepperfire (2010), once described it to me thusly: think of Hot Chicken as the NFL. You support the league as a whole, but usually you happen upon a favorite team. As such, you should also be okay with the fact that others have their own rooting interests, too.
When you get down to it, everyone now marketing "Nashville Hot Chicken" has stolen Prince's signature dish. Regardless, André Prince Jeffries isn't sweating over issues of authenticity, or lack thereof. The only sweat comes courtesy of her chicken. "I let our customers be the judge. They try the other places, and then come back and tell us what they think. The way you keep them is with your food, not worrying about everybody else."