Maybe you know chef Leah Chase because of her cameo appearance in Beyoncé​'s "Lemonade," in which the the silver-haired Creole matriarch looks dignified in a throne-like chair and stares deeply into the camera. Maybe you heard her name announced last spring, when the James Beard Foundation conferred its Lifetime Achievement Award on her. 
It's good if you did find Ms. Chase on one of those highly visible platforms, because you're not going to encounter her or her restaurant, Dooky Chase, by ambling along the well-beaten path of tourist destinations in New Orleans. The restaurant is less than two miles from the heart of the French Quarter, but in a neighborhood where New Orleanians live, not where visitors tend to explore. Why is she so important to this city? Leah Chase cooks New Orleans food, supports New Orleans causes, and exemplifies New Orleans values. She is like a grandmother to the whole city. 
At 76-years-old, if Dooky Chase is not the oldest black restaurant in New Orleans, it's close. For more than 70 of those years, Leah Chase has been at the helm of that kitchen, where she serves a very personal combination of typical Southern food (fried chicken, greens, fried catfish), Creole specialties (red beans, shrimp Creole, redfish court bouillon), and her own brand of fare (butter fried quail with grits, stewed turtle, leg of lamb with okra).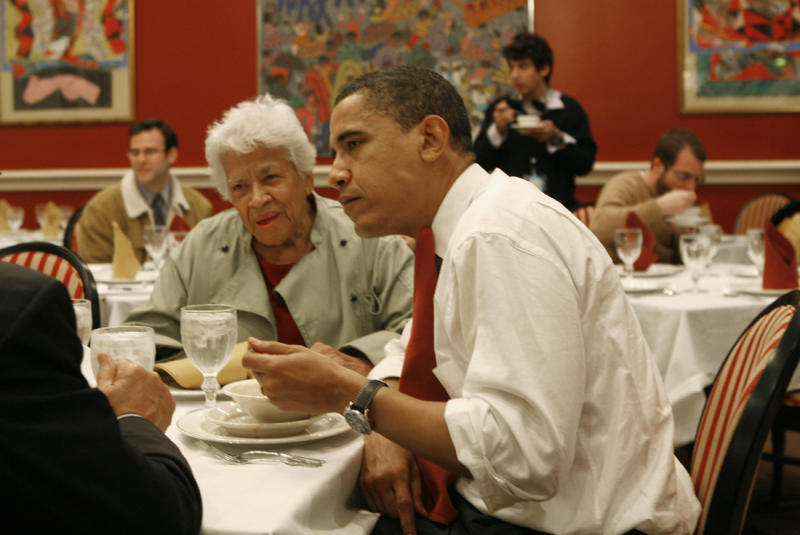 The Chase family already owned a small restaurant when Leah married Edgar "Dooky" Chase in 1945. The family place, named after Leah's father-in-law, the first Dooky, sold sandwiches and such, nothing fancy. But Leah had higher ambitions. She wanted to create a quality restaurant for black people to rival some of the whites-only places she had worked at in the French Quarter. So she began adding things to the menu. Such digressions from the tried-and-true didn't endear her to her mother-in-law. But eventually, Dooky Chase became the go-to restaurant for downtown black New Orleans, whether it was to celebrate a Little League Championship, or graduation from law school. It was the black community's white-table-cloth establishment: Its prices were an affordable splurge for working families, and its menu contained fancy offerings like steaks and chops that most folks didn't regularly get at home.
Black entertainers like Lionel Hampton, Cicely Tyson, Lena Horne, Ray Charles, and Duke Ellington made a stop at Dooky Chase de rigueur when they played New Orleans, so much so that Ray Charles included an allusion to the eatery in his version of "Early in the Morning." It wasn't long before white folks found out about the magic emanating from those pots. Despite the official "no race mixing" policy of the times, integrated groups would sometimes gather in one of the restaurant's private dining rooms, especially during the Civil Rights movement. That mix of food and politics continues to this day. Because Dooky Chase is so emblematic of New Orleans, it is an essential stop for national politicians when they stomp in the Crescent City, beckoning figures like Barack Obama and George W. Bush to eat hot bowls of gumbo.  
But Leah's true calling is to serve her community, not pose for pictures. For decades that included the residents of the public-housing development across the street, a complex that has been redeveloped into a mixed income community called Faubourg Lafitte. "Those people worked with me, they helped me. They were good, old people. Some of them had problems, but they always looked after me and I'll never forget them," says Chase.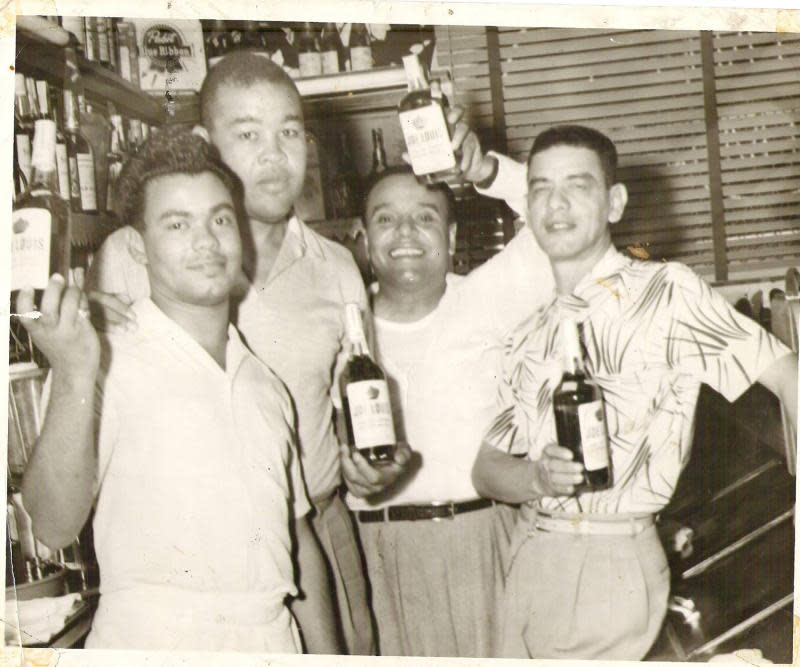 Leah's civic engagement, however, is most visible though the art collection on the walls and her service as a member of the Board of Trustees for the New Orleans Museum of Art. When the city's levees failed during Hurricane Katrina and the restaurants flooded, there were two questions on every one's mind: Are Mr. and Mrs. Chase okay? Were they able to save the art collection? The answer to the both questions was yes, fortunately.
Chef Leah never got media training from a high-dollar consultant. When she speaks to the press, she does so in the same straightforward, informal manner that she uses in speaking to the many admirers who eat at her restaurant. At 93, she's earned the right to answer direct questions with stories and digressions, or whatever she feels like talking about. So try as I did to make her answers conform to the "10 Dishes That Made My Career" format, what we have is a bit different. More like "reflections on dishes that I've found interesting or important or popular."
When Chef Leah starts talking, you are free to ask whatever questions you want, and she is free to answer however she wants. Best to just go along for the ride. It's guaranteed to take you somewhere interesting.