Late last year, Harvey J shot a music video for his single "Pancakes and Hennessy," a liquor-fueled house party sequence in which the North Carolina singer could be seen pouring a cascade of brown cognac over a leaning tower of flapjacks. If there is a moment that marks the genesis of Chef Henny—an almost mythical social media figure who douses his foods in dark liquor while donning a gold-trimmed Versace robe—this is perhaps it. As the final drops of liquor dripped off his fork, a new hero of the Henny movement was born.
Over the course of the last several months, as Harvey has continued his evolution into Chef Henny, the artist has amassed over 390,000 fans on Facebook and more than a million views on YouTube, shoving bottles of Hennessy in roast chickens and ice cream tubs while screaming "We lit!" at the top of his lungs. And while Hennessy has long existed as a muse for rappers—inspiring everyone from 2Pac to Jay Z to Kanye West to Drake—Chef Henny can be credited with turning the drink into a way of life.
"If it ain't brown, don't bring it around," he says often, repeating the mantra to himself. "If it ain't Hen, don't drink it again." Hennessy has become such an inextricable part of the chef's identity that he claims to have turned down a $3 million deal from DJ Khaled to endorse Luc Belaire champagne, calling the rosé "shampoo" with more than a hint of disdain.
As the country celebrates the Fourth of July on Monday—rolling out the all-too familiar spread of hamburgers, hot dogs, and cheap American beer—Chef Henny shares his best brandy-laced recipes with First We Feast to spice up the barbeque. From Henny patties and Hennana pudding, to Henny fountains and Henny water balloons, the Henny Gang hero explains what makes the "magic juice" so magical.
Do you consider yourself a real chef?
[My fans] call me a real chef, so I call myself a real chef. I've gotta take my career seriously.
You're a musician too though, correct?
Yeah, I've been making music for a few years. It's crazy because I have a cult following on the Internet. The cult following—​the hypebeasts of the cooking movement—are kind of like battling against [my music fans] right now. 
Why do you think people are responding to your cooking videos so intensely?
It's the Hennessy thing. I was just chosen to represent this movement, and I'm happy to be a part of it.
What does Hennessy bring flavor-wise to a food?
It brings all the sauce needed. And you know, as Gucci always says, "Without the sauce, you're lost." It just brings a really, really rich, lit, caramel-y-like taste to it.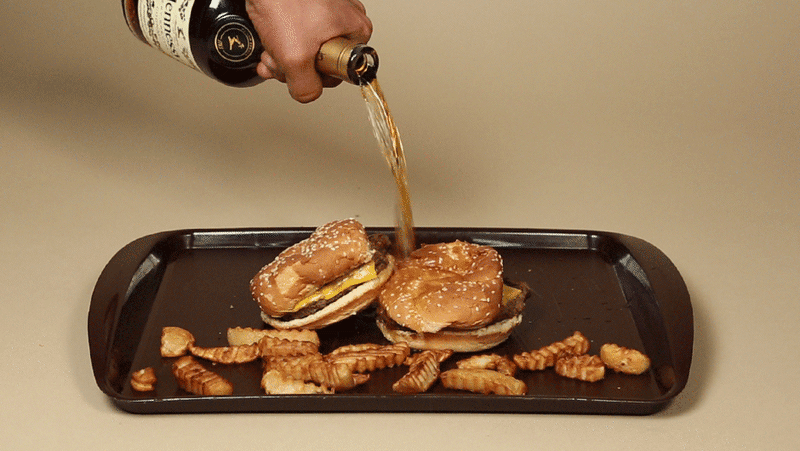 You just love Hennessy.
Yeah, it's genuine and I'm not getting paid from the company or anything like that. I think that's why Henny Gang supports it even more, cause it's a genuine thing. I never came into this looking to get paid. And my outlook ain't changed with a little bit of fame or a little bit of numbers. I mean it just is what it is.
Do you feel like you're the leader of

Henny

Gang?

Henny Gang is really a community. Henny gang doesn't have a leader. Anything that has a leader is fucking bullshit. It's just a community, you know? I'm one of the key players, but if there's any leader, it would be the Hennessy itself.
I have to ask you about DJ

Khaled

.

Yeah, like, what about it?
He wanted you to sign an endorsement deal for Luc

Belaire

, right?

Yeah, he reached out and wanted me to do some kind of brand representation deal for Belaire—or his team reached out—and immediately we were like, 'No.' So then we put it out and people thought it was fake. But literally later that evening he got on [Instagram] and started making his own version of it, and people just didn't appreciate it.
I mean, you've said he offered you like $3 million, right?
Yeah, but people don't know the other terms of the contract. I got so much fucking hate mail, like, "Oh you're dumb. Do you know how many people's lives you could have changed?" All that shit. Fuck outta here. You don't know the terms of the deal. The deal was fucking eight or 10 years or some shit like that. Yeah, shitty deal. But anyway, you know you can't really pay me to pour shampoo on my food.
If it's not brown don't bring it around.
Don't bring it around. Exactly. If it ain't Hen, don't drink it again. If it ain't Hennessy I won't have any. You know. You get it.
You couldn't just switch teams.
I'd be like the richest sell-out of all time. Then I really would have something to worry about, man.
Still, that's a lot of money.
Yeah, but would you pour that shit in your food?
No, I guess I wouldn't. But how much would you say you spend on

Henny

a week?

That's a commonly asked question: how much does Harvey drop on Hennessy in a week? And the honest answer is I don't fucking know. I don't think I'm qualified to answer that.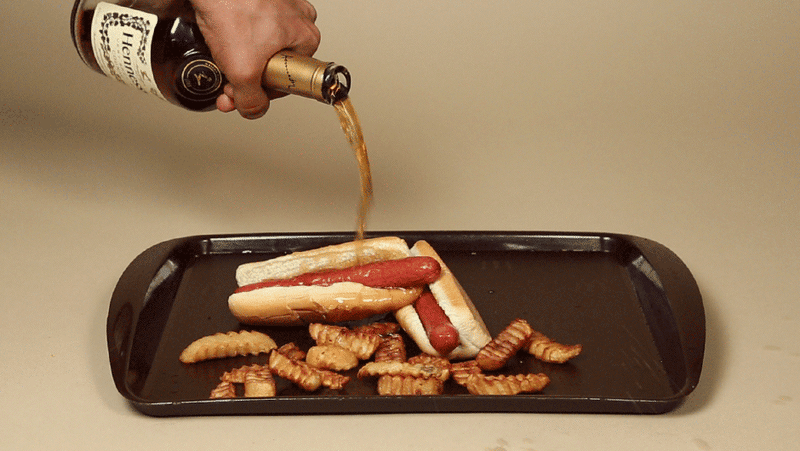 You just go for it.
Yeah, I mean, there's no telling how much Hennessy the week calls for. Sometimes it's massive amounts, sometimes it's just a moderate amount. But you know, to each his own.
You have a Hennessy

watercooler

in your home. That must take a lot of

Henny

to fill up.

Eight is the magic number with the Hennessy fountain. There are so many people who have made it now. I would only give mine to JR Smith. That's the only person I feel like would deserve the Henny fountain. But yeah, it's real. It's eight bottles worth.
Do you have any Fourth of July recipes on deck?
Well, absolutely. You have the obvious option, the Henny patty, which I cooked last week. But a really, really good recipe idea that I haven't done a video on yet is gonna be Hennana pudding, which is actually gonna be this traditional banana pudding recipe except with Henny, thus coining the phrase Hennana pudding. That's coming soon. You also don't want to forget your side of Hennamon rolls. Before the cookout you might have Henny Bunches of Oats.
But you're definitely not going to want to shy away from Henny bread or Henny chicken. Henny chicken has actually been my favorite recipe so far. Also you can go to the nearest dollar store and stock up on party balloons, and actually turn them into Hennessy balloons. The use of that is obvious. We've got obviously Henneroni and cheese—a great family choice. Yeah. If you're not really that much into drinking the Hennessy straight, you always have Hennatea, which is gonna be tea and Hennessy. Get you some good iron and nutrients in that.
Do you get a lot of hate mail?
One of the biggest things people always complain about is [me] wasting Hennessy. And Hennessy can't be wasted, there's no such thing. Because people don't look at Hennessy like the element in the universe that it is. But it's a natural resource and it's almost like somebody's saying I'm wasting water. You look at a resource like water, and it's like you can't really waste it cause it's fucking water. It's kind of the same with Hennessy. It's just gonna come back around. That's why it's brown.