"The writing is on the wall, and they didn't read it. When you concentrate on bottom line, you don't get to look into the eyes of the consumer," warns George Motz, author of Hamburger America, about the decline of yesteryear's burger-franchise titans.
That truth is self-evident when you look at the popularity of a company like Shake Shack, a fast-casual concept engineered by a hospitality guru that is tearing it up on both Wall Street and Main Street. "Shake Shack is drawing the line between mom-and-pop and high-quality ingredients. All we want at the end of the day is a real experience."
The hope for a 'real experience' has taken on many forms since the dawn of post-war America, when California car culture spread the gospel of the hamburger far and wide at roadside shacks and counter-service joints.
But all conversations about the burger's enduring star power in America starts in the early 20th century with an underdog: White Castle.
"The American hamburger, at its core, was designed to be leftover food for blue-collar workers," says Motz. "Billy Ingram, who was responsible for expanding the franchise, watched two kids buy a couple burgers, run around the corner, and hop into a limo. He saw potential, but needed to find a way to remove the stigma. With his real-estate money, he conceived of this special moment in food history. White represents purity, Castle stability. He was a master at re-branding."
People will say, 'Oh yeah, I'll take cheddar on my burger,' and I'm like, 'Bullshit.' What they really want is an American cheeseburger, and that's it.
If the 1920s were a golden era defined by the burger's restoration, than we're currently in what Motz calls the "hamburger renaissance-slash-backlash," where informed consumers are rejecting poor-quality ingredients in favor of something "experiential, which is just as important as the burger itself."
No-frills roadside burgers wrapped in yellow paper have evolved into elaborate patty blends with high-concept fixings like ketchup leather. Chefs have taken the lead, addressing each component (crust-to-meat ratio, cheese infusions) with skilled precision.
Despite improvements, Motz says we always return to the burger that we love, which is the very simple, straightforward, beefy burger on a white squishy bun with American cheese. "People will say, 'Oh yeah, I'll take cheddar on my burger,' and I'm like, 'Bullshit.' What they really want is an American cheeseburger, and that's it."
To test that theory, we rounded up a respected group of authors, editors, bloggers, and chefs to weigh in on which of America's countless burgers are truly worthy of your pilgrimage.
Our panel includes the following patty connoisseurs:
George Motz, filmmaker and author of Hamburger America (@MotzBurger)
Linton Hopkins, chef at Holeman and Finch Public House
Gavin Kaysen, chef at Spoon and Stable (@gavinkaysen)
Brett Martin, James Beard Award-winning writer, GQ correspondent (@brettmartin)
John T. Edge, director of the Southern Foodways Alliance at the University of Mississippi, author of Hamburgers & Fries: An American Story (@johntedge)
Edward Lee, chef/owner of 610 Magnolia (@chefedwardlee)
Nick Solares, senior editor at Eater NY, Burger Time columnist (@Nick_Solares)
Adam Kuban, proprietor of Margot's Pizza pop-up and founder of A Hamburger Today. You may also know him as one of FWF's 20 Greatest Food Bloggers of All Time (@adamkuban)
Nick Schonberger, founding editor at First We Feast (@nschon)
Brad Garoon, founder of Burger Weekly (@BurgerWeekly)
Jennifer Puccio, executive chef at Marlowe (@chefpuccio)
Richard Chudy, founder of Boston Burger Blog, author of American Burger Revival
Wylie Dufresne, executive chef at Alder (@wyliedufresne)
Kat Kinsman, editor-in-chief at Tasting Table (@kittenwithawhip)
Chris Schonberger, editor-in-chief at First We Feast (@cschonberger)
John Birdsall, James Beard Award-winning writer (@John_Birdsall)
Andrew F. Smith, author of Hamburger: A Global History
Josh Scherer, associate editor at LA Magazine (@culinarybrodown)
Let's dig in.
---
Latham's Hamburger Inn

Address and phone: 106 Main St W, New Albany, MS (662-534-5315)
Website: N/A
Edge says: "Spend a few days wandering northeast Mississippi, eating slug burgers and cracker burgers and dough burgers, and a kind soul with a taste for disks of ground beef and filler, fried in shallow oil and served between shingles of white bread, will point the way to Latham's Hamburger Inn of New Albany. Founded in 1928, and originally set in an old trolley car, Latham's skillet-fries dough burgers made with what tastes like a mix of beef and flour and water. Priced at $2.50 per, dressed with mustard, pickles, and raw onions, they taste like sandwiches teleported from the late-19th century when the burger form first took shape." (Photo courtesy John T. Edge)
---
Company Burger

Address and phone: 4600 Freret St, New Orleans, LA (504-267-0320)
Website: thecompanyburger.com
Martin says: "I am as surprised as anybody to find that, after nearly five years in New Orleans, one of the restaurants I would be saddest to see disappear is a burger joint—a relatively new one, at that, housed in a fairly generic space, serving an LA-style burger. (As in Los Angeles, not Louisiana.) Still, here we are. And I'd wager I'm not the only one for whom The Company Burger has quickly achieved pantheonic status. Its eponymous burger is a stacked, two-patty job, in the In-N-Out mold. It is made from a list of quality ingredients that I happily neglect to remember, because what TCB does best is not to let its chefly pedigree (owner Adam Biderman cooked in some of the finer kitchens across the South) interfere with its essential burgerness. It is those elements you remember: beef, salt, pickle, bun (toasted), American cheese (molten). You're more likely to feel like it has come off a bowling alley flat-top than a bistro's stove. All of which is to say, this is not a fancy burger but it is a careful burger. And there may be nothing better on this good earth than that." (Photo: Yelp/John L.H.)
---
Bobo's Drive-In

Address and phone: 2300 SW 10th Ave, Topeka, KS (785-234-4511)
Website: N/A
Kuban says: "These days it's increasingly easy to get the kind of burger I love—griddled patties smashed thin, yet somehow still juicy despite being seared till crunchy and craggly-edged. Throw on some American cheese melted gooey, stuff it in a good old-fashioned white-bread bun, and you barely need the mustard, pickle, and onion that I prefer as toppings.
Steak 'n Shake, Smashburger, and Shake Shack all do fantastic versions of this simple burger, but the place that gave me my initial craving for this style is Bobo's Drive-In in Topeka, Kansas. While the chains doing this style may have friendly service, they just can't match the quirkiness and old-school charm of Bobo's, whose waitresses are the type to call you "hon." I haven't been in a fews years, so they may all be retired by now, but the place at one time was straight out of "Alice" (which was an old '70s TV show about sassy diner waitresses). Make sure you get a double, which gets the beef-to-bun ratio right. Sit in your car and eat from a window tray, or dine-in—either way it's a time machine in the best possible way." (Photo: Yelp/Frank H.)
---
Santa Fe Bite

Address and phone: 311 Old Santa Fe Trail, Santa Fe, NM (505-982-0544)
Website: santafebite.com
Puccio says: "My father lives in New Mexico, and while there are tons of great restaurants we love to frequent, whenever I go to visit I have to get a green-chile cheeseburger at Santa Fe Bite. A great burger obviously starts with the meat, and the combination of freshly ground chuck and sirloin is seasoned with pepper, garlic salt, and onion salt. What's great is that you can choose the size of the patty. They come in six-ounce, 10-ounce, or 16-ounce sizes, and while many people think the more meat in a burger the better, I'm of the mind that all of the ingredients need to shine—not just the beef. I prefer the six-ounce patty simply served with Swiss cheese and lots of their roasted chopped green chiles. There's no need for bacon with the smokiness of the chilies, and it's perfect served on their homemade buns. They cook the burgers on cast-iron griddles (hand-made by the owner), which creates a gorgeous crispy exterior on the medium-rare meat. The new location might not be as quaint as Bobcat Burger, but the burgers are just as good." (Photo: Yelp/Tim S.)
---
NoMad

Address and phone: 1170 Broadway, New York, NY (347-472-5660)
Website: thenomadhotel.com
Dufresne says: "The first time I tasted a NoMad burger, I wasn't sure if it was one of the best burgers of all time, so I went back to taste it again—10 more times and counting. It is, in fact, one of the best burgers ever: a patty made with LaFrieda dry-aged beef blend, 25% fat, bone marrow, and suet, cooked perfectly every time. The chef, James Kent, sends it out 'rosé,' that sweet spot right between medium-rare and medium, and he tops it with white cheddar, my second favorite burger cheese after American. I remove the red onion because the only vegetables I want with my burger are fries and ketchup." (Photo: Yelp/Lori L.)
---
Motz's Mix: Apple Pan and Louis' Lunch
Apple Pan

Address and phone: 10801 W Pico Blvd, Los Angeles, CA (310-475-3585)
Website: N/A
Louis' Lunch

Address and phone: 263 Crown St, New Haven, CT (203-562-5507)
Website: louislunch.com
Motz says: "I never play favorites when it comes to burger joints. It would be disingenuous for me to choose a single burger as the 'best' because things always change, and those press clippings on restaurant walls always seem to remain. I do, however, believe in the Whole Burger Experience, a moment where the burger becomes equally as important as the place you are eating it, and who you are eating with. Two of my favorite experiential burger joints are The Apple Pan in Los Angeles and Louis' Lunch in New Haven, CT. Both of these places have been open for decades, but that is not what makes them great. Both Louis' and The Pan have managed to survive fast-food franchising, hard times, and the temptation to change.
The Apple Pan is a lunch counter lost in time. It's almost burger satire until you realize that the paper caps, white shirts, and curt retorts of the countermen are very authentic. The 1940s came and went at The Apple Pan, and no one told them. And the burgers have remained unchanged since opening day 1947. The Hickory Burger I ate there for the first time in 1992 was no different than the one I ate a few weeks ago.
They may or may not have invented the hamburger (the history is contentious), but the 115-year-old Louis' Lunch is definitively the longest continually running burger joint in America. You are reminded of this the moment you step into the dark wood grafitti-carved New Haven burger outpost. The burger here is so completely unchanged that it's still served on toast (because their burger existed a good 20 years before the burger bun was even invented) and still cooked on the same bizarre, antique, upright broilers.
I love both of these places because they make great fresh-beef burgers. But I love them more for the American hamburger history they have preserved. And we all know that the burger with history and a story always tastes a little bit better." (Photos: Yelp/Christian M., Nasa A.)
---
KronnerBurger

Address and phone: 4063 Piedmont Ave, Oakland, CA (510-823-2371)
Website: kronnerburger.com
Birdsall says: "Shiny tongues of bacon, two-inch onion ring collars, curdled smears of blue cheese: The modern restaurant burger is a dickshow, an engorged phallus fetished up for Instagram display. Chris Kronner, though, makes burgers for geeks and philosophes. His slim little café manages to avoid every modern design cliché, just like Kronner's thinking will not allow the prevailing massiveness of burgers. The KronnerBurger is a thing you can pick up one-handed, with a patty that is not swole but moderately sized, lithe, and—the menu gives you fair warning, so shut up about it on Yelp—cooked rare. It's got Big Mac–scale pickle slices, grilled onions, and iceberg membranes, precise and multilayered, designed to refresh. But it's the white cheddar mayo—a shiny amalgam that actually incorporates the cheese—where the anti-hypeness hits you. Instead of layering up, Kronner's shrinking down, compressing, like in some elegant line of code. In the end, there's just nothing sexier than a nerd." (Photo: Yelp/Simon J.)
---
Burger Bar Las Vegas

Address and phone: 3950 S Las Vegas Blvd, Las Vegas, NV (877-632-7800)
Website: N/A
Kinsman says: "Las Vegas appeals to many of us in large part because of its implied absence of personal responsibility. Bedtime? Irrelevant. Last call? Nonexistent. Moderation? Oh, please. The limit does not exist (save, of course, for your bank balance)—it is bounded only by the scope of your imagination. And wouldn't you know, it applies to burgers, too.
In Hubert Keller's Burger Bar, there is no chef-imposed doctrine ("We don't DO ketchup," "Lettuce and tomatoes? Hush, you bun-gumming rube!"), only your desire, which you may express in the form of multitudinous patty, bun, topping, and condiment options. Would you care to have your Wagyu patty nestled twixt halves of pretzel bun and slathered in chipotle aioli and "hangover sauce"? It shall be made so, my lord/lady. Might your dream burger ideally be decked with a lobe of foie, a sloppy measure of Gruyere, an egg, some peppercorn cream sauce, avocado, and a shaving of black truffles? Make it happen, cap'n.
The chef recommends? The chef gets to recommend bupkis. You are Fernand Freaking Point, Julia Goldanged Child, and James Bleeping Beard all rolled into one burger-wolfing potentate of Planet You, and who could possibly have a beef with that?" (Photo: Facebook/Burger Bar Las Vegas)
---
Dyer's Burgers
Address and phone: 205 Beale St, Memphis, TN (901-527-3937)
Website: dyersonbeale.com
Chris Schonberger says: "Popular wisdom has it that you go to Memphis for barbecue—to test the limits of your meat-eating capacity on anything else can seem like a fool's errand. But for me, the highlight of the town isn't Rendezvous ribs (nothing special) or Cozy Corner BBQ quail (pretty great), but rather the deep-fried hamburgers at Dyer's on Beale Street.
In essence, it's everything I want in a burger: a trifecta of ultra-thin patty, American cheese, and squishy bun balanced with onion, mustard, and pickle (no lettuce or tomato here). What makes it bucket list–worthy, though, is the historical technique: In 1912, before the proliferation of flat-top griddles, Elmer Dyer made his burgers in a cast-iron skillet of grease, pounding out the patties, plopping them into the cauldron of fat, and waiting for them to rise to the top.
Not only is that technique preserved today, but the grease used by Dyer has been strained and reused ever since (think of it like a starter yeast for fat), meaning that fatty bass note tying the burger together rumbles all the way back to the early 20th century. Whether the science checks out is irrelevant—locals are so protective of the famous grease that when new locations of Dyer's opened in Tennessee, it was transported via armed police escorts. In this golden age when you can get a solid patty just about anywhere, that sort of time-capsule approach contextualizes our burger mania and reminds us where we came from." (Photo: Jeff Moore/Garnish Food Photography)
The Varsity

Address and phone: 61 North Ave, Atlanta, GA
Website: thevarsity.com
Hopkins says: "A classic memory for me is being a kid and going to The Varsity before Atlanta Braves games. I would usually go with my dad and grandfather, Linton C. Hopkins, who would always wear his tweed hat and jacket, even to a fast-food restaurant and a ballgame. People love The Varsity for its hot dogs, and my dad usually ate the hot dog, but I always ordered the "Glorified" cheeseburger with lettuce, tomato, and mayo, plus onion rings and a large Coke. I loved the feeling of carrying that wonderful red-and-white box to the table. It always made me feel like I was part of something bigger; that it was part of what made me an Atlantan." (Photo: Yelp/Mike C.)
---
Joe Junior

Address and phone: 167 3rd Ave, New York, NY (212-473-5150)
Website: N/A
Solares says: "Joe Junior is a neighborhood diner that's been serving hospital and Con Ed workers, school kids, junkies, and clergymen for four decades. For me, their burger is the ideal of what a hamburger should be. It is all that a hamburger needs to be. It's ethereal and zen-like in its simplicity—just beef, cheese, and bread. A hamburger doesn't need anything else than what it says in the title. It should be self-evident. There are plenty of places serving fancy beef blends paired with luxury ingredients; you can make something different, but I don't think it will necessarily be an improvement on what Joe Junior serves. Here, anyone with $5 you can have this amazing beef meal which at any other point in history would've been a luxury—there is something very egalitarian about that. The patty is made from fresh-ground chuck, supplied by New England butchers. It fits the mold a Northeastern diner style burger—hand-formed, seven-ounce patties cooked on the griddle and served on generic white squishy buns. You can get it cooked to any desired temperature, but avoid the "plancha" used to weight it down during cooking. To me this hamburger is greater than the sum if its parts and is the distillation of the city's most important culinary and cultural tropes." (Photo: Nick Solares/Eater)
---
Revival
Address and phone: 4257 Nicollet
Ave S, Minneapolis, MN (612-345-4516)
Website:
revivalmpls.com
Kaysen says: "Honestly, and this is not just to keep it in Minnesota, the burger at Revival in Minneapolis is one of the best burgers I have ever eaten. As a chef, one of the best things you can do is create something that your guests crave. It may be a Saturday night at Spoon and Stable and we are cooking for 200 or more people, but those are the times when the flavor of that burger slaps me in the face and I want to go and get one. It's made with house-ground, grass-fed short-rib beef and brisket, then split into two patties and served with American cheese and housemade pickles. It comes with a side of hush puppies. Thomas Boemer worked hard on his fried chicken there, but the burger keeps me going back."
---
In-N-Out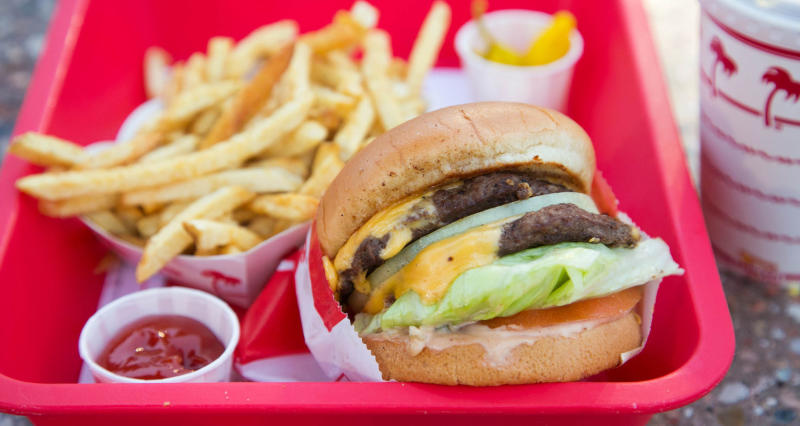 Address and phone: Various
Website: in-n-out.com
Scherer says: "Anyone who says they fell in love with In-N-Out after the first bite is a fucking liar. It's not the first, the second, or the third mouthful that makes you ride or die with Animal Style—it's the thousandth. Is it also a damn good burger the first time around? Sure. The buns are toasted and buttery, the meat is well-seasoned, the produce is always fresh, the minced grilled onions border on caramelized and blend into the milieu of it all; and their iteration of Thousand Island is far and away the best at any commercial burger joint. But the reason In-N-Out has such a well-deserved cult appeal is because of consistency. Your burger is the same. Every. Single. Time. It doesn't matter what state you're in, what time of day it is, how high the 16-year-old kid making your burger is—the thousandth bite is always going to be as good as the first.
It's been a calculated effort for more than 65 years to create a corporate culture in which that kind of consistency is possible. In-N-Out started in 1948, the same year as McDonald's, but instead of using their resources to McColonize the developing world and make branded toys to trick kids into buying trans-fat-laced french fries, In-N-Out just figured out how to make a good burger with well-sourced ingredients. When it comes down to it, that's what a haaaaaam-bur-ger's aaaaaall about. *Also, since their shakes and fries are really mediocre, you can spend more money on double-doubles.*" (Photo: Yelp/Jillian P.)
---
Shady Glen

Address and phone: 840 Middle Turnpike E, Manchester, CT (860-649-4245)
Website: N/A
Schonberger says: "Burgers are, paradoxically, not always judged on the strength of the patty. Certain cooking style—smashed, steamed, etc.—focus attention on the overall composition and privilege idiosyncratic detail. At Shady Glen, a Manchester, CT-based diner established in the late '40s, the beef itself may lack distinction but the technique makes it a must. Four slices of cheese swallow the patty, overflowing onto the griddle where the corners are allowed to crisp. The burger is nestled into a toasted bun and surrounded by a rising, theatrical crown of cheese. With that, a magnificent textural juxtaposition between the three core elements is produced. The effect is magical." (Photo: Yelp/Mimi C.)
---
The Spotted Pig

Address and phone: 314 W 11th St, New York, NY (212-620-0393)
Website: thespottedpig.com
Lee says: "Gourmet burgers may come and go, but the one that started it all for me is April Bloomfield's Chargrilled Burger at Spotted Pig. How many of you remember the early days when you literally had to punch someone in the face to get a spot at the bar and belly up to the perfect brioche bun, with those adorable grill marks, the melty blue cheese, and the unapologetic beef patty of heft? It's decadent without being obtrusive or ostentatious. It's big, but balanced. It takes a delicate hand to deliver on that nuance. (I'm so tired of burgers that want to destroy my digestive system.) And finally those crispy thin fries, light as air, that I eat by the fistful. It seems like an eternity has passed since then, but I am happy to report that on a recent visit that the burger is just as juicy, salty, unctuous, and delicious. The place is as busy as ever too, but without the entitled flock of drunks breathing down your neck, asking when you plan on leaving." (Photo: Yelp/Fred P.)
---
Vinsetta Garage

Address and phone: 27799 Woodward Ave, Berkley, MI (248-548-7711)
Website: vinsettagarage.com
Garoon says: "Growing up in suburban Detroit, the burgers that formed my tastes for the meat sandwich were mostly sliders. Not mini burgers mind you, but full-blown, steamed-meat authentic sliders. Until the last few years, that's where my nostalgic love of hometown burgers took me.
But now, Vinsetta Garage exists. Finding success in a nearly century-old building that was once a body shop, Vinsetta Garage is cranking out burgers that can only come from someone with the joyful imagination of a child—and the gluttonous appetite of an army. Served on massive pretzel rolls, each burger's equally sizable patty is sure to put down any hunger pang. For those who prefer a smaller patty for a greater sear-to-pink-meat ratio, the restaurant's namesake burger offers two four-ounce patties instead of the typical pub-style meal. This place isn't Greene's or Hunter House or Miller's Bar (slider huts all), or even Red Coat Tavern. It represents a paradigm shift for the best burger in Detroit, and an essential destination for hardcore burger lovers." (Photo by Brad Garoon)
---
McDonald's

Address and phone: Global
Website: mcdonalds.com
Smith says: "I've relished thousands of hamburgers—many excellent—but none top the first burger I ate at McDonald's in 1956. It consisted of a small bun, a one-ounce beef patty, one pickle slice, and a few pieces of chopped onion. There was no secret sauce at the time—just a smear of ketchup and mustard. What was exciting about it was its speedy delivery—less than 60 seconds the time the order was placed until bagged food arrived. More important from my parents standpoint was their cost. These burgers were cheap, just 15 cents. (If you wanted a processed cheese slice, you had to pay an extra 3 cents.) It was a bargain that baby-boom families in the '50s could afford.
In the age of gourmet burgers, Micky D's humble burgers may not sound like much, but they introduced a generation of Americans to dining out—an unusual experience at the time when most meals were consumed at home. McDonald's also revolutionized the fast-food industry: every other successful chain followed and improved upon its efficient model. They offered bigger, more costly, and more complex alternatives, but they are all descendants of the humble McDonald's burger." (Photo: McDonalds.dk)
---
Craigie on Main

Address and phone: 853 Main St, Cambridge, MA (617-497-5511)
Website: craigieonmain.com
Chudy says: "It's easy to obtain a late night fast-food fix in any city at any time, but for something truly special, the grass-fed burger at Craigie on Main (capped to 18 per night) is one for the ages. Many chefs load up their ultimate burger with premium toppings and dry-aged beef, and sneak in as much pretentiousness as they can. Sure, a touch of dehydrated miso may veer towards the cheffy side of the spectrum, but the Craigie burger is fanatically deconstructed at every turn to yield the most familiar yet refined burger I've ever had.
Bone marrow and suet are added back into the locally sourced beef, punctuating the beefiness to new heights. A homemade milk bun is countered with homemade mace ketchup and a side of celery-root slaw and red-wine vinegar pickles. The eight-ounce patty is first cooked at a low temperature in a CVap oven, then seared hard on a plancha to give it a masterful crust. Aged and melty Vermont cheddar blankets the whole package in a way that only a great cheese can. The meat is generally a blend of chuck/brisket, short rib/hanger, and fatty sirloin tips that carries a deeply nuanced, funky flavor. It's a must-try for any burger lover, and easily in a class by itself." (Photo courtesy Serious Eats/Jessica Leibowitz)