Rhett and Link, two self-professed "Internetainers," are used to putting themselves on the line in the name of comedy. On the duo's wildly popular YouTube show, Good Mythical Morning, they can be seen eating everything from pig uterus-stuffed burritos to insect-sprinkled fruit cakes to possum-packed corn dogs. And back in 2014, the friends attempted to take on two sizzling Carolina Reapers—the hottest peppers in the world grown by Smokin' Ed Currie of the PuckerButt Pepper Company.
Now, in a special precursor to Season 3 of Hot Ones, host Sean Evans takes Rhett and Link to Brick Lane Curry House in New York City for an off-season training session. The trio compete in a "spicy" trivia contest—answer a question incorrectly and you must take a heaping forkful of phaal, the spiciest curry in the world.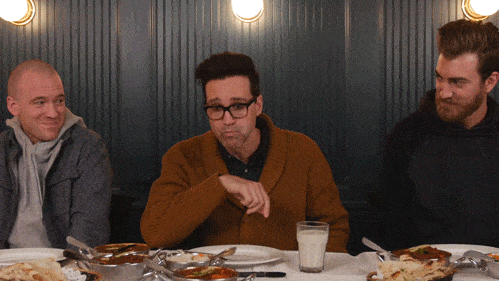 While all three competitors have gone head-to-head with capsaicin-packed chili peppers and lived to tell the tale, the curry-centric trivia questions quickly became a battle for survival.
Watch the video above to see who was able to gobble up the most scorching hot phaal without falling down.
Subscribe to the First We Feast channel and never miss an episode of Hot Ones.