It's a cold night in December, but Mario Batali and Action Bronson are both dressed in shorts, sweating as they drizzle globs of pickled chile honey over ricotta cheese in the back of Otto, Batali's upscale Italian restaurant in Greenwich Village. Three days ago, Bronson celebrated his 33rd birthday, and to honor the Queens-bred MC, Batali has decided to teach his protégé the art of Neapolitan pizza-making, showing the rapper how toss his dough in the air like a real pizzaiolo.
Since meeting almost two years ago, Bronson and Batali have become one of the most captivating odd couples in the culinary world, blending the old-school showmanship of the Food Network with the new-school bravado of food-minded multi-hyphenates. Though Bronson has become increasingly known for his appetite—most notably hosting the popular Viceland series, F*ck That's Delicious—in the kitchen, Batali is still the master, coaching the culinary school drop out on his form and technique.
When Bronson goes to slide his pie into the broiler—briefly turning his back on a member of Batali's team, who's been filming close-ups of the tutorial on her iPhone—the chef gently corrects him.
"You've never been on the Food Network before," Batali smiles. "When you make your swivel, you swivel to the camera, right?"
"See, I have to learn," Bronson admits.
As much as Batali has taken Bronson under his wing in the kitchen, the rapper has had an even more profound influence on the second act of the chef's T.V. career. In October, Batali's own Vice series, Moltissimo, premiered on Munchies, and in many ways the duo's relationship has introduced the 56-year-old cook to a new audience.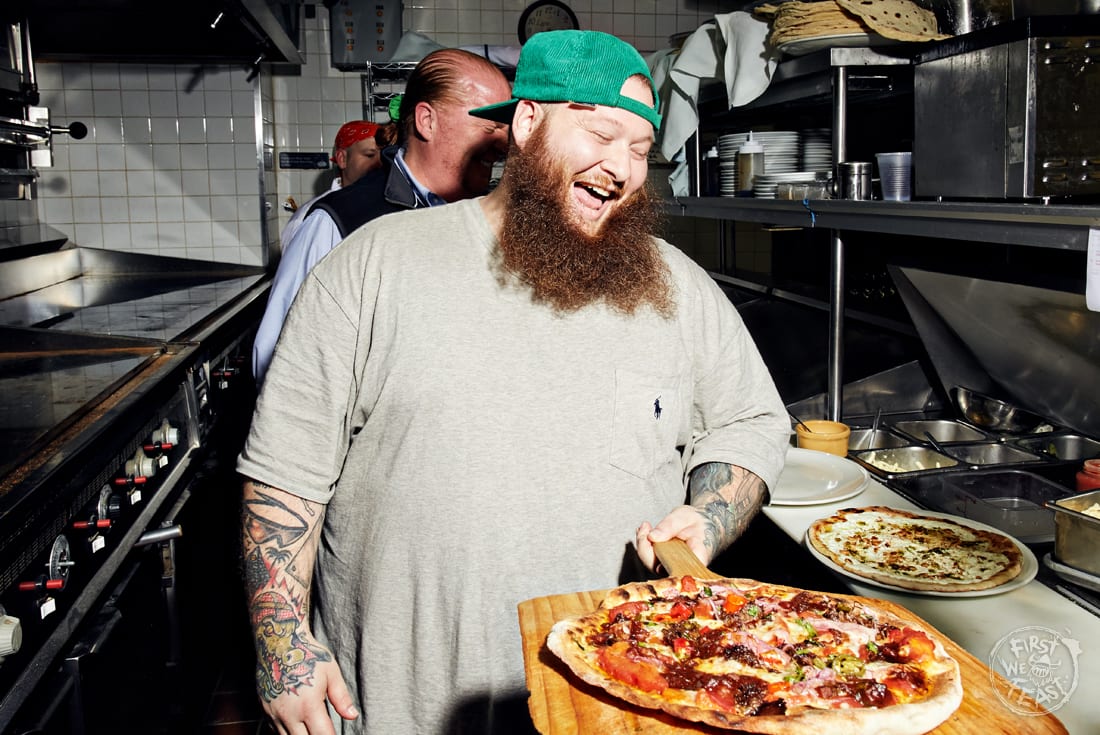 As Bronson and Batali wait for their pies to cook, their rapport is effortless. The kitchen's golden maneki-neko—a toy cat meant to bring good luck to the restaurant—waves its arm from the counter as the friends banter about Chicago-style hot dogs and deep-dish pies. But when Batali asks if Bronson plans to write a song about pizza, the MC says he's trying to distance himself from topics like De Cecco pasta and poutine, for fear of being pigeon-holed.
"I'm trying to rap about things like old BMWs and tattoos," Bronson explains. "I've already been pegged as the food guy."
Still, both Batali and Bronson have a deep appreciation for pizza. When it comes to Neapolitan pies, the chef instructs the rapper to cut the thin slab of meat and cheese immediately, but then to let the slices sit so the toppings don't slide off.
"For me, pizza is about balance" Batali reasons. "It would seem that extra sauce and extra cheese would make sense, but for me, it doesn't. I like less. Less is more." After finally testing his creation—a pie covered with fontina, roasted tomato, shaved red onion, and braised short rib—the chef becomes more verbose. "Like you, like your music, there is the angelic pizza, flying high above the planet earth, above the humans, above everything—living up there on the top stratosphere," he tells Bronson. "And then there's this one, down at the bottom. Satan's sphincter. Hot as balls."
Bronson seems to like that description, kicking his head back and laughing. His signature pizza, available throughout the month at Otto, features toasted hazelnuts and shaved white truffle. Together, the pies balance one another nicely.
"That's fucking amazing," Bronson says. "It's everything I've dreamt about."