Donald Trump is a polarizing figure, to say the least. On the right, 47.4 percent of voters believe the President-elect will "make America great again," while on the left, 47.7 percent of voters are currently drowning their sorrows in the bottom of a Tito's bottle. But regardless of how you feel about Trump, one thing Americans can all agree on is that burgers are fucking delicious.
Luckily, a new Chrome extension called "Make Trump Burger Again"—courtesy of the Australian fast-food joint Mr. Burger—swaps every image of the Donald for a photo of a delicious cheeseburger. Instead of glaring at the world's most famous comb-over on one's laptop, users will instead be greeted by a cheese- and bacon-topped beef patty stuffed between two sesame seed buns.
"We like to brighten people's days, and after Trump's win we thought we'd create something small to make the internet fun again," Daragh Kan, Mr. Burger co-founder, said in a statement to Mashable.
For those skeptics out there, the extension does the trick quite well.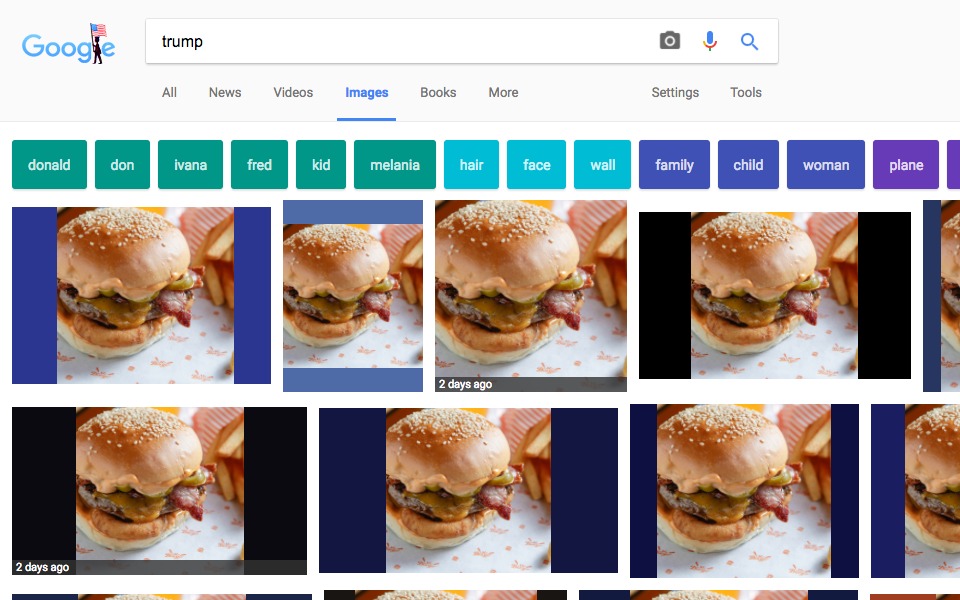 While Mr. Burger's invention is a unique and welcome respite from the venom seen on social media this week, it's perhaps a close second to the Trump-themed extension the website Tools for Our Tools created back in June. While using Tools for Our Tools' Chrome extension, every reference to the President-elect online is magically turned into a description of Trump from the feminist blog Jezebel—phrases like "sentient hate-balloon," "mountain of rotting whale blubber," and "gangrenous gaping wound."
Perhaps the best method is to use both extensions in tandem.
[via Mashable]