When Charles Oakley eats out in restaurants, he says he sends back over 70% of the food he orders. The retired New York Knicks power forward's gripe is simple: "A lot of people don't like to cook it the way you asked. You have it on the menu, and you say you want it one way, but a lot of chefs do it the way they want to do it. They get it wrong. I'm not mad at them, but when you wait 20, 30 minutes and it's not right, a lot of times that's disrespectful to me."
After taking a beat, that classic Oakley swagger kicks in: "When I cook, 95% of the time I know my food is gonna come out great."
It's a stat that Oakley's putting to the test by plotting to launch his own cooking show. The NBA star better known for his pugnacious attitude and rugged play in the paint throughout the '80s and '90s is now all about donning a toque and rustling up frittatas and French toast on camera. Pitching himself as the oddball addition to the stand-and-stir cooking show format that's become de rigueur for celebrities today, Oakley sees a future in the kitchen. 
Provisionally titled Oak In The Kitchen, scenes for a showreel that will be pitched to networks were filmed over the summer at the New Jersey house of the golden age rapper Masta Ace and his wife, Leschea. (The two camps connected through a mutual contact after Ace appeared on a Sirius satellite radio sports talk show.) As Oakley set himself up in Ace and Leschea's kitchen, he began to prep for a brunch that would feed around 30 or 40 guests. "It was a gang of people, but for me, the more I cook for, the easier it is," he explains. 
This isn't the first time Oakley's attempted to share his culinary skills with the world. Back in 2008, he put together a trailer for Café Oakley, a show that involved him cooking for guests in a home kitchen set-up while engaging in banter about switching up elbowing opponents for elbow macaroni.
For Oakley's newest attempt to nail the cooking show format with Oak In The Kitchen, he examined the brunch menu: "It's like that 11 to 2 o'clock time, so you want something that's not too light and not too heavy, like a mix of foods," he explains. "I cooked frittata, I cooked potatoes, I cooked zucchini, I made French toast. It was the type of foods that's kinda like a warm-up food for the day." If the pilot gets picked up, expect to see sea bass with crushed pineapple and a side of roasted tomatoes and Brussels sprouts; lamb chops with sweet potato fries and broccoli; and turkey burgers. Oakley's also toying with a companion cookbook based around dishes you can put together in around 10 minutes.
Beyond the food being served up, the draw of Oak In The Kitchen is its host's personality. As a player, Oakley courted a reputation as a prickly, in-your-face character. (After barely two minutes of his interview with First We Feast, he snapped, "No, I ask the questions.") But he maintains he's a calmer beast in the kitchen, which is something Masta Ace can testify to. Recalling watching Oakley getting busy at the burners, Ace says, "He's pretty much laid back. He talks candidly and he comes across as a very honest guy who says what he means and means what he says. He was a good story teller."
"Guys from our era were different. They liked to cook or they just got stuff on the run. A lot of guys when I played didn't have chefs."
One of Oakley's anecdotes involved the time he was promoting music shows at Virginia Union University and booked Leaders Of The New School, Busta Rhymes' original group from Long Island. "He had a little situation with them but he says he still sees Busta to this day and it's all good," recalls Ace. "I wouldn't say Oakley's a street dude, but he does have a street mentality where he won't have no problems getting into trouble, and we pretty much saw that on the basketball court as well."
During Oakley's heyday with the Knicks, Oakley made it a point to take control in the kitchen and cook for himself. He says that he really began to pick up his sauteeing skills once he joined the league, before it became standard for musicians and sports stars to hire personal chefs.
"Guys from our era were different," he reflects. "They liked to cook or they just got stuff on the run. I think this new era is more people being around a lot of the guys. So I know a lot of guys when I played didn't have chefs—that started around the early-2000s, I'd say."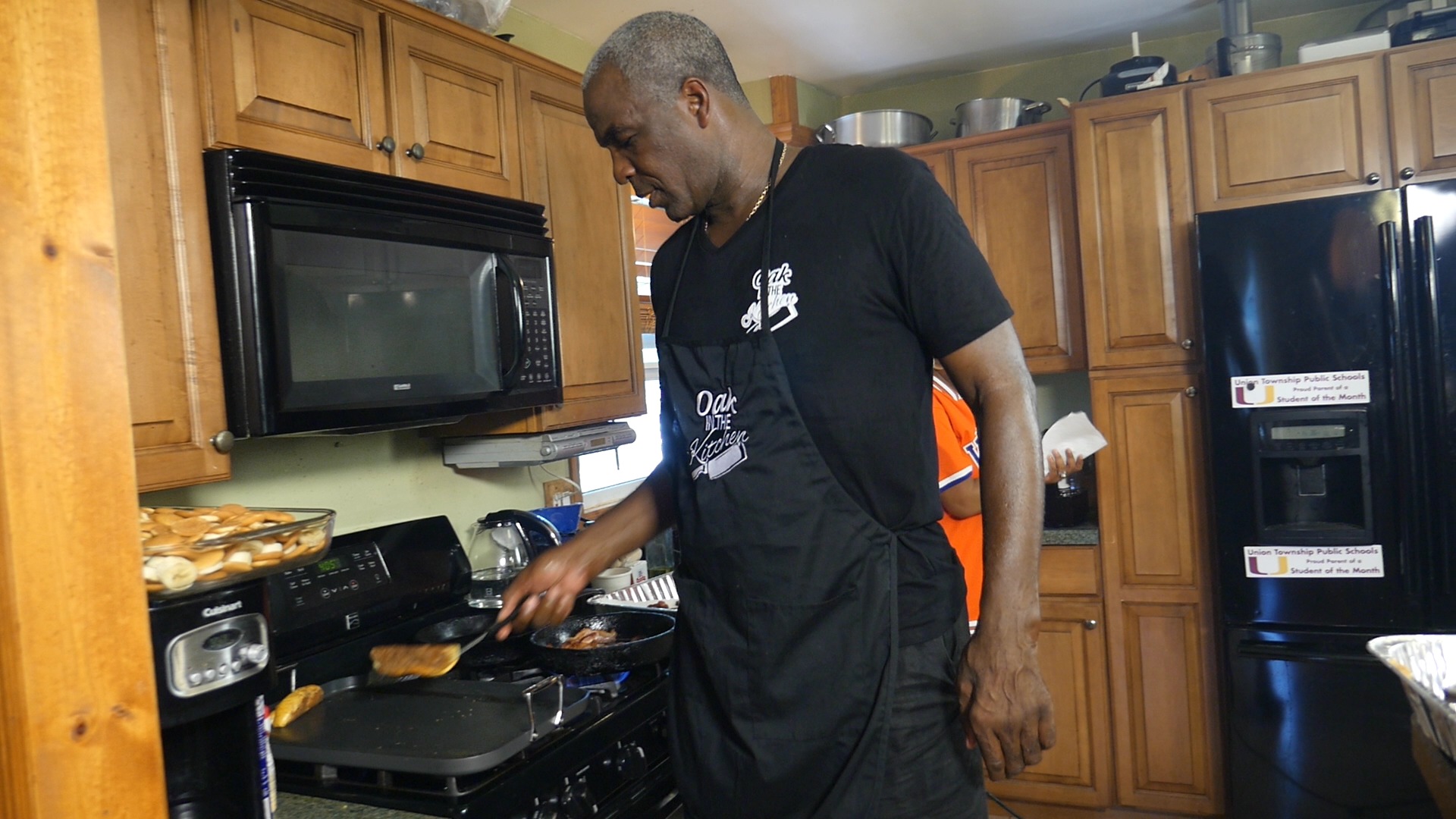 Not that Oakley has a vendetta against the intermingling of celebrities and chefs. "I like all the people who cook!" he says enthusiastically. "It's art and I give all of them props for going through the process because not everyone can do it. I like people who've been to culinary school and know the craft. It's a real special thing to do."
While Oakley claims no formal culinary training, he does assert that he possesses an innate understanding of the fundamentals of kitchen work. Comparing the discipline to training for a basketball season, he says confidently, "You add to your game, and when you're cooking you add this and that as you go. There's still a lot of things I have to work on, but I have the fundamentals so I can basically move in a kitchen—that's the key."