S. Truett Cathy, the late, Georgia-born founder of Chick-fil-A, is often credited with inventing the first fried-chicken sandwich when he began slapping breaded cutlets into hamburger rolls in the mid-1960s and selling them at shopping malls throughout suburban Atlanta. And while there are those who scoff at the company's folklore—pointing to the dish's African-American roots in the South, for example—there's no doubt that Chick-fil-A has successfully staked out its claim to the quintessential fast-food chicken sandwich. 
But for devotees who have scanned the restaurant's menu recently, only to find their beloved spicy-chicken biscuits replaced by a fried glob of egg whites, it's become apparent that the Chick-fil-A legacy is in jeopardy.
The first rumblings of catastrophic change began in the fall of 2015, when CFA opened its first full-service restaurant in the five boroughs. Standing three stories tall, and occupying 5,000 square-feet of Sixth Avenue, the location was the largest in the company's history—a shining symbol of Chick-fil-A's purposefully slow pilgrimage out of the malls of Georgia and into the heart of the Empire State.
For years, the student-only CFA outpost inside an NYU building was the stuff of New York City lore. But the chain's official coming-out party in Manhattan was a bellwether moment for the brand, and from the get-go it was clear that the new arrangement would take some getting used to on both sides. Ahead of the restaurant's grand opening in October, New Yorkers protested the company's stance on LGBT rights in the streets, and there was the sense that CFA's bible-thumping reputation was fundamentally incompatible with New York City values.
But then a funny thing happened: Chick-fil-A didn't change New York, but New York may very well have changed Chick-fil-A—for the worse.
Despite all of its misgivings (New York is generally anti-fast-food, anti-closing-on-Sunday, and anti-homophobic-ownership), the city pretty much said, f**k it, we're psyched about chicken sandwiches and totally down to line up for them. Yet somehow, Chick-fil-A corporate appears to be under the false impression that it needs to change in order to live up to its new zip codes. 
As the chain kicks off a dozen new openings in the five boroughs with its latest location at the Queens Center Mall in Elmhurst this week, the question bears asking: Is New York City making Chick-fil-A go soft? Is the company's much-lauded "Jesus Chicken" slowly morphing into quinoa and kale, after decades of sticking to the tried-and-true script?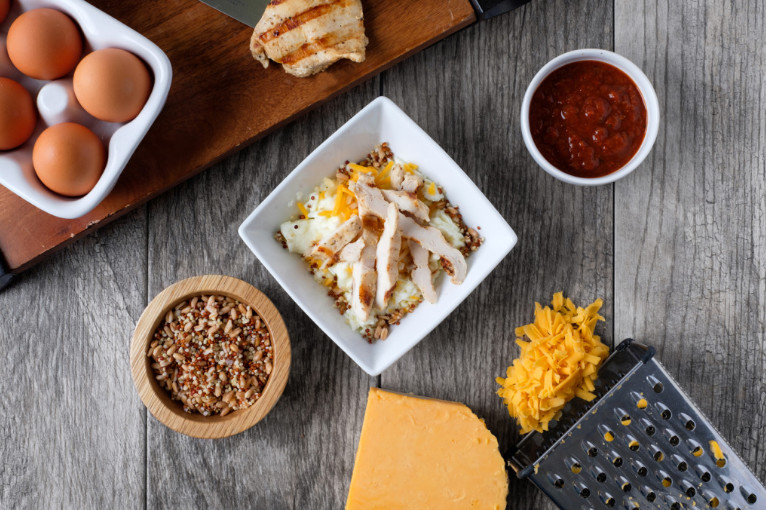 Last year, CFA began grilling some of its fillets, rather than frying them, and introduced a vegetable-packed chicken tortilla soup. In January, in a sure sign of the coming apocalypse, the company announced that customers could soon swap their French fries for a side of fresh kale, dropping its mayonnaise-drenched cole slaw from the menu in the process. For a brand built on fried chicken cutlets, waffle fries, and sucrose-packed "Polynesian Sauce," the move was akin to high treason in the eyes of its devotees.
The situation came to a head in July, when Chick-fil-A dropped the bomb that it would be discontinuing its beloved spicy-chicken biscuit to make room for a new line of healthy breakfast sandwiches with egg whites and grilled chicken. The brand is used to receiving boycott threats over its unsavory politics; outcry over its food marked a new kind of controversy.
"When you took away my spicy chicken biscuit, you took away my reason to get breakfast," one customer wrote on the company's Facebook page. "I feel violated," added another.
Unwilling to succumb to public pressure, Chick-fil-A doubled down on health food again this week, with a new selection of grain bowls popping up on menus in cities like San Francisco, Sacramento, and Huntsville, Alabama. Stuffed with buzz-foods like kale, quinoa, farro, and goat's cheese, the dishes mark an attempt to broaden the company's appeal past fast-food nation and into the good graces of health-conscious millennials.
Still, items like the "Harvest Kale & Grain Bowl" end up feeling more clumsy than groundbreaking—sort of like Donald Trump trading in his private jet and bucket of fried chicken for some poke and a Citi Bike. In addition to the grain bowls, locations in New York, New Jersey, San Diego, and Washington, D.C. are also testing a new "Berry Protein Blend" featuring a mixture of whole grains, chia seeds, berries, and yogurt.
For perhaps the first time, fried chicken isn't a crucial component of each and every menu item. And while mission creep is taking the company's health-food crusade to other major U.S. cities, this quinoa-ification of Chick-fil-A has NYC written all over it. Normally, Chick-fil-A would be arrogantly soaring above the competition, raining down fried-chicken tenders and honey mustard on all the haters. But instead, the company took a look around Manhattan and started talking about "flavor trends," and ingredients outside of grease and Jesus.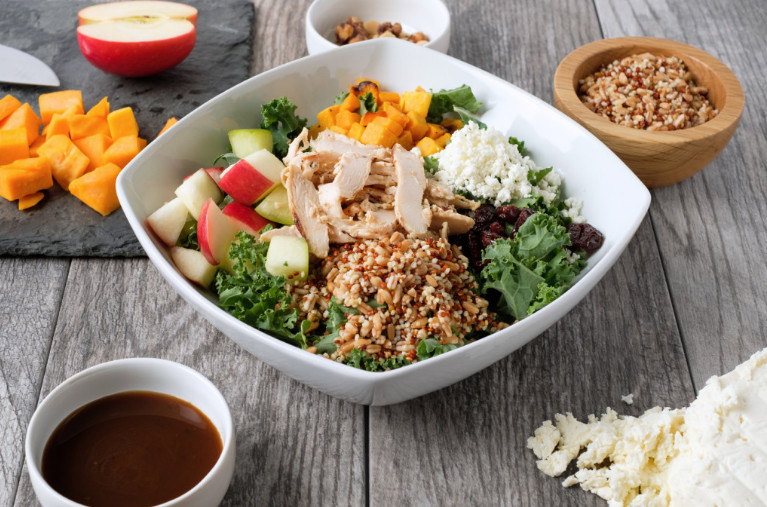 "[W]e will always serve the classic menu items we're known for," David Farmer, Chick-fil-A's vice president of menu strategy and development, reassured customers in a press release, perhaps hoping to avoid a riot. "[W]e are also excited to try new ingredients that we hope will satisfy our customers' requests and allow us to stay on-top of new flavor trends."
But are customers really looking for Chick-fil-A to be at the vanguard of the grain-bowl craze, or do they just want the restaurant to keep doing what it does best? After all, even David Chang—a chef who's actually driving flavor trends—looked to CFA for inspiration when he opened his own fried-chicken sandwich joint, Fuku, last year. The new-wave foodies who bow down to the spicy-chicken biscuit will likely find elsewhere to go for their power juices and grain bowls.
And so here we are: Chick-fil-A, the self-professed godfather of the chicken-sandwich movement, is at a crossroads. Ultimately, will New York City save CFA from itself—unclogging America's arteries, and thawing its conservatism in the process—or drive the fast-food chain to lose its hard-fought identity?
"We live in a changing world, but we need to be reminded that the important things have not changed," S. Truett Cathy once said, "and the important things will not change if we keep our priorities in proper order."
Many fans, however, would argue that there is nothing more important than a spicy-chicken biscuit.