The next time Donald Trump gets a hankering for fast-food, he might consider trading in his Kentucky Fried Chicken for some Taco Bell. A group of the chain's franchisees are apparently so fond of the Republican presidential nominee that they've used their political action committee to financially support his campaign.
Aptly titled "TACO PAC," the committee has reportedly maxed out the $5,000 cap it can contribute to Trump's candidacy this election cycle. The Donald has famously claimed to be funding his own campaign this year, and TACO PAC is said to be only the fifth committee to shove the maximum donation into Trump's tiny little hands, according to Food & Wine. On Wednesday, however, the New York Times reported that Trump had "all but erased" the enormous fundraising deficit that existed between him and Hillary Clinton over the last two months.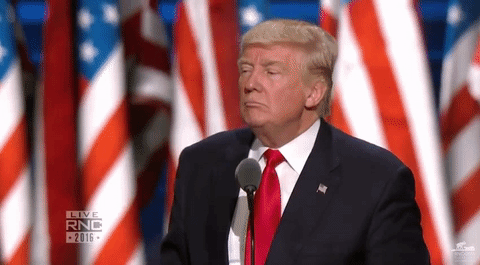 Each election, TACO PAC's members select which candidate to support in the raced based on a number of different factors. According to the group's website, the most important criteria is the candidate's "position on pertinent issues to Taco Bell Franchisees and supporters," followed closely by his or her "integrity and character," as well "financial needs and prospect for election success." And though the PAC has chosen to support Trump in particular, so far this election the pac has donated a total of $53,625 to Republican candidates and $3,500 to Democratic candidates. ​
It's no secret that Trump appreciates a good fast-food meal. Earlier this week, the Donald tweeted a picture of himself digging into some KFC with a fork and knife, and earlier this year the candidate was allegedly sending his man servant Chris Christie out on McDonald's runs.
Still, one would think Trump's xenophobic threats to erect a giant wall between the US and Mexico would be off-putting to the Tex-Mex franchise owners, but perhaps the candidate's love for taco bowls (and "Hispanics!") was enough to convince them he's the man for the job.
[via FWx]