If Michael Phelps ever decides to retire from swimming (again…), the Baltimore-raised Olympian may enjoy a second career as a competitive eater.
Phelps' diet has long been the stuff of legends. In 2008, the athlete claimed to inhale three egg sandwiches, two cups of coffee, three slices of French toast, three chocolate-chip pancakes, one five-egg omelet, and a bowl of grits for breakfast each morning.
But while many athletes boast insane diets during training, few can say they're able to wolf down a giant plate of carbs right after nabbing their 19th Olympic gold medal. Following Team USA's victory in the 4x100m freestyle relay on Sunday, however, the 31-year-old Phelps claimed to have forced himself to inhale a full pound of pasta.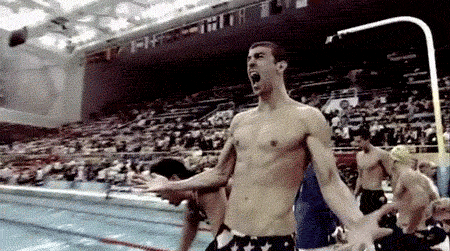 "I tried to do as much as I could, get my lactate cleared, had a massage, had an ice bath, eat," Phelps said after the competition, according to the Associated Press. "I think I had a pound of spaghetti and I am not a spaghetti fan, I forced myself to eat it."
Though it might sound like Phelps is being hyperbolic, consuming multiple pounds of pasta used to be part of his daily routine. For lunch, the athlete would typically eat one pound of enriched pasta and two large ham and cheese sandwiches with mayo on white bread. Later, for dinner, Phelps would eat another pound of pasta followed by a whole pizza. Both meals were supplemented by thousands of calories worth of energy drinks.
All in all, Phelps was said to eat a total of 12,000 calories each day—though it remains unclear whether those munchies-inducing bong rips were ever part of his training regimen.
"Eat, sleep and swim. That's all I can do," Phelps said in 2008. "Get some calories into my system and try to recover the best I can."
[via Insider, Associated Press]