Over the course of her decades-long career, Martha Stewart has launched magazines, starred in television shows, written cookbooks, and given prison tips to Justin Bieber ("The first thing you'll need is a shank...​"). But now, the lifestyle goddess is about to embark on perhaps her most ground-breaking project yet.
Beginning this fall, Stewart and her longtime friend Snoop Dogg will star in a new, un-scripted VH1 series titled "Martha & Snoop's Dinner Party," Variety reports. Each week the the duo will host a televised "dinner party" and invite a new cast of celebrity guests.
"At our dinner party, we will exemplify America's fascination with food, entertaining and celebrity," Stewart said in a statement to Variety. "'Martha & Snoop's Dinner Party' will redesign the traditional food competition shows in a new, different and very funny way."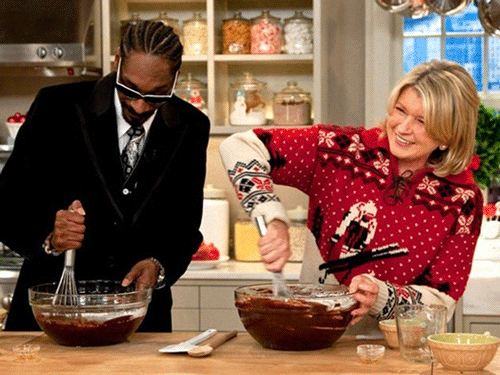 While the series marks a big step forward in the couple's relationship, Stewart and Snoop have shared a close friendship for years. In 2008, the rapper appeared on the chef's show to cook mashed potatoes, and, according to comedian Jeff Ross, the duo got high together at the Comedy Central's roast of Bieber.
"My homegirl, Martha and I have a special bond that goes back," Snoop said. "We're gonna be cooking, drinking and having a good time with our exclusive friends. Can't wait for you to see how we roll together!"
In an interview with Good Morning America, Snoop added that the duo came up with the idea for the show over "a glass of wine, herbs, tea, and atmosphere."
"Our new show is rizzle dizzle fo shizzle," Stewart adds.
Well, there you have it. 
[via Variety, Good Morning America]