If you've ever left the supermarket with an overflowing shopping cart, you know why it never pays to go to the grocery store on an empty stomach. But now, as a cautionary tale to hungry fans everywhere, LeBron James has perfectly illustrated why ordering pizza can often lead to a similarly disastrous outcome. 
Over the last several years, James' love for 'za has been well-documented. Back in April, the Cleveland Cavaliers star went undercover as a pizza parlor employee named "Ron," dishing out hot pies to customers in Pasadena, California. But last Friday, James showed fans just how in love with the food he really is, posting his most recent order on Facebook. 
As one might expect, James doesn't settle for a meager cheese pizza like the average man. Hell, he doesn't even go the specialty pie route. Instead, the star forward's pizza came stacked with 16 different kinds of meat, veggies, and spices.  
Using the "build your own pizza" function (his first mistake), James added cherry tomatoes, arugula, grilled chicken, turkey meatballs, and nearly a dozen other ingredients to his pie. 
"Don't order while STARVING," he warned his followers after shouting out his "Blaze Pizza fam"—a fast-casual pizza chain he began investing in last year.  
But while Bron Bron's toppings game is strong, don't expect to see any pepperoni on his plate. The King has sworn off pork for the past seven years, and believes the diet has helped his basketball skills reach new heights. And even though James' order came topped with lots of vegetable, the health-conscious athlete made sure to let fans know he #AddedThatSaladThough.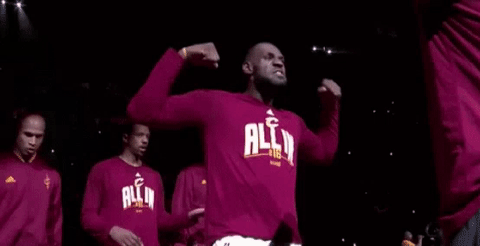 [via Yahoo]