Guy Fieri is known for a plethora of character traits—bleach-blond hair, flame-licked clothing, a preternatural ability to predict big-name NBA signings—but above all else, the frosty-tipped Mayor of Flavortown has made a career out of shoving inordinate amounts of meat into his sizeable gullet.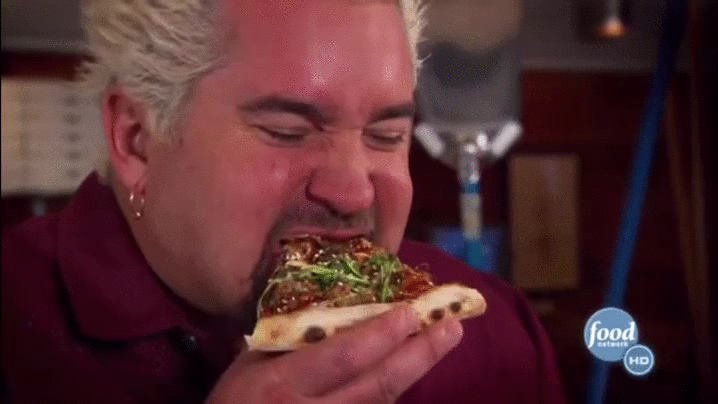 With that image of Fieri in mind, some fans might be surprised to learn that the muffler salesman-turned-Food Network star is actually an outspoken proponent of vegetarian cuisine. Despite his carnivorous nature, the author of such renowned titles as Cookin' It, Livin' It, Lovin' It and More Than 150 Off-the-Hook Recipes says he hopes to one day write a vegetarian cookbook.
"I always tell my family—and they laugh about it—but someday I will write a vegetarian book," Fieri told People at a recent presser in New York City. "My cousin, who's a big vegetarian, tells me flat out, 'You're my favorite vegetarian chef.'"
The singer and actress Lea Michele Sarfati—an "occasional" vegan, according to People—is apparently a big Fieri fan, running into the cool Coachella dad at this year's festival.
"She's awesome," Fieri said. "I didn't get a chance to get her info, but I gotta reach out to her because here's the thing, I cook so much vegetarian and vegan food, it's crazy!"​
While it's easy to poke fun at Fieri (he knows you're laughing at him, Tony Bourdain!), the chef's love for vegetables began as a child, and took on an even greater significance as his younger battled cancer several years ago. 
"I lost my little sister to cancer three and a half years ago, and she was vegetarian," Fieri, whose parents were also vegetarians, told the Washington City Paper in 2014. "And so while she was going through cancer treatment, I was cooking for her and so I really had to learn a lot about working with raw and working with vegetables and all of these simple but phenomenal possibilities—especially working with whole grains."
"I'm a big vegetable fan," Fieri added. "I'm a kale junkie. I love all my veggies."
[via People]