House arrest is making Gucci Mane hungry. And while in the past, Guwop might have stuffed himself with a tray full of chicken wings, or a plate overflowing with hamburgers, or a tall stack of "IWOP" pancakes, since leaving prison in May, the rapper has taken on a healthier lifestyle, switching to a no-carb diet and munching on kale.
Still, everyone deserves a cheat day, and over the weekend Gucci was craving a "Ghetto Burger" from Ann's Snack Bar in Atlanta.
Guwop's ankle bracelt wasn't the only thing standing between him and his burger, however. The rapper's girlfriend, Keyshia Ka'oir, is trying to keep her man on his diet, offering him popcorn and fruit salad (smdh), but refusing to make the trip to Ann's Snack Bar.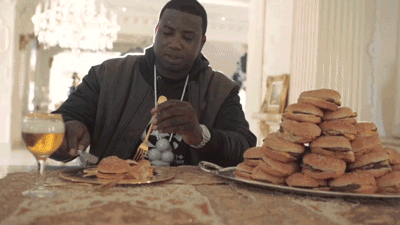 Gucci put the word out on Snapchat that he was  starving,  Gucci offering anyone watching a "couple hundreds" to pick up a burger for him. Luckily, Mike Will Made-It—one of the main producers on the rapper's new Everybody Looking album—heard Guwop's cry for help and came over to save the day.
"Oh shit, there go my motherfucking friend," Gucci says as the producer makes his way to the door with a burger in his hand. "Somebody gotta do right by the Wop!"
Gucci may have avoided carbs and learned to love the greener side of food during his time in lockup, but that doesn't mean he's stopped craving burgers and fries. 
[via Pigeons and Planes]