Few experiences are more infuriating than hearing the words "No thanks, I'm not hungry" come out of your significant other's mouth, only to find them picking off your plate moments later. Food thievery has become a national epidemic over the years, but one woman named De'ja isn't standing for it anymore, cursing her boyfriend out for eating her pizza in a series of legendary Snapchat videos.
"I don't wanna share anything that I'm digesting," De'ja says, simultaneously creating one of the most quotable moments in Internet history. And though the argument was sparked over pizza, the issue goes beyond cheese and pepperoni. "I don't want to share. So when I say 'Get us something to drink,' I mean you a drink, me a drink."
"I just want to eat good on my own!" she adds.
De'ja eventually does the wise thing and gets herself another slice of pizza, but not before getting the table next to the couple to weigh in on the debate.
"I was hungry!" the boyfriend says, defending himself.
Still, the fight didn't end at the restaurant. Once they left, De'ja sent her boyfriend a brutal text, advising him to just admit that he was "starving like a homeless pig" the next time he's hungry.
"You plotted on getting my food when you knew I was hungry," she wrote. "Secondly, you kept saying you wanted a little piece, but as soon as I said take it you devoured the whole entire slice."
Our thoughts and prayers are with De'ja as she continues to cope with this difficult loss.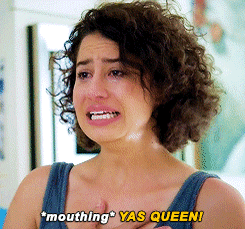 [via BroBible]