From threatening to deport millions of undocumented immigrants, to condescendingly professing his love for taco bowls and "Hispanics," presumptive presidential nominee Donald Trump is not making many friends inside the Chicano community. Last month, a family of Trump supporters was allegedly denied service at a fast-food chain in Virginia, and now a woman claims that a Mexican restaurant in Warwick, New York threw her out for wearing one of the candidate's "Make America Great Again" hats.​
Esther Levy, a 61-year-old writer, and Alvin Goldstein, a retired local judge, ordered two glasses of sangria at the Cancun Inn on Sunday night before their server returned to the table and asked them to leave. The duo believes the incident was due to Levy's Trump-tastic attire, which also included a pin supporting the Donald's campaign.
"I was shocked," Levy told the New York Post, a News Corp-owned tabloid that endorsed Trump for president in April. "[The waitress] seemed very surprised by it all and was told to refuse us service. We just got up and started to leave."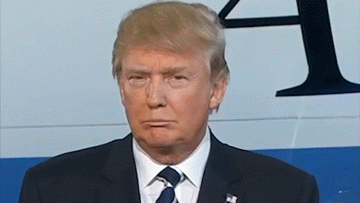 Levy, who says she's a loyal customer of Cancun Inn, also claimed that an owner of the restaurant taunted the duo for supporting the Republican candidate, even as they left the dining room. 
"On the way out, the co-owner decided to yell at me and humiliate me," Levy told the Post. "He said, 'We don't serve Trump supporters here. Get out of here and never come back.'"
Levy called local police to report the incident—as so many do in the event of a non-emergency food issue—but authorities told her a private business maintains the right to refuse service to customers. Since launching his candidacy last year, Trump has been repeatedly criticized for derogatory comments aimed at immigrants. Today, more Latinos are seeking citizenship to vote against the candidate than ever before.  
In a Facebook post on Monday, Cancun Inn claimed that the couple was asked to leave due to drunken rowdiness, not political affinities. In the days since, however, Trump supporters have flooded the businesses' page with racially-charged comments and memes. One image depicts the respected Mexican-American journalist Jorge Ramos being kicked by Trump while wearing a sombrero; another shows a group of men holding leaf blowers with the words "Mexican Ghostbusters" written below.
"An employee of ours asked the patrons to leave because they were being rude to the staff and rowdy due to intoxication," the restaurant's post states. "We've always treated our customers with the utmost respect and dignity."
Critics have vowed to boycott the 25-year-old restaurant, and locals are banding with Levy in order to bring awareness to the so-called "discrimination" taking place against Trump supporters.
"This is going on all over the country," Bernhard Rosenberg, a local rabbi, told the Post. "People need to know that we are not going to stand for it. Enough is enough. We have a right to support him."
[via New York Post]