While it's always important to leave a server a fair tip after dinner, the fact of the matter is that the difference between 10, 15, and 20 percent rarely amounts to more than a couple dollars—especially at a Texas Roadhouse. Still, nothing has the power to turn a person into a hate speech-spewing, xenophobic lunatic quite like getting shortchanged on a bill.

Now Megan Olson, a waitress at a Texas Roadhouse in Denver, Colorado, has been fired after tweeting that she would "kill as many Mexicans as [she] could in one night" if her life was like the movie the Purge. Referencing a universally panned film with a 37 percent rating on Rotten Tomatoes, Olson also used a racial slur in a hashtag, telling Mexican customers to "learn how to tip." An angry, red-faced emoji and a middle finger were also thrown in for good measure.

Unsurprisingly, Olson's employment with Texas Roadhouse—a Western-themed restaurant chain that actually serves a pretty decent chicken-fried steak—was promptly terminated.
"This type of offensive, discriminatory language has absolutely no place at Texas Roadhouse," a spokesperson for the company told Denver7.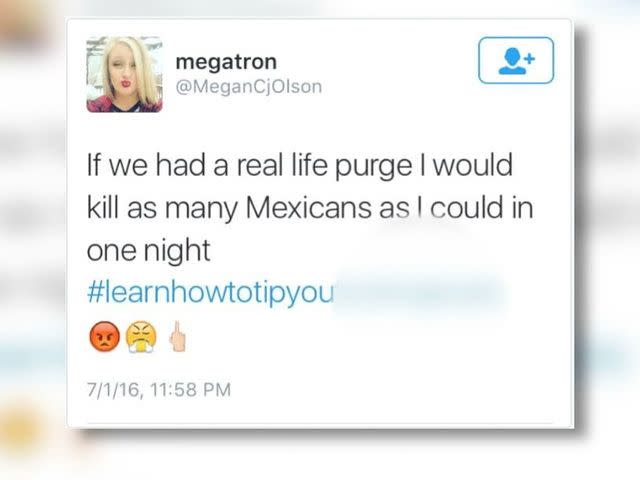 Though Olson, who goes by the handle "megatron" on Twitter, has since deleted the offensive post, she later expressed her remorse on Facebook.
"I wrote hurtful, inconsiderate, insensitive and careless words and I understand the amount of people I have offended by that. There are no excuses for what I have done. I sincerely, from the bottom of my heart, apologize to everyone for my momentary lack of judgment," she wrote. "I want you all to know that I do not actually feel this way."
Still, despite Olson's apology, activists are saying the episode is indicative of a larger problem facing America in 2016. 
"We have seen a fear-mongering campaign that has legitimized racist comments like this across all social media networks," Maria Handley, the executive director of Generation Latino, told Denver7.​ "This hateful racist comment from a Greeley waitress is not unique. We are seeing it acted out in public, at schools and in our neighborhoods."