Barbecue is a tradition fueled by legends—namely pitmasters, who gain occult knowledge by staring deeply into a glowing pile of embers, waiting for signals that are completely invisible to everyone else around them. They are mythical figures with a singular task: taming nature's bare elements. 
When you see a Robert Jacob Lerma photo of, say, Kreuz Market pitmaster Roy Perez sharpening his knives, you are immediately reminded of that lineage, and of the endless stories, techniques, and advice passed down through hazy plumes of smoke. "It's odd hours, isolating, and tough work," says the Texas-based Lerma about the profession. "People tend to focus on the final product, but it's the function of many hours that [traces back] to a ranch or farm."
Despite the California area code that shows up on his cell phone, Lerma—who has spiritual roots in Texas, where most of his family is from—has become one of the premier barbecue photographers in the Lone Star State, parlaying a hobby into several gigs for major media outlets, and securing a position on the Foodways Texas.
His alignment with that organization speaks to a level of integrity in his work that sidesteps the clichés of "meat porn." Good barbecue, as he says, is "icing on the cake," but what drives him are the social dimensions of the culture, a theme that allows him to explore barbecue's community-driven backbone in tiny rural towns all across the state. 
Despite a history rich in tradition, barbecue isn't static. And as it continues to evolve and encounter new pressures—with regional specialties crossing state lines and entering urban centers, and massive chains like Arby's attempting to fly the flag of "real" barbecue by purchasing 300,000 pounds of brisket per week—we're in a moment that calls for a preservationist more than ever. Luckily, we have the lens of Lerma to give us a glimpse into the evolution taking place.
"We're in a renaissance of BBQ now, but even when people move on to the next topic, it's not going to fade away," says Lerma. "This is still going to be their livelihood for multiple generations." 
To get at the core of Texas BBQ—food, race, gender, and economic realities—we asked Lerma to explain the stories behind some of his favorite photos, and what they say about the time-honored tradition of low-and-slow barbecue.
City Market co-owner Ray Bell, Luling, TX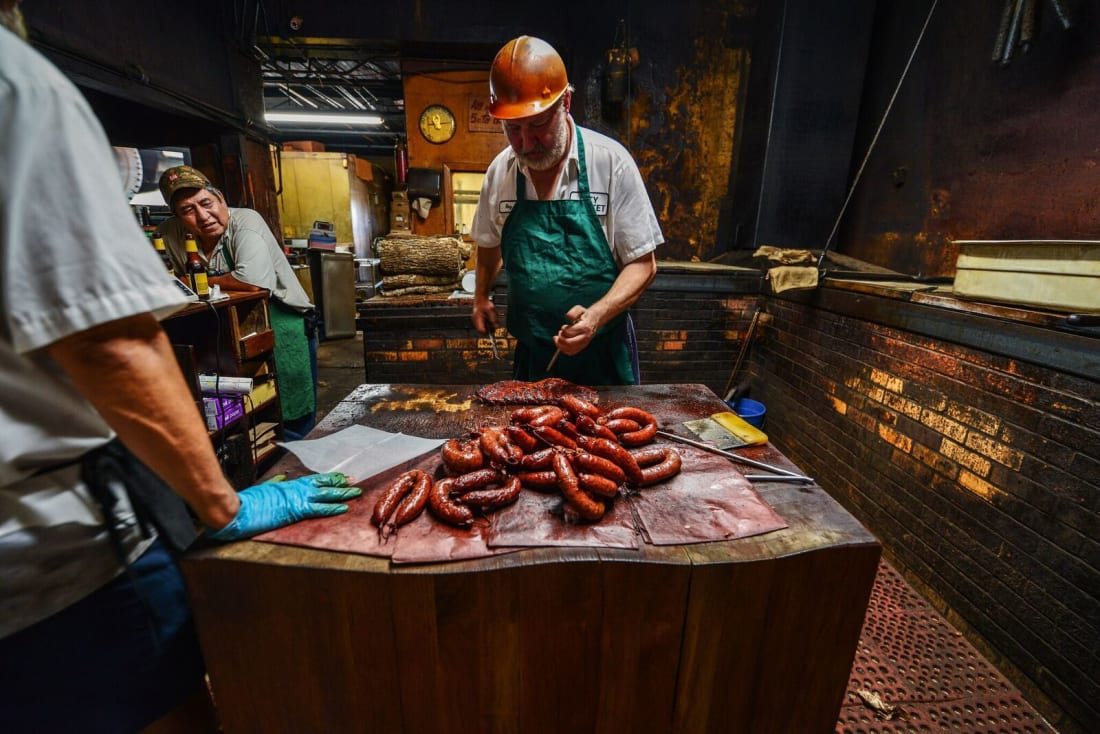 Lerma says: "Having been around since 1958, City Market in Luling is a Texas BBQ institution with one of the best pit rooms in the state. Positioned in the back of the dining room, post oak smoke permeates the air. The walls, patina stained. Folks shout their orders while steel doors open and close, revealing the smoked meats. Joe Capello, the pitmaster, has overseen the operation since 1970. Co-owner, Ray Bell, pictured in his trademark hard hat above, works the chopping block most days. Known for their German/Czech influenced house-made sausage and market-style by-the-pound ordering, City Market is a must stop for BBQ lovers."
Truth BBQ's pitmaster, Leonard Botello IV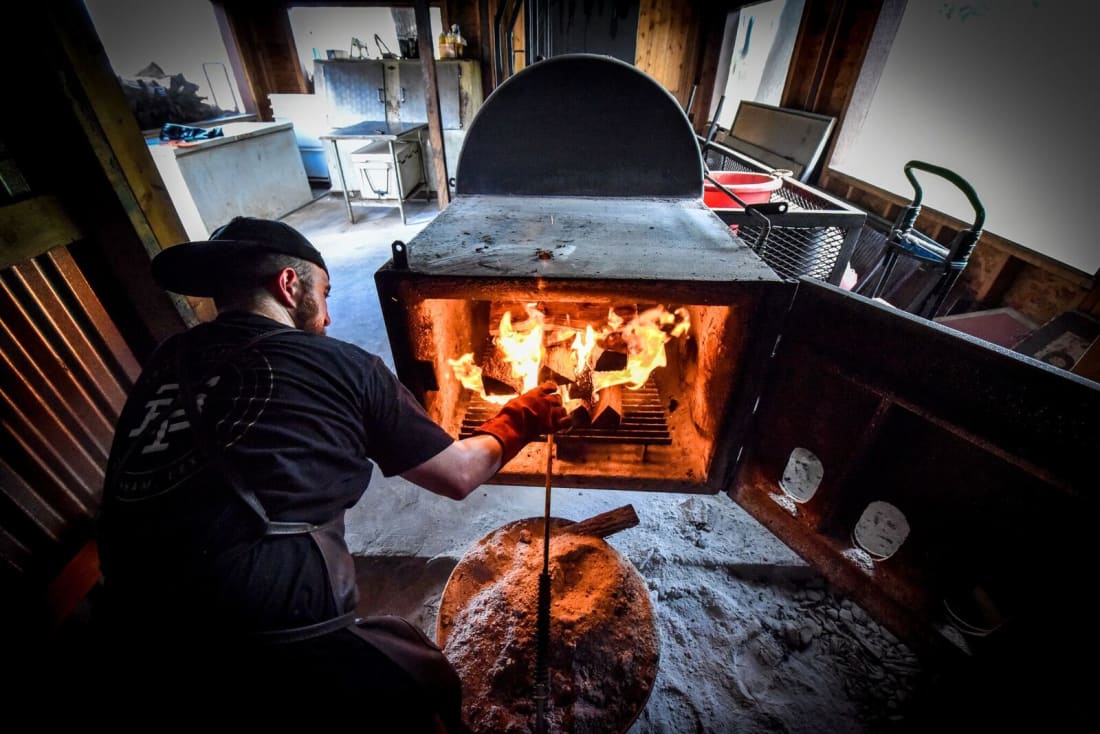 Lerma says: "To many in Texas, cooking with gas might as well be the 11th Commandment. Thou shalt not cook with gas. The reality is that due to volume demands, labor shortages, and time constraints, gas-assisted smokers are fairly common in BBQ operations. There's a difference though in gas-assisted versus all-gas. Gas-assisted smokers still rely on wood for the fire, but assist in starting and regulating temperatures. Building and managing a fire is an art and science. Understanding basic thermodynamics [in relation to] your pit/smoker is critical to completing a clean cook. All smoke is not your friend. Dirty smoke will impart an off-tasting flavor to the meat. Here, Pitmaster Leonard Botello IV of Truth BBQ in Brenham lights his fire for the next cook."
Tootsie Tomanetz of Snow's BBQ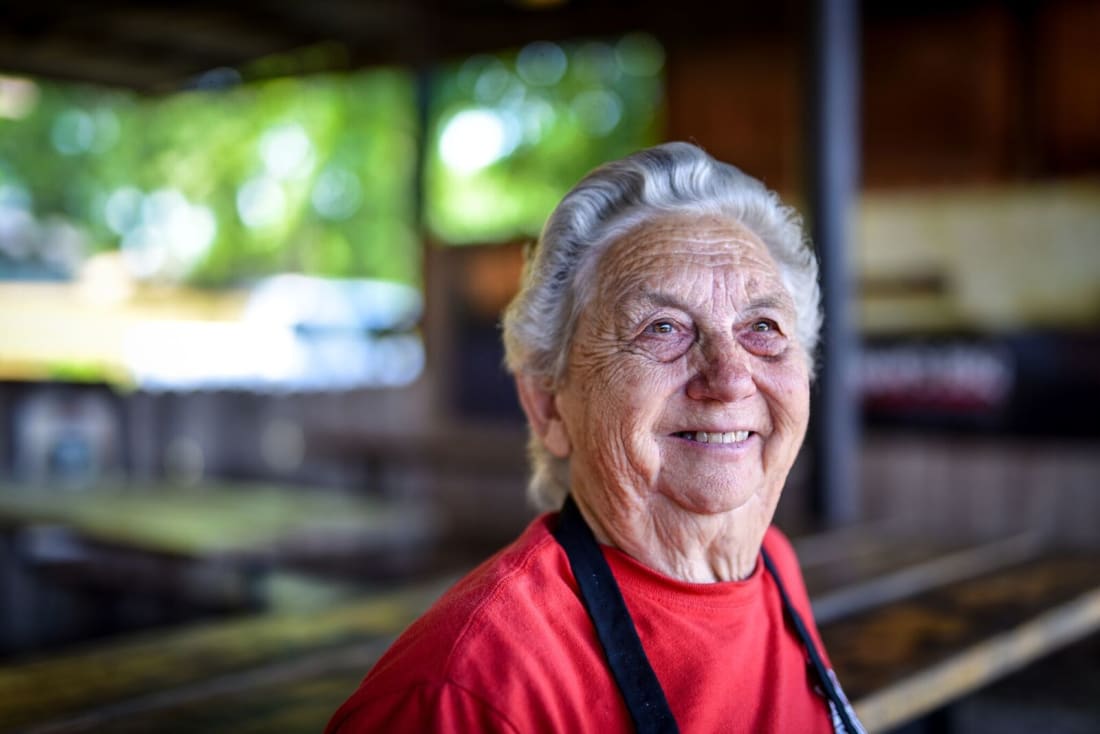 Lerma says: "If I was building the ultimate Texas pitmaster, what would they look like? First off, they would be a she, and she would look like Tootsie Tomanetz of Snow's BBQ in Lexington. She represents everything that is right about people. Thoughtful, hard working, compassionate, and loving are all traits she embodies. She just so happens to cook badass BBQ too. Her skin is leathery, her voice distinctly Texan, she's as resilient as they come, having recently experienced the passings of both her husband and son Hershey, whom she worked side by side with. She triggers memories, feelings and thoughts that go beyond food. You feel like you're in her home. BBQ is personal to her. While she's been filmed, photographed, and interviewed may times over, she's no different than the day I first met her. I don't think she knows how to be."
Roy Perez of Kreuz Market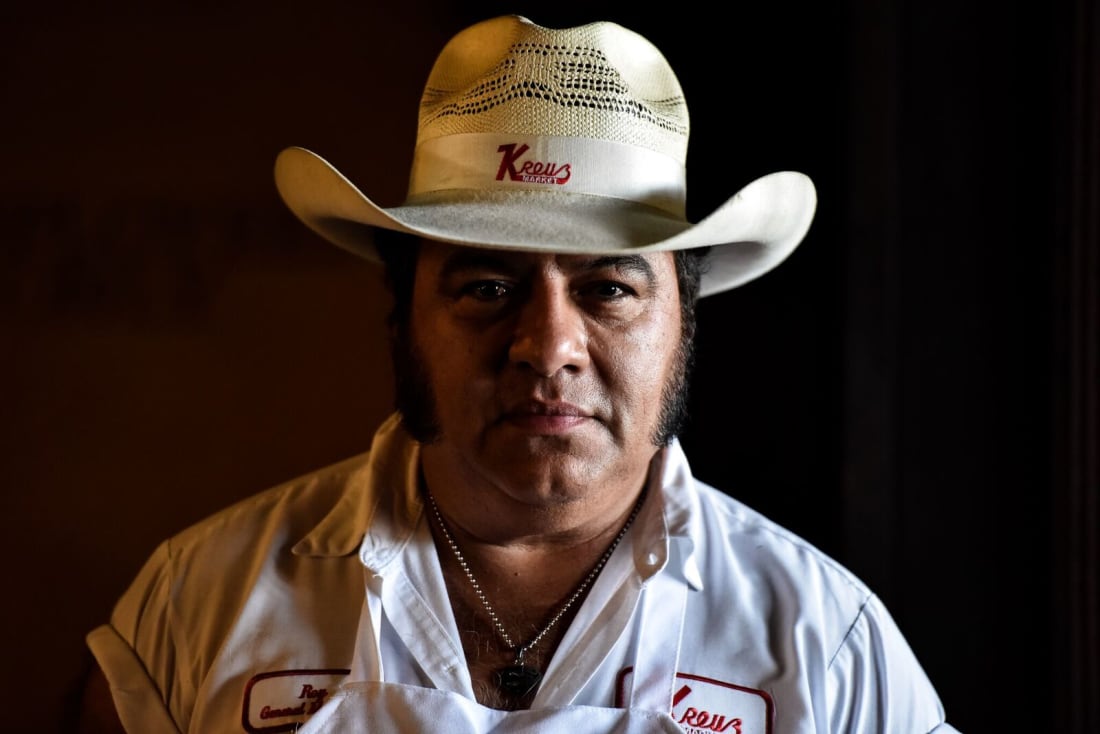 Lerma says: "Roy Perez has manned the pits at Kreuz Market in Lockhart for nearly 30 years. He's easily one of the most recognizable pitmasters across the country thanks to his Elvis-like mutton chops. And he is also easily one of the most hard working men in the field. Despite his celebrity, he's not above doing any job at Kreuz Market, from splitting wood to shoveling coals, to cleaning pits. He leads by example, and his apprentices notice, taking on that same work ethic. In constant demand for pictures, he never declines. That's his personality: affable and pleasant, he'd literally give you the shirt off his back. I should know—it's hanging on my wall."
Pitmaster Laura Loomis of Two Bros. BBQ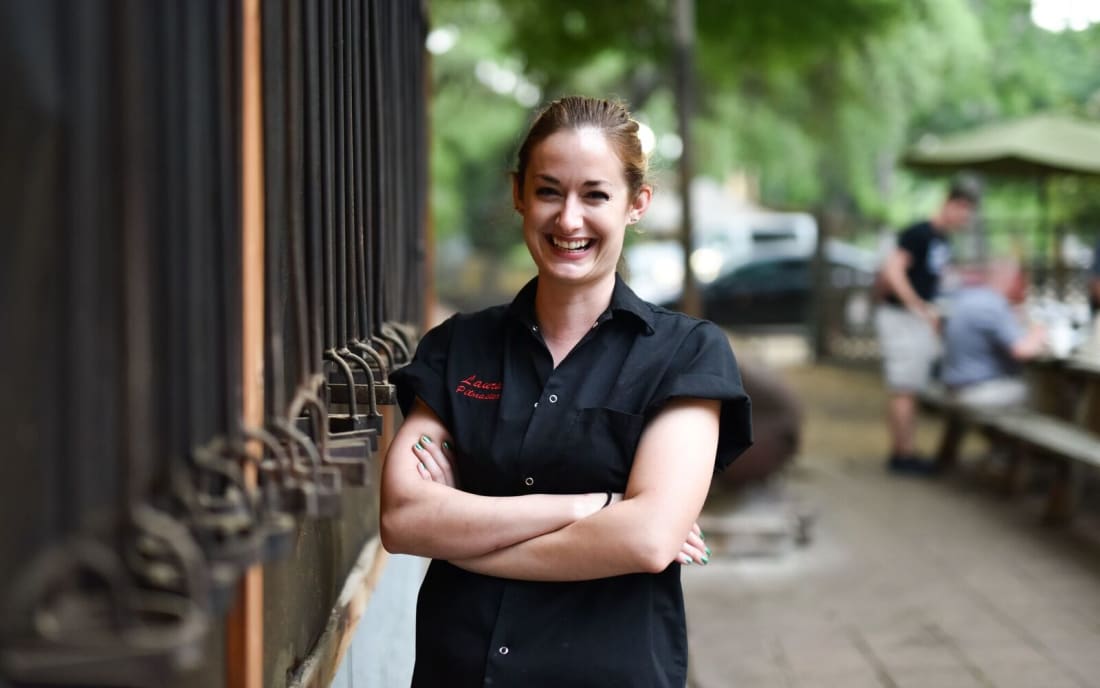 Lerma says: "Laura Loomis literally began her career on the register at Two Bros. BBQ, and she now oversees the pits as pitmaster of the popular joint in San Antonio. As BBQ has proliferated across Texas, more and more women are becoming involved in the day-to-day pit operations. While historically men have primarily cooked BBQ in Texas, some of the best BBQ establishments in Texas have women leading the way, such as Snow's, Opie's, Pecan Lodge, and Two Bros. It's refreshing to see more women cooking BBQ. My favorite BBQ, Snow's, is led by a woman. Good BBQ is good BBQ. Period."
"

The Church of Holy Smoke"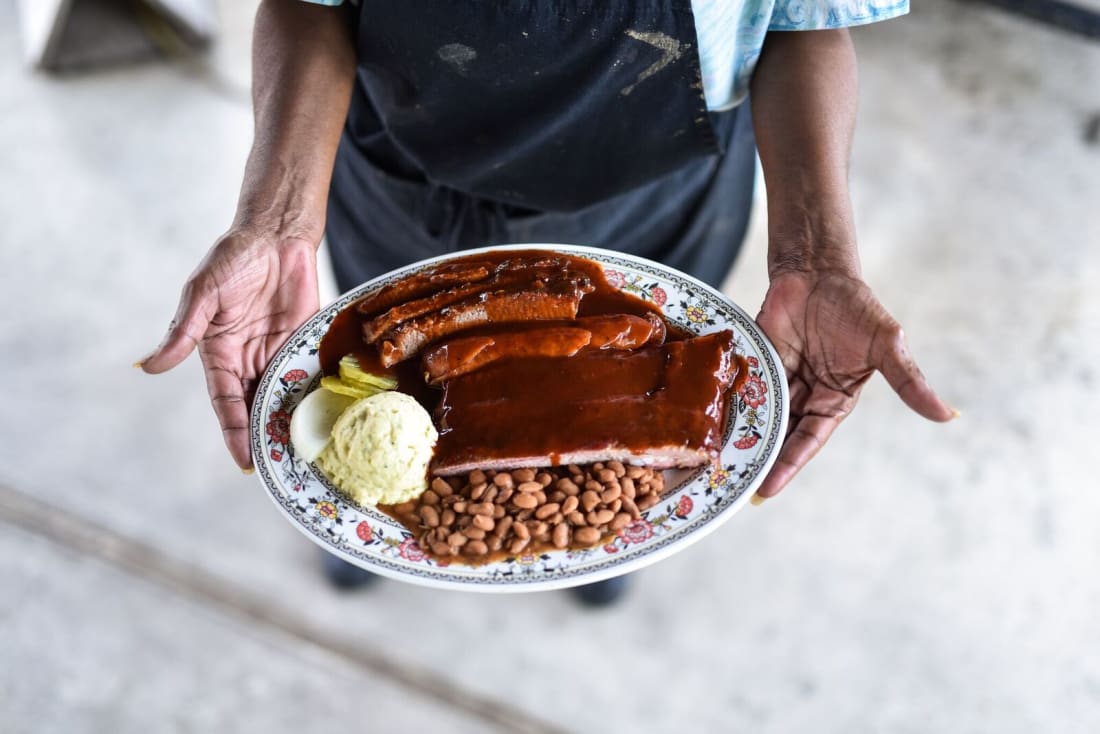 Lerma says: "Black-owned BBQ establishments have become more scarce in Texas for a number of reasons, high costs associated with operating a BBQ being a primary factor. New Zion Missionary Baptist Church in Huntsville, a.k.a. The "Church of Holy Smoke," has been serving east Texas for over 40 years. New Zion BBQ proceeds benefits the church itself. One gentleman opined to me during a recent lunch, "Buying those ribs keeps the church going, which makes God happy." Framed that way, these are some of the most important ribs I've eaten in awhile. Maybe ever."  
Dinosaur ribs from Pecan Lodge, Dallas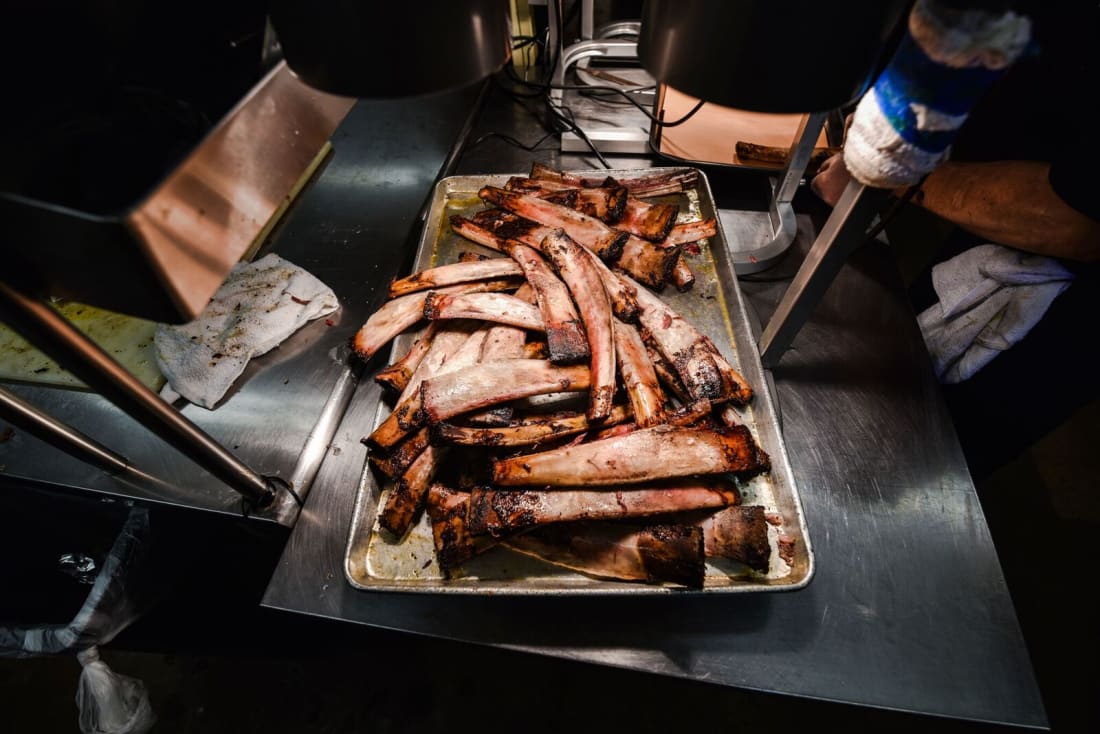 Lerma says: "Above are beef rib bones after a night's service at Pecan Lodge in Dallas. Go big or go home, at least that's what they say in many parts of Texas. Commonly called "dinosaur" ribs, they are cut from the short plate section of the steer. They're meaty and fatty, rich with flavor. They're not cheap either. A single rib can sometimes cost over $30. While this may seem blasphemous in Texas, if pressed, I prefer beef ribs over brisket."
Whole Hog at Evie Mae's
Lerma says: "Let's be clear: whole-hog BBQ in Texas, like the kind from Evie Mae's picture above, will never supplant brisket. But that doesn't mean that pitmasters across the state aren't fond of the craft. Different regions of the country will always have their cultures, styles and preferences. Whole hog BBQ in Texas is typically reserved for special occasions, not every day consumption."    
Chopped-beef sandwich from Tom & Bingo's BBQ, Lubbock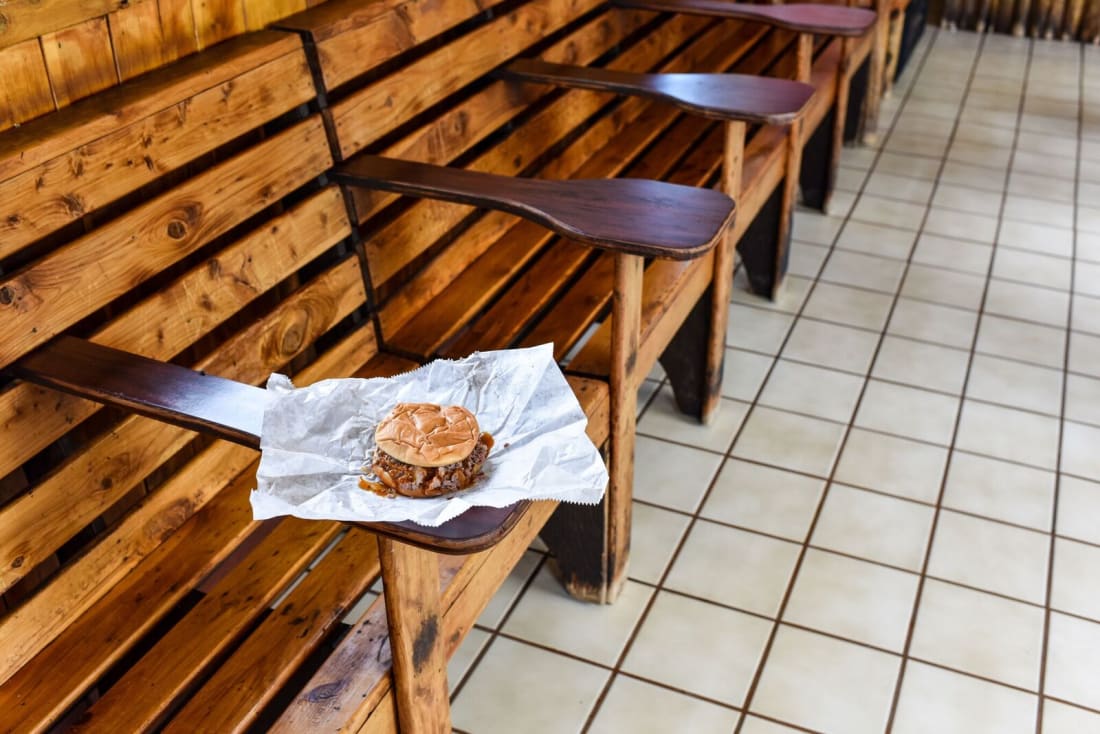 Lerma says: "Chopped-beef sandwiches on schoolhouse desks. Same as it ever was for over 50 years at Tom & Bingo's BBQ in Lubbock. Lubbock is not known for BBQ; it's known for the cattle (that many times becomes BBQ), oil, and the university, Texas Tech. Because of it's small-town feel, family-owned establishments like Tom & Bingo's become part of the city fabric. It's not the best BBQ in Texas. It's not even the best BBQ around Lubbock. Doesn't matter. It's a damn good brisket sandwich in a cool-as-hell atmosphere. And that's good enough for me."
Brisket at Franklin Barbecue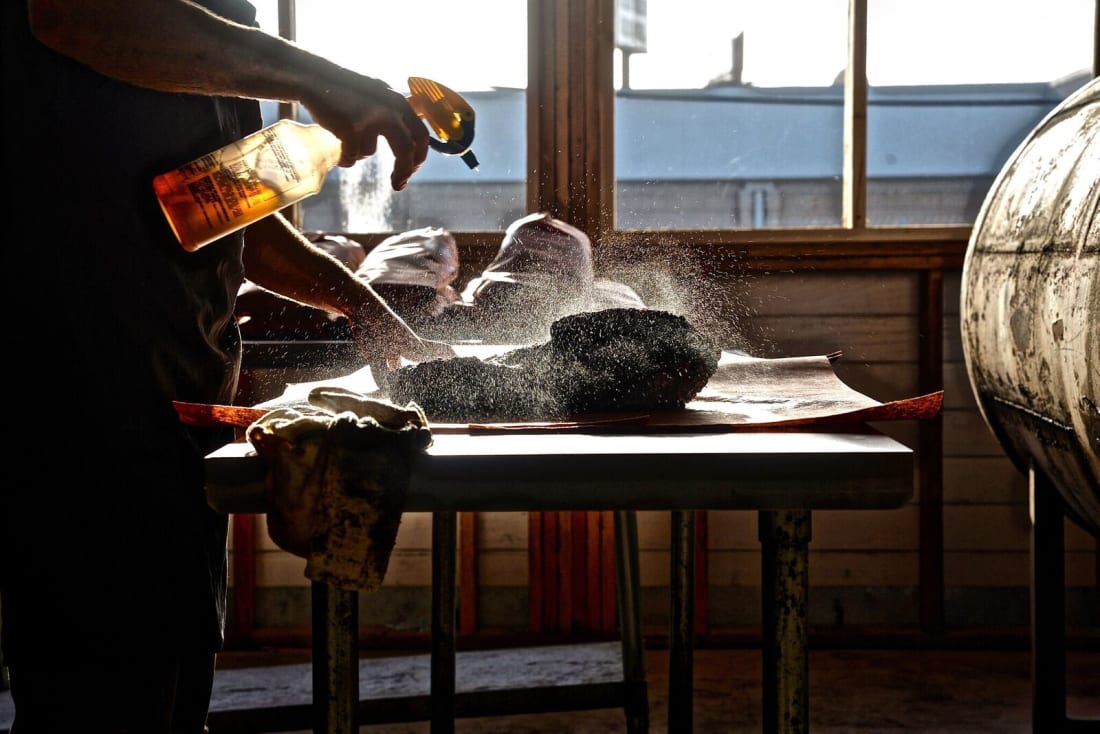 Lerma says: "Franklin Barbecue brisket—it's not as good as everything you've heard, it's better. Most people who've been to Franklin Barbecue typically only experience the end product. The sliced brisket on butcher paper. To get to that point, the team at Franklin had to trim, season, cook, move, cook some more, spritz, wrap, and hold that brisket. That happens to every brisket, about 100 of them total, every day they're open. Cooking one brisket is challenging enough, much less cooking 100, consistently, to perfection. Attention to detail is key at Franklin, and consistency paramount. Aaron Franklin is fairly transparent about his approach. He's filmed, taught, and wrote a book about his cooking. He's basically telling you, "This is what I do." The difference? You're not him. And his hyper quality-control methods, which drive Franklin's consistency, led to a James Beard Award in 2015."
Solo diner at Truth BBQ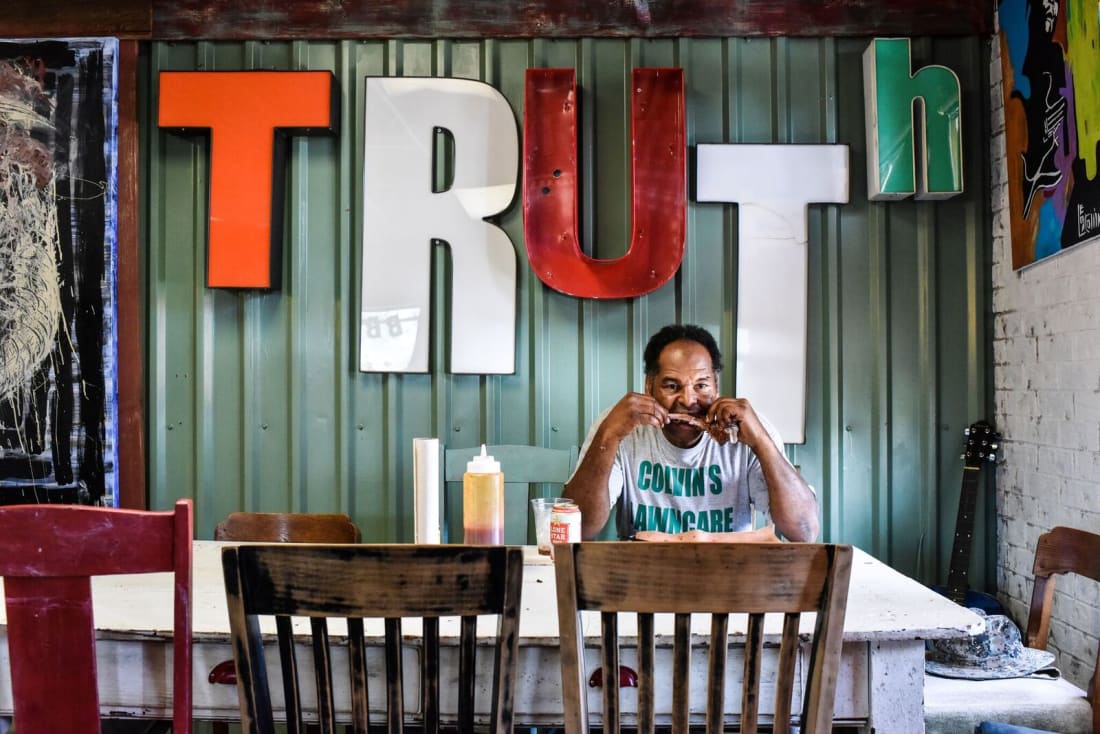 Lerma says: "Lunchtime at Truth BBQ in Brenham. For the most part, eating BBQ is a communal event amongst friends and family. Sometimes, though, it's relaxing to eat alone. In a world that's constantly moving, it's refreshing to every now and then revel in the silence of a meal by yourself. I noticed this gentleman doing just that one Saturday afternoon. He looked so content, gnawing at a spare rib, that I wanted to capture the peacefulness of the moment. Juxtaposed with a large "Truth" sign behind his back, the set-up seemed too perfect to pass up. I never got his name. And I don't regret not asking. That was his moment."
Pappa Charlie's BBQ, Houston BBQ Festival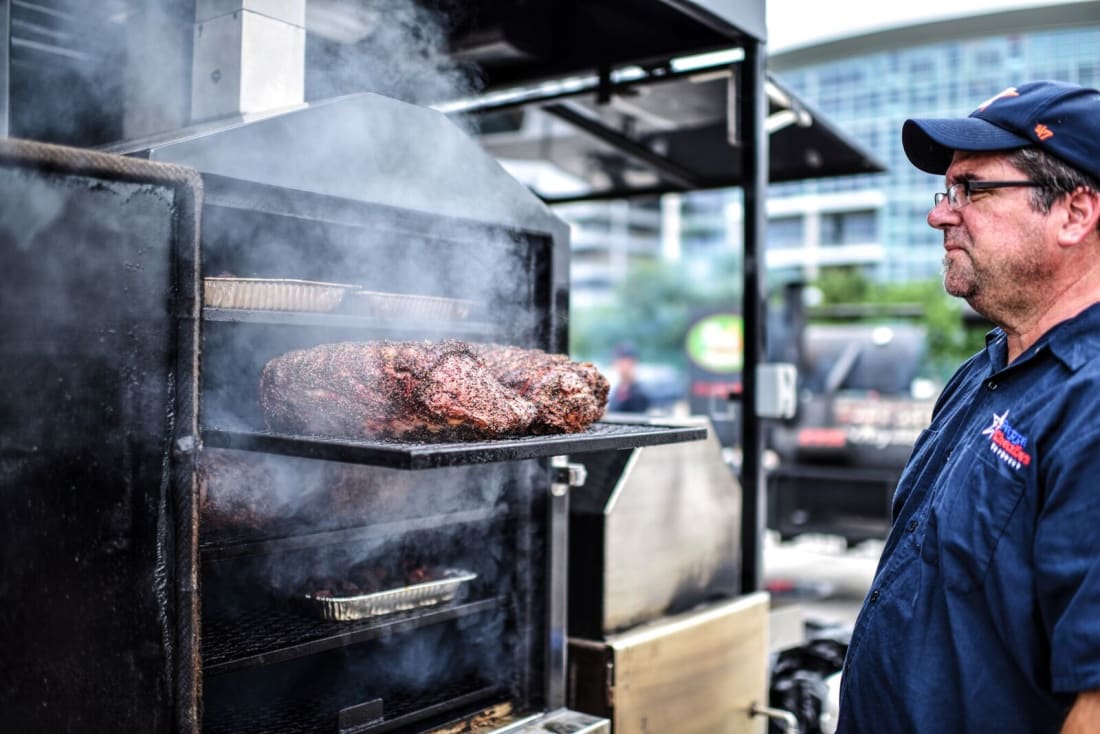 Lerma says: "Pappa Charlie's BBQ smoking 44 Farms prime rib at the Houston BBQ Festival. While Houston is the largest city in Texas, it wasn't until recently that it became a BBQ destination. Houston has always been a melting pot of cultures and a great food city, but it never really had a BBQ identity per se. That led to an influx of pitmasters and chefs shaping the scene with an amalgam of styles: East Texas, Central Texas, South Texas, Asian, Italian, and Cajun influences all exist within Houston. J.C. Reid and Michael Fulmer of the Houston BBQ Festival helped cultivate the scene when they established the festival in 2013. Some purists may balk at the theatre, but I say life's too short for brisket, ribs, and sausage only."
Brisket at Corkscrew BBQ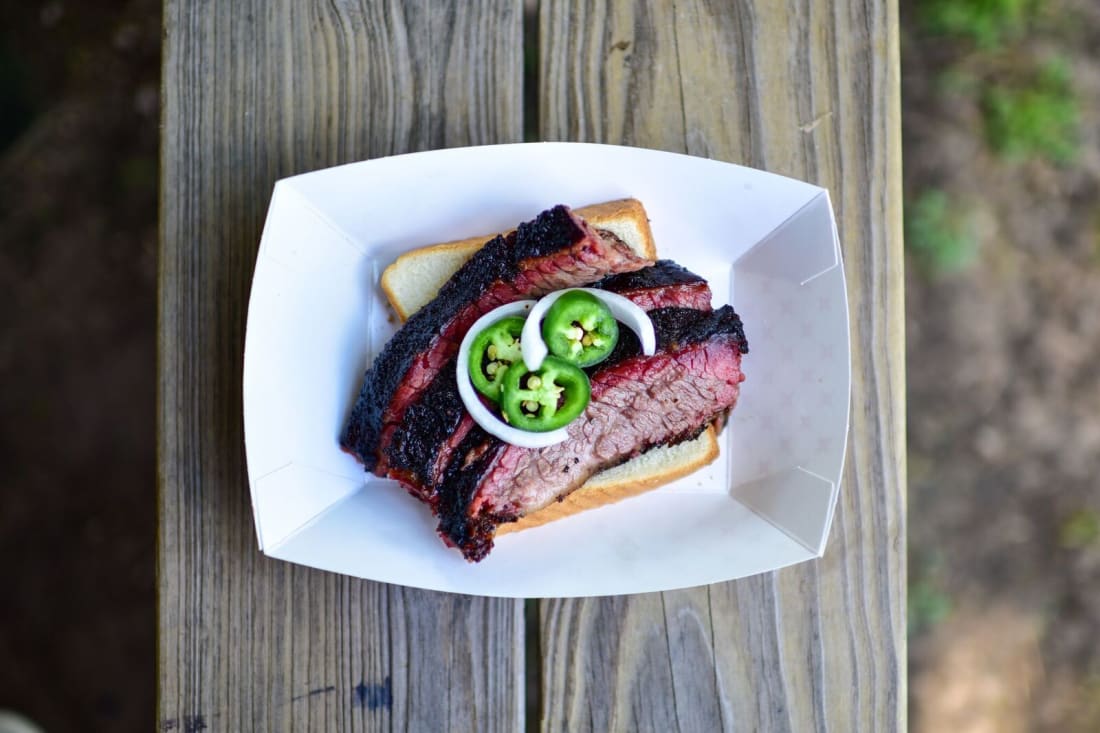 Lerma says: "It seems that "food porn" is becoming more of a thing these days. Personally, I've always tried to tell the story of BBQ versus becoming obsessed with the ubiquitous meat shot. Of course, when I see well executed food, it becomes imperative to get at least one shot. The folks at Corkscrew BBQ consistency cook superb food, particularly brisket, which contrary to popular belief is actually a challenging cut to master. It's tough, fatty, and labor intensive. But when executed, holy fuck, nothing compares. Good brisket is more common nowadays as more people are really taking time to learn the craft. Great brisket is harder to find. While good brisket may look like great brisket, the difference really is in the taste and texture. Smoke rings are not solid indicators of good brisket. Neither is a good looking bark (exterior). The proof is in the fully rendered intramuscular fat, balanced smoke flavor, and suppleness of the meat. If it looks good too, then what you have is Corkscrew BBQ. Throw on some jalapeños for a kick and enjoy the moment."
Virgil Watts, San Augustine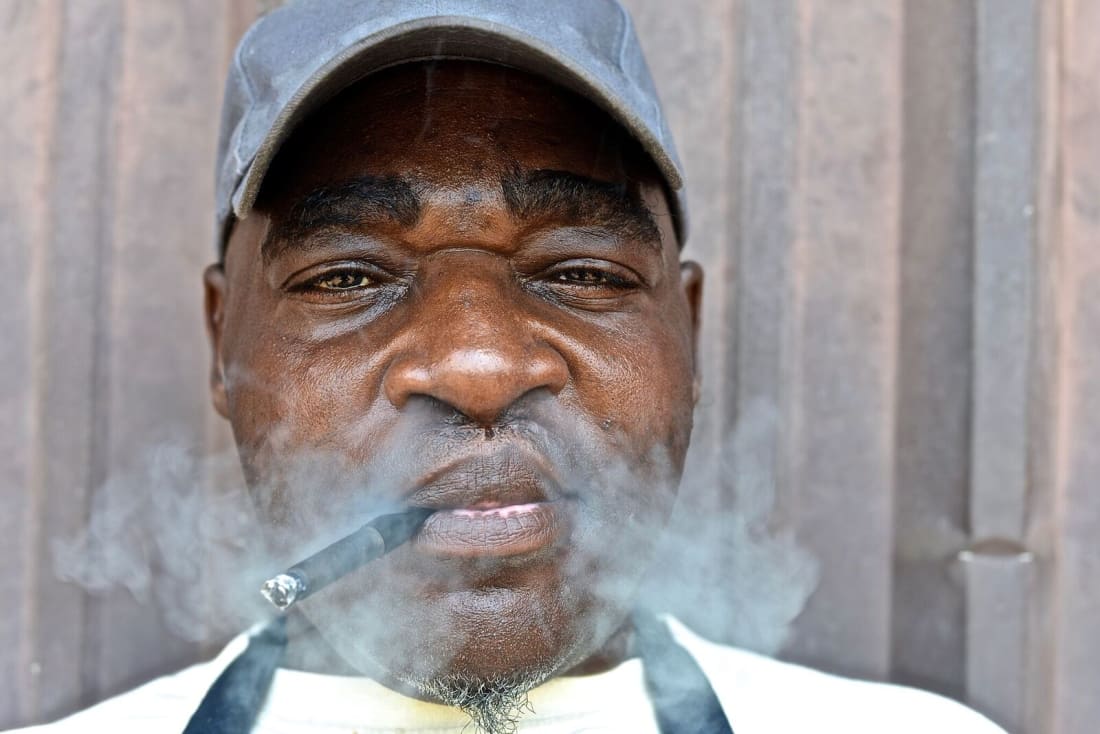 Lerma says: "San Augustine is far from the big city. Situated in deep east Texas, the city is predominately black, with nearly a quarter of the population living below the poverty line. Watts N Watts BBQ lies on Highway 96, in a nondescript shack. One might argue that this is BBQ the way it used to be, with its no frills, nothing fancy approach. Driving with some friends, our intention was to pass through San Augustine, but that all changed when we noticed Virgil Watts sitting outside the pit room, taking a smoke break. We quickly made a U-turn and I jumped out of the car. "I'm almost done. I'll get y'all some BBQ in a minute." He knew why we were there. I asked to take his picture. "No one's ever took my picture before. Let me fix my hat," he said, as his hat was slightly cocked to the side. As he put his hands down from adjusting his hat, I snapped. Taken in June 2013, it's always been one of my favorite pictures."