While in recent month Action Bronson has become the most recognizable rapper to upend the cooking world— hosting his own food show, Fuck, That's Delicious, on Viceland—Bam Bam may soon have some stiff competition. Allow us to introduce the latest rap game gourmand: ¥ung ¢hef. 
The Portland-based MC has dedicated his skills to celebrating all things food, including every college student's go-to meal on the cheap, Top Ramen. In a new music video, released last week, ¥ung ¢hef  and his collaborator Doughboi rap about how much they love their freeze-dried noodles—so long as they come with a heavy dose of Sriracha sauce, that is.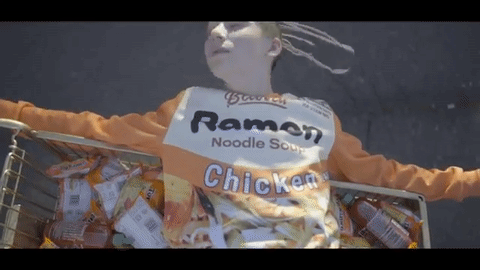 The video's climax comes when Doughboi—dressed from head to toe in a Top Ramen sweatsuit—walks the streets while ¥ung ¢hef pushes a grocery cart stacked to the brim with packages of chicken-flavored noodles. But if you think the two MCs are equal opportunity noodle eaters, don't be fooled. Doughboi, doesn't mess with Top Ramen's competitor, Cup O' Noodles, mainly because they put peas and corn in their soup. 
"The ramen never ends," Doughboi raps on the track. "I love it so much boy, I finna eat boxes of ten." 
"Ain't nobody gonna give me Top Ramen unless it has Sriracha sauce,"​ ¥ung ¢hef​ adds in the chorus. 
Besides "Top Ramen," ¥ung ¢hef's Soundcloud page is a treasure trove of odes to food—instant classics like "Munchie Snack," "Betty Crocker," and "Hit Me Witta Crust." If he keeps making tracks like this, the young MC may even give Hamburger Helper's mascot Lefty a run for his money. Earlier this spring, Lefty dropped a mixtape as part of the company's April Fool's prank, but the record was filled with fire bars and bangers. 
Still, with "Top Ramen," ¥ung ¢hef has begun to raise the bar in food rap.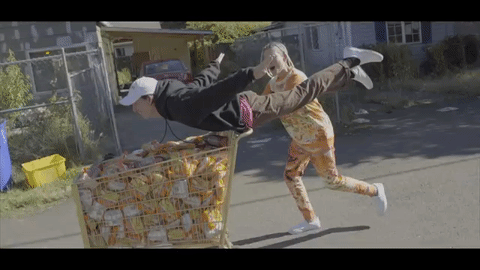 [via Eddie Wollrabe/YouTube]