Few would expect a T.V dinner to taste quite as good as a home-cooked meal or a dish prepared by a restaurant. The vegetables might be a little soggy, or the meat could be a tad under-spiced, but when sticking a frozen entrée  in the microwave, one is making the decision to sacrifice quality for convenience. Still, at the bare minimum, most customers would hope a frozen meal would still be free of life-threatening shards of metal.
Earlier this week, the Department of Agriculture issued a news release warning that food producer ConAgra would be recalling two types of P.F. Chang's frozen entrées because the meals were contaminated with "extraneous materials." Well, it turns out "extraneous materials" translates to little pieces of metal—some as long as a third of an inch—and the contamination has affected nearly 4,000 pounds of frozen chicken and beef.
"The metal fragments range in size between 2 and 9 millimeters (mm) in diameter, and are curled, malleable and shiny," the USDA wrote, adding that the dishes were produced between June 13 and June 22. "The metal fragments may be embedded in the sauce contained within the frozen entrée products.​"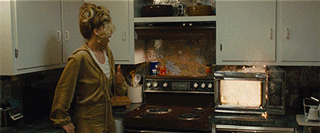 The USDA is telling customers to throw away or return any of the recalled items they might have purchased before the packages could be removed from stores. Though no injuries have been reported as of yet, the contaminated foods were distributed to Arkansas, Illinois, Michigan, Minnesota, New York, Vermont, and Wisconsin.
Extraneous pieces of curled wire pose greater dangers than one might think. Since 2002, there have been more than 1,600​ reported injuries in the US from wire-bristle grill brushe​s alone, according to a recent study from the University of Missouri School of Medicine​. 
"One little bristle unrecognized could get lodged in various areas of the body, whether in the throat, tonsil or neck region," David Chang, an associate professor of otolaryngology at the MU School of Medicine, said earlier this year. "If the bristle passes through those regions without lodging itself, it could get stuck further downstream in places like the esophagus, stomach or the intestine. The biggest worry is that it will lodge into those areas and get stuck in the wall of the intestine. The bristles could migrate out of the intestine and cause further internal damage."
There you have it. Be careful the next time you decide to chow down on P.F. Chang's frozen Mongolian style beef this weekend. 
[via Uproxx]