It's no secret that America is going up in flames. Donald Trump (we repeat: Donald Trump) is the Republican nominee for president, tensions between the police and the African-American community are at an all-time high, and it's now somehow easier to by a gun than an over-priced cronut. Still, there's one company that could be reaping all the benefits from the current political turmoil and social malfeasance: Papa John's Pizza. 
Last week, analysts from KeyBanc Capital, one of eight investment banks that track the company's performance, raised the pizza company's value over beliefs that recent civil unrest has caused more people to order takeout, instead of taking the risk of dining out at a restaurant. ​As a result, the bank bumped up Papa John's stock from the average designation of "standard weight" to "overweight"—a common system used to measure a stock's attractiveness to investors. 
"After speaking with several large operators and industry contacts, we believe the recent decline in casual dining restaurant segment fundamentals—traffic down 3% to 5% the past several weeks—may be the result of consumers eating more at home amid the current political/social backdrop, which we believe could last through the November election," analysts wrote in a note last week. "We believe investors' near-term neutral sentiment towards Papa John's reflects a 'missed it' mentality following a meaningful recovery in its share price since reporting first-quarter results on May 3."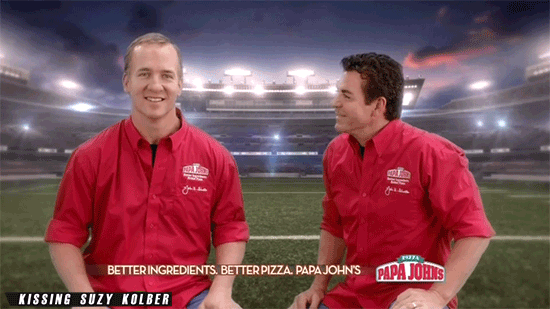 Beyond the heated political atmosphere that has surrounded the 2016 election cycle, the killings of Alton Sterling's and Philando Castille in early July set off a period of unrest that fueled both peaceful protests, and the death's of police officers in Dallas, Texas and Baton Rouge, Louisiana. Due to such contentious situations arising across U.S. cities, analysts believe diners may not want to venture outside as much. The convenience—and perceived safety—of ordering pizza to one's home has become even more desirable in 2016. 
Even though Papa John's stock has been revalued, pizza companies as a whole have been facing issues when it comes to their worth. Thanks to traffic accidents and other insurance-based issues, stocks in pizza purveyors may be risky. Japanese holdings group Nomura downgraded Papa John's and Domino's stock from "buy" to "neutral" back in June. 
Analysts have been warning about a downturn in restaurant earnings as patrons have continued to decline in early-2016, Bloomberg reports. Even though diners continued eating out following the financial crisis that began in 2008, things have slowed considerably—so much so that market insiders believe it could signal another recession. 
[via MarketWatch]