After our last foray into foreign snackery, the Snack Fam made a collective blood pledge that we would tackle edible delicacies and travesties spanning the globe, leaving no culture or country unturned.  Thankfully, we have a great enabler in Munchpak, which has helped curate our ventures once again, this time with our southern neighbors, Mexico, in mind.  
For many Americans, Lucas candies and spicy, chile-laced chips produce deep feelings of schoolyard nostalgia. Pan dulce entered our collective snack consciousness as well, thanks to the popularity of brands like Bimbo. But for the purpose of this exercise, our aim was to explore the depths of Mexican snackery to improve our own ver-snack-ular, if you will. 
Whether it was M&M knockoffs, red-hot fried chicharrones, slingshot gum shooters, or tamarind jam pots, we held no reservations (or utensils) and took the plunge. 
Tasting Panel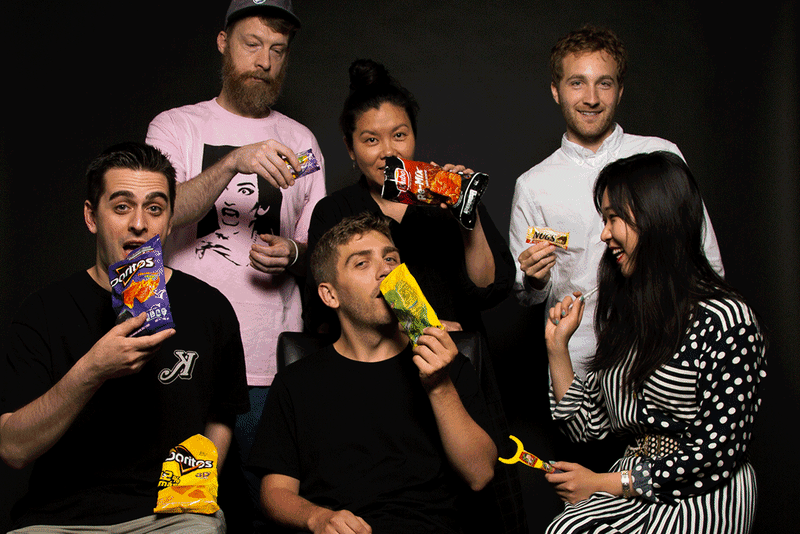 Russ Bengtson, senior editor at Complex. Has considered using Pocky as chop sticks. (@russbengston)
Justin Bolois, features editor at First We Feast. Likes to give high-fives after eating Lucas. (@justinbolois)
Sarah Honda, brand manager at First We Feast. Just living for the next bag of pizzeria pretzel combos. (@sarah_honda)
Kristen Yoonsoo Kim, writer at Complex. Considers herself a human shrimp chip. (@kristenyoonsoo)
Brendan Dunne, editor at Sole Collector. Prefers no room service—just snacks and shit. 
Dan Resnick, snack correspondent for First We Feast. Does not object to the nickname "Donut Dan."