On Independence Day earlier this year, Kevin Durant announced that he would be breaking free of the shackles of the Oklahoma City Thunder and taking his talents to Oakland, joining Steph Curry and the Golden State Warriors in the hopes of finally winning a championship ring.
Almost as soon as Durant hit publish on his open letter to the team's fans—a blog post titled "My Next Chapter," in which the star forward expressed his gratitude for the Midwestern city that helped raise him—scathing reviews of his restaurant, KD's, started to roll in. "Much like his game it was overpriced and flashy," one user Yelp wrote at the time. "I recommend the Longhorn Special. $49.95 and they kick you in the junk before leaving," added another.
Now it appears slighted Thunder fans will have their way. KD's, which opened on Johnny Bench Drive in Bricktown in 2013, closed it's doors for good on Sunday, NewsOK reports. Though it's remained unclear whether Durant—who initially owned a 25 percent stake in restaurant—was still involved with the business following his departure, KDs will soon reopen under a different name.
"It has been an honor—and a lot of fun—to partner with Kevin Durant at Kd's these last few years," Hal Smith, the founder and CEO of the local restaurant group that partnered with the basketball player, explained in a statement. "We wish him the very best as he takes a new direction in his career."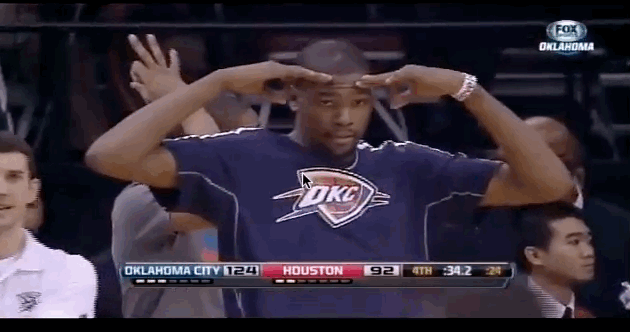 While Durant's initials will soon be removed from the building's facade, it appears little will actually change at the restaurant. Similar food will be served, employees will be allowed to keep their positions, and a few renovations will be made to the physical space.
"Our restaurant has become a tradition for many in our community for an evening out or to celebrate a special occasion, which is an honor we don't take lightly. We know our guests, we listen to them, and we think they'll be really pleased with this transition," Smith said. "We plan to maintain the majority of our current menu, and there's no doubt our famous fried chicken and other favorites will be back."
While the split seems relatively amicable, it remains to be seen whether Russell Westbrook will get his own eatery now that KD is out of the picture.
"Name change in the works?" one fan wrote on the restaurant's Facebook page. "Nobody going to eat [at a restaurant] named KD's that for sure."
[via NewsOK]