Like LeBron James before him, Kevin Durant is feeling the wrath of angry basketball fans after announcing his move from the Oklahoma City Thunder to the Golden State Warriors on Monday. And he's not alone. KD's, the star forward's southern-style restaurant in Oklahoma City, has been caught in the crossfire as well. 
In recent days, Yelp has exploded with "reviewers" using the platform to express their excitement, fear, and anger (mostly anger) over Durant's upcoming move to the Bay Area. While Yelp has removed many of the original posts because they violate the site's policies regarding inappropriate comments, there are still some lingering notes bashing the restaurant for its owner's perceived betrayal. 
One user went as far as to equate the Warriors to a toilet, while a super fan in Texas gave the team a shout out for being the next NBA dynasty thanks to the addition of Durant.
Read Enka R.'s review of KD's on Yelp
Luckily, Eater captured several screenshots from the onslaught before Yelp was able to delete the bulk of the comments.
"Much like his game it was overpriced and flashy," one user in Norman wrote. "But at the end of the day it was average. Lots of little wins but no big moment on the menu." Another user in Oklahoma City felt ripped off. "I recommend the Longwhorn Special. $49.95 and they kick you in the junk before leaving," he wrote.
An out-of-town user had some choice advice for employees at the restaurant. He recommended not showing up to work anymore since the place would be out of business in a week.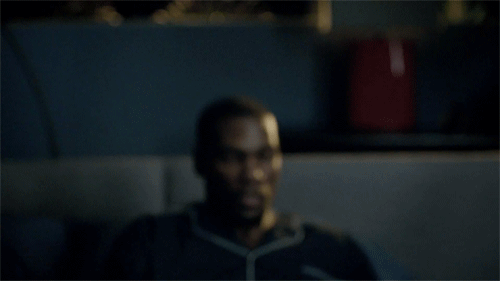 Even though Durant was named MVP in 2014, his departure has inevitably left a bad taste in fans' mouths. Whether those online reviews will translate into a significant dip in business remains to be seen, but there's always the possibility that he could open up a second location in the Bay. 
"It really pains me to know that I will disappoint so many people with this choice," Durant wrote in his decision letter. "But I believe I am doing what I feel is the right thing at this point in my life and my playing career." 
[via Eater]