The annual Fourth of July hot dog eating contest at Nathan's Famous has turned into an endurance test of Olympic proportions in recent years, with superstar eaters like Takeru Kobayashi, Joey "Jaws" Chestnut, and Matt "The Megatoad" Stonie seeking to best one another on the Coney Island Boardwalk.
Over the decades, the contest has successfully turned American gluttony into a high-octane spectator sport. And while 2015 saw Stonie shove 62 water-soaked sausages down in his throat, snapping Chestnut's eight-year winning streak, Jaws was able to wrestle the Mustard Yellow International Belt away from his nemesis on Monday.
Chestnut had been training over the past year to beat Stonie—claiming that his challenger had "woke up the sleeping giant" within him, according to the Associated Press—but few could have guessed that the former champ would leapfrog The Megatoad, eating a staggering 70 hot dogs in 10 minutes and breaking a Nathan's Famous record in the process.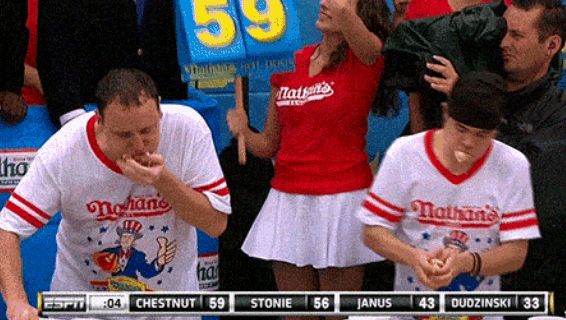 "As I was leaving last year, everybody was like, 'Oh, it's going to make next year better,'" Chestnut said after regaining his crown. "And everyone was right. This year is the best year ever."
According to CNN, Chestnut drastically changed his workout regimen over the course of the last year, running, lifting weights, and practicing one-minute "eating sprint" in the hopes of improving his breathing. Needless to say, the adjusted training schedule worked. In the weeks leading up to the Coney Island competition, Chestnut inhaled a world record 73.5 hot dogs at a qualifying round in Washington.
Fans who came out to see the contest on Monday—which comes shortly after Nathan's centennial anniversary earlier this year—were not left wanting for drama and theatrics. In addition to Chestnut's triumphant return, animal rights activist stormed the stage earlier in the day, spraying contestants with ketchup to symbolize the blood and violence of "animal agriculture."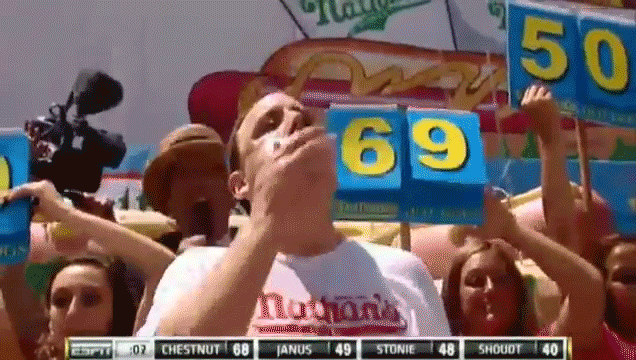 "This grotesque event takes a day of celebration and turns it into a festival of violence and gore for animals no different than our dogs and cats," Rachel Zeigler, a member of the animal rights organization Direct Action Everywhere, said in a statement after the protesters were arrested by police.
The day marks one of the more eventful contests in recent memory. The last time the NYPD was needed on the scene at Nathan's, former six-time champion Takeru Kobayashi was arrested in 2010 after trying to storm the stage. Donning a "Free Kobi" t-shirt and watching the competition from the crowd, Kobayashi had been suspended from the contest over a contract dispute with Major League Eating.