He's platinum blonde, and I'm natural dirty blonde. He's covered in ink, I'm dotted with freckles. He rides for pulled pork, while I stand firmly in the brisket camp. He's in Chico, I'm in New York. He drives hot rods, and I collect Hot Wheels. Physical differences, geographic distances, and personal tastes asides, these hurdles don't get in the way between me and my dad, Guy Fieri.
We're not blood-related, of course—he's more a spiritual father, embodying the deeply familiar aura of "DADditude," punny wisecracks, and confidence derived from a fleet of dope mid-life-crisis muscle cars. But I wouldn't be the first to exaggerate my relationship with him either—on Twitter, you'll find a growing contingent of "lost sons and daughters," claiming Guy Fieri as a father figure. It's wishful thinking, but it sure felt like reality after our hearty embrace and his reassuring pat on the back during a press event celebrating his new BBQ-cruise collaboration, Pig & Anchor, with Carnival Cruise Line.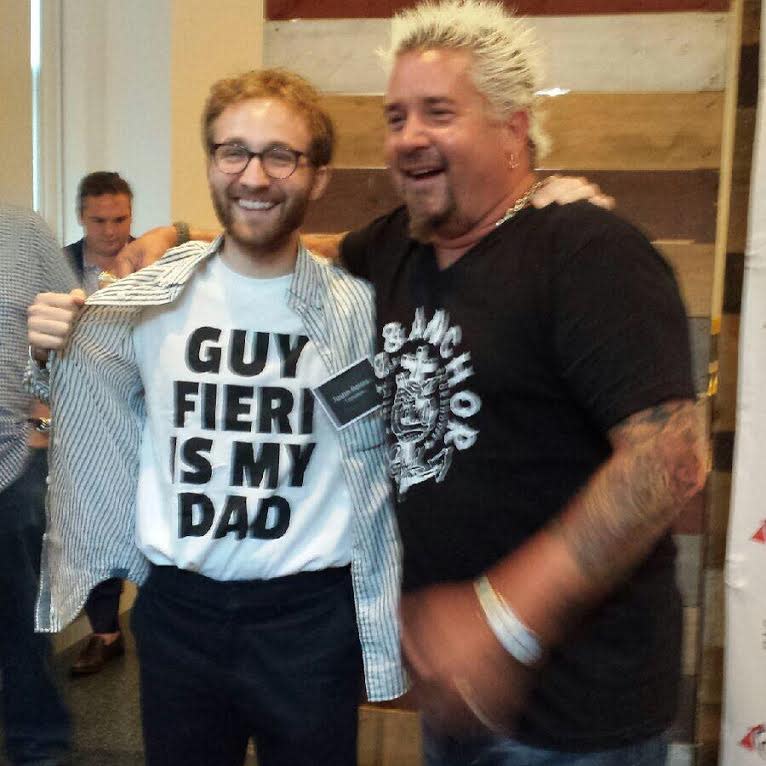 As I prepared for my fateful first meeting with Fieri, there were so many thoughts swirling in my head—I didn't want to squander my time with the Triple-D Gawd. After all, when life presents you with problems, where do you turn to? Dad. In the precious seven minutes and 43 seconds allotted to me, this was a chance to ask Fieri the questions that divide our nation—Cholula or Tapatio, Drake or Joe Budden, Shake Shack or In-N-Out?   
In that time, I learned he's not only a basketball prophet—predicting the eventual signing of Kevin Durant to the Warriors, and maybe even helping the cause with a few key texts—but also that Fieri, despite his show's name, truly does have a preference when it comes to diners, drive-ins, and dives.