Back in 2011, Gucci Mane shocked fans by getting three scoops of ice cream, along with the word "Brr," tattooed across the right side of his face. The Atlanta MC had been committed to a mental health facility just a few weeks earlier, entering a plea in a Georgia courthouse, and Rolling Stone speculated that the rapper might have been released too soon.
"[The tattoo is] a reminder to fans of how he chooses to live his life," a spokesperson for Gucci clarified to the magazine. "Cool as ice. As in 'I'm so icy, I'll make ya say Brr.'"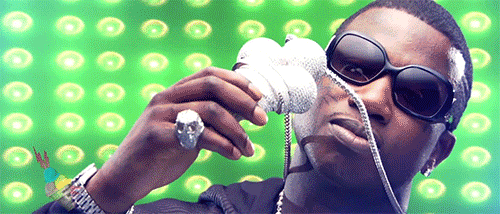 Some five years later, Guwop is fresh out of prison—released early after serving two years on a firearms charge—and riding the success of his most recent album, Everybody Looking. But as if to remind the public that he's still the coldest in the game, Gucci teamed up with Spotify in order to treat fans in Atlanta and New York City to ice cream cones on Friday.
"We asked ourselves "What would Gucci Mane do?" Spotify wrote on its Instagram account.
Using the hashtag #EverybodyLicking, fans posted photos in front of the truck on Prince Street and Lafayette in Manhattan, and 11th Street NW in ATL. The trucks will be out in both cities again on Saturday at new locations.