Earlier this week, news broke that a man in Florida had been arrested after police officers mistook four flakes of Krispy Kreme doughnut glaze for methamphetamine lying on the floor of his car. Now, scandals involving doughnuts are once again swirling around the daily crime blotters—only this time, it seems the treats really were laced with some harmful chemicals. 
According to WUSA9, an employee at a Dunkin' Donuts in Oaktown, Virginia had recently given a group of 14 and 15-year-olds a box of free pastries before closing shop for the night. Bakeries are frequently forced to throw out large quantities of doughnuts and bagels each night, and occasionally employees will give the left-overs to hungry customers free of charge. The teenagers thought that they had found a never ending supply of free food, and decided to go back again, and again, and again, even after the employees started shooing them away.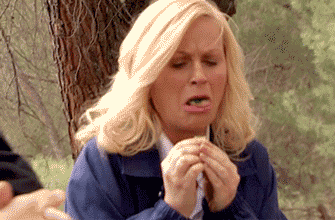 Apparently, the teens went looking for complimentary treats one too many times. Earlier this week, a Dunkin' Donuts employee reportedly got tired of the kids nagging him for free doughnuts, and decided to make sure that they never came back again. The worker went into the back and allegedly sprayed a cleaning solution containing bleach onto the doughnuts before giving them to the children.
The kids happily accepted, eating at least one of the doughnuts before realizing they tasted funny. The police were notified shortly after—and luckily no one was injured—but it looks like the Dunkin' Donuts in Oaktown is hiring, so send over those résumés, folks. 
"In this instance, we have been informed by the franchise owner that he has terminated the employee involved and is cooperating fully with the local authorities," the company said in a statement to WUSA9. "As this is a pending police matter, it is inappropriate for us to comment further and, as such, any additional questions can be directed to the police department."
Earlier this year, a Dunkin' Donuts employee in Mendon, Massachusetts​ was caught on camera dropping a number of pastries on the floor before serving them to customers. 
[via Food Beast, WUSA9]