On Wednesday night, President Barack Obama took the podium to address the Democratic National Convention in Philadelphia. And while the previous week had been a contentious one—with a massive email leak revealing that the DNC had favored Hillary Clinton over Bernie Sanders during the primary—Obama gave his unequivocal support of the former secretary of state.

"Join me to reject cynicism, to reject fear, to summon what's best in us, to elect Hillary Clinton," he said.

Though things have been heating up in the City of Brotherly Love in recent days, with Sanders supporters frequently booing the prospect of a Clinton presidency, there's an even fiercer rivalry that needed sorting out. Earlier this week, US representatives Brendan Boyle (D-Pa.) and Carolyn Maloney (D-NY) pledged to settle one of America's oldest debates: Who has better food, Philadelphia or New York City?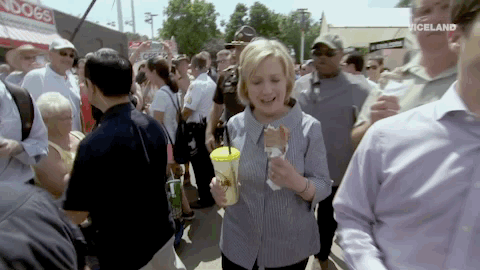 The East Coast culinary throw down was allegedly inspired by "a New Yorker and a Philadelphian talking smack to each other on the House floor," and pitted five foods from each city against one another. The five boroughs assembled a legendary team of classic items (a bagel and lox, a slice of pizza, a black and white cookie, a pastrami sandwich from Katz's, and a piece of Junior's cheesecake to top it off), while Philly was also able to pull together a pretty decent crew (a cannoli, a soft pretzel, a roast pork sandwich, a Rocky Balboa-sized Italian hoagie, and, of course, a cheesesteak from Pat's King of Steaks).

"While the political discussions this week may give you heartburn, the next two hours should provide some comfort food," David Alpher—the publisher of City and State PA, the political news outlet that hosted the event with the two Congress members—told Philly.com. Indeed, a staffer for one of the lawmakers said the competition was a "breath of fresh air" following the "hate and venom" of the RNC in Cleveland earlier this month.

Though the presidential election has decidedly favored New York this cycle (both Sanders and Republican nominee Donald Trump were born in the city, while Clinton served as a senator for the state from 2001 to 2009), Philadelphia ultimately won the food challenge, earning 164 points over New York's 149​. Still, Junior's cheesecake managed to beat Philly's beloved cheesesteak despite the obvious homecourt advantage. 
"Everything is rigged in America," Tom Allon, the CEO of City and State, said. "Sometimes the system wins, and sometimes outsiders win. In this case, the system won."
[via Philly.com]