Though Denny's has long been known for its $4 "grand slams" of eggs, bacon, and pancakes—attempting to re-label itself as "America's Diner" over the past five years—the restaurant's new pancake recipe will now cost franchisees an extra $5 million in ingredients, USA Today reported on Tuesday. The 63-year-old company operates some 1,700 restaurants across the country, and the move could add up to a big sum of money over the years, all in the hopes of making the fluffiest pancake on the market. 
In 2012, a survey found that 44 percent of American consumers believed the best pancakes were the ones made at home—not ordered at Denny's—and the company decided to create a flapjack that rivals that feels more authentic. The chain's new creation is said to be 50 percent fluffier than the old pancakes, and the recipe will replace the old "just-add-water powdered mix routine" with real buttermilk, eggs, flour, and vanilla.
In addition to spending millions of dollars, it also took Denny's three years to figure out how to incorporate fresh ingredients into its recipe. The company began rolling out the product to all of its locations on Tuesday.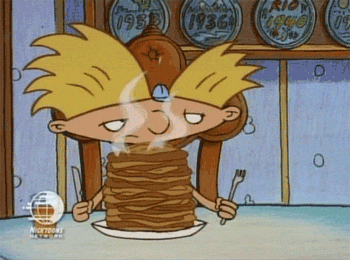 "Good isn't good enough anymore for the average American," Sharon Lykins, Denny's senior director of product innovation, told USA Today. "The customers liked [the pancakes] fine. But there wasn't anything special about them that said, 'I've gotta go to Denny's to have pancakes.'"
Competition has become increasingly fierce in the chain restaurant world in recent years, especially as McDonald's has expanded its all-day breakfast menu. Denny's is hoping its new pancake will re-brand the restaurant as a hip, modern dining destination.
The company has developed an online "Pancake Rejection Simulator"—which helps customers practice telling their family members that their pancakes are trash—and is adding new episodes to its breakfast-themed web series, the Grand Slams.
Still, rivaling Denny's big multi-million dollar pancake expansion, IHOP is offering 58-cent hotcakes on Tuesday to celebrate 58 years of business.