Described by the New York Times as a "mountainous rapper" earlier this year, everything Action Bronson does seems to feel larger than life. So on Monday, while taking a break from recording music and filming his Viceland series, Fuck, That's Delicious, Bronsolino got back in the kitchen to cook up a mountain of panko-crusted chicken. 
And while the cutlets alone might have been more than enough for any normal man, Bronson had to go the extra mile, flame-torching marshmallows, sautéing bananas in Hennessy, and topping the whole thing off with a scoop of ice cream and Mexican chocolate sauce.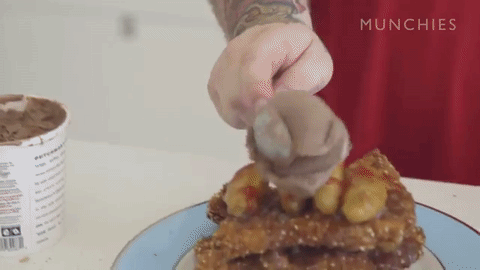 "I'm just going to make something that makes me feel good," Bronson says. "I'm gonna make a fat guy sandwich."
"Everyone's eating fettuccine alfredo and lobsters and shit like that, I'm not into that," he adds. "I'm into the very, very, very fine dining aspect of life."
Later in the clip, Bam Bam and rapper/"weed entrepreneur" Berner indulge in seven-month dry-aged steak at Mario Batali and Joe Bastianich's Carnevino Italian Steakhouse in Las Vegas. 
[via Munchies]