Last October, 116-year-old Susannah Mushatt Jones claimed that the secret to longevity was eating bacon multiple times a day. And while Jones—who sadly passed away in May—was a hero in her own right, it turns out that keeping a package of cured-meats around may actually have some added safety benefits, too.
Earlier this week, an 86-year-old woman in Altrincham, England defended herself from an attacker using nothing more than a packet of bacon and a little bit of muscle, the Manchester Evening News reports.
On Monday evening, the bacon-loving octogenarian removed a large sum of money from an ATM outside a local supermarket. A woman oversaw the withdrawal and cornered her inside the store, grabbing the 86-year-old's shopping cart and demanding she hand over the cash.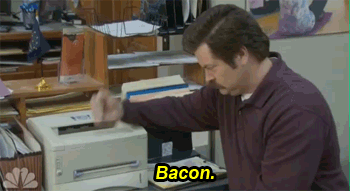 Unwilling to part with her money—and clearly a total badass—the elderly woman reached into her cart and used a package of bacon to repeatedly hit the thief in the head. The attacker ultimately fled the scene—and important details concerning whether the bacon was raw, pre-cooked, or frozen have not been released—but authorities are busy looking for the suspect. 
GMP Trafford South, the area's local police force, posted about the incident on its Facebook page, using the hashtag #BeatOffWithBacon to galvanize support for the bacon-swinging hero after her frightening "hambush" this week. 
"Who needs guns when you have bacon," one commenter wrote. "Someone contact the Americans and let them know there is another way!​"
While it's refreshing to see a would-be victim use a packet of food for good, earlier this month a couple in North Carolina was arrested for attacking one another with pizza rolls. 
[via Manchester Evening News]