7-Eleven—home to lukewarm Buffalo Chicken Rollers and Taco and Cheese Taquitos—is constantly pushing the envelop when it comes to customer satisfaction, seeing just how convenient a convenience store can make the average American's life. Last September, a start-up announced that it would deliver snacks from the chain to customers' homes in 45 minutes or less, and later that month the company started delivering "date night packs" with ice cream, red bull, condoms. 
Now, according to Tech Crunch, 7-Eleven has partnered with the tech start-up Flirtey to pull off the first ever drone-delivered Slurpee. Rivaling the historical significance of Apollo 11, the first spacecraft to land humans on the moon, 7-Eleven is so cutting-edge that it even beat out Amazon in the great drone race, a company that has had prototypes and permits in place for unmanned aerial deliveries for over a year. 
Earlier this month, one lucky family in Reno, Nevada had a box containing a chicken sandwich, a few donuts, a hot cup of coffee, some candy, and a magnificent, ice-cold Slurpee literally air-lifted to their home.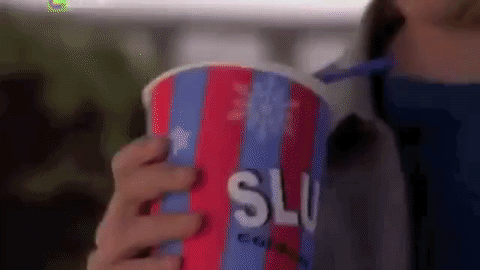 7-Eleven and Flirtey—a company which prides itself on making autonomous robots capable of delivering packages to a GPS location—must have been pretty confident in their drone-flying skills, since most people tend to spill coffee just walking back to their desks from the office kitchen.
"This delivery required special flight planning, risk analysis, and detailed flight procedures ensuring residential safety and privacy were equally integrated," Chris Walach, the director of operations for the Nevada Institute for Autonomous Systems, which was also involved in the delivery, said in a press release.
The flight was planned in celebration of 7-Eleven's 89th anniversary, and the family was floored by the ground-breaking convenience of the drop. 
"My wife and I both work and have three small children ages 7, 6 and 1. The convenience of having access to instant, 24/7 drone delivery is priceless," Michael, the man who received the delivery, said in a statement. "It's amazing that a flying robot just delivered us food and drinks in a matter of minutes."
There's still no word on whether 7-Eleven will be flying condom-filled ​date night packs to customer's windows. But at this point, anything is possible. 
[via Elite Daily, Tech Crunch]